"Bring on United, Bring on United." It's approaching 7.45pm on a cold Wednesday night in October, and 150 football fans who usually spend their time stood on the terraces in Moston, Manchester, are over 1,200 miles away in Warsaw, Poland.
FC United of Manchester were formed on the back of a boycott of one of Europe's most famous clubs Manchester United, after they were bought by the billionaire Glazer family.
Many fans will have spent time in the 80's and 90's following 'big United' around the continent, so to see them finally get that moment back is special.
The ground-breaking tournament they were playing in was called The Fenix Trophy.
Promoted by the Milan-based football club Brera FC, it brings together non-professional sides from around Europe distinct for their social, historical and cultural backgrounds.
It goes beyond football, and during my few days in Warsaw I met some truly incredible people who give everything for their club.
Arriving in Poland the day before the game, I admit that I was a bit apprehensive. I don't think many of us knew what to expect.
Most fans opted to travel either on a later flight or on the day, with some I spoke to spending less than 24 hours in the city. But to get a true experience, I just had to come earlier.
The team FC United were facing are called AKS Zły (in Polish Zły means bad). They play in the seventh tier and were founded just seven years go as a backlash to how football clubs in Poland are ran and supported.
Despite doing my research ahead of the trip, I knew to truly understand the club, that I had to immerse myself with the fans and almost become one of them.
They're based in the Praga district of the city, it's one of the only parts of Warsaw to not be destroyed during World War II and is considered the most authentic.
In the heart of the area is a small bar run by the club called Off-Side. Throughout the week it became a focal point, a place where both sets of players and fans came together to celebrate everything that is great about what they stand for.
It's here where we spent our first night. Having reached out to supporters from both sides, I first found myself in an Irish Pub located in the famous Old Town of Warsaw.
As is the case with a lot of British football fans, despite being in another country they try to anchor to home comforts, and the people I met here had spent the majority of the day in a pub aptly named the British Bulldog.
I was first introduced to Gareth and Chris. Gaz as he insisted on being called, was a long time FC United fan having followed the club from the early days. Chris on the other hand wasn't a football fan but was persuaded, easily I might add, to come to Warsaw to experience the magic (and drinking) of an away trip.
They were both a bit older than me, but nevertheless very fun. Next to arrive were a group of three younger guys, for them supporting FC home and away was crucial, so this trip was a no brainer.
However, they didn't appear to be in an as joyful mood as expected. It turns out that they had brought with them a crowd flag specifically designed for this trip, only to have left it in a taxi on the way to the pub.
They preceded to spend the next few minuites deciding who's fault it was, before realising that they could still support their team just as well without it.
Most of us then made headway to the Off-Side bar in a taxi, but Chris who was a few drinks down at this point, decided he would try to find his way there on an electric scooter. We left him to it.
The bar itself felt like a converted garage and was very small, but in many ways that made it even better as the atmosphere was incredible.
The aesthetic was very indie, as are many of the fans of AKS, the place was full of street art and flags, with graffiti on the walls reading "This is not a cocktail bar" and dotted around the place were posters advertising the following day's game.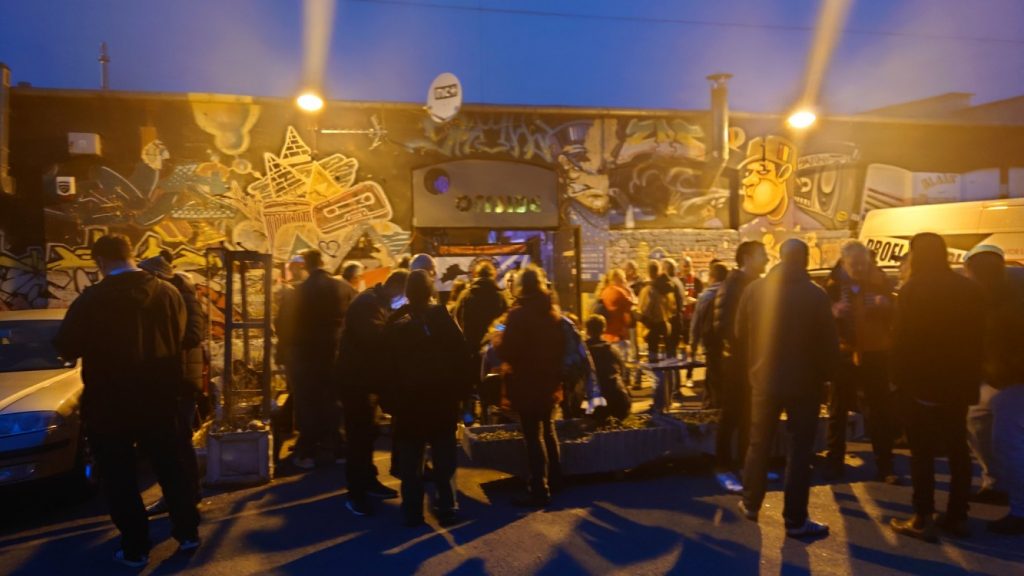 When Chris finally arrived, we began singing chants about FC United, and the fans of AKS responded with songs of their own.
Later on, in true non-league style, fresh from arriving in the country the players pitched up at the bar. They were desperate to sample the experience and who can blame them.
The manager though? Well, he was nowhere to be seen. My first thought was that he'd gone straight to the hotel, but I was then told by one of the coaching staff that he had missed the flight.
In many ways this was one of the most important games for the club, and the gaffer had left his passport on the bus.
Although he wasn't there to keep them in check, the players were sensible and left fairly early knowing they had a training session in the morning, the same can't be said for a few others though.
I heard tales the next morning of how Gaz had to be called a taxi home because he couldn't do it himself, and how one of the other guys forgot where they were staying and only managed to make it back to his apartment at 9am. They really were living up to the reputation of British fans on tour.
As for me, I spent the next day with Jan, a volunteer at AKS who had kindly agreed to show me around his city and tell me all about the history of his club.
I learnt so much and this was by far the highlight of the trip. As well as supporting AKS, Jan also supports Legia Warsaw. They are the most successful club in Poland and recently hosted Premier League side Leicester City in the Europa League.
A group of their fans known as 'the ultras' have a bad reputation of hooliganism, we joked about how English fans do too, but what really resonated was how everyone at AKS Zły was completely the opposite.
It's at this level of football where fans come together, and you really do make friends for life.
He explained how the club have around 50 active volunteers' day to day, Karolina was responsible for connecting with each of the Fenix Trophy clubs that they are facing and did an incredible job in making sure that the visiting team and staff were well looked after.
It was the job of Jan to bring the footballs and water to the morning session, before the game he was on the gate selling tickets, and as it kicked off, he was in full voice in the middle of the crowd.
He's a part of the club at every level and that's what makes it so special.
There are around 200 members of AKS Zły but they average a crowd of around 400 per game. The match against FC United set a record attendance with 950 coming to watch, so much so that the game had to be moved from their usual ground to a stadium further outside the city.
They usually play in a stadium based in the Praga region. It is known by fans as The Don Pedro Arena, named after a cartoon character that the fans follow. It originally formed part of their badge when they were first founded but is now what they refer to their stadium as.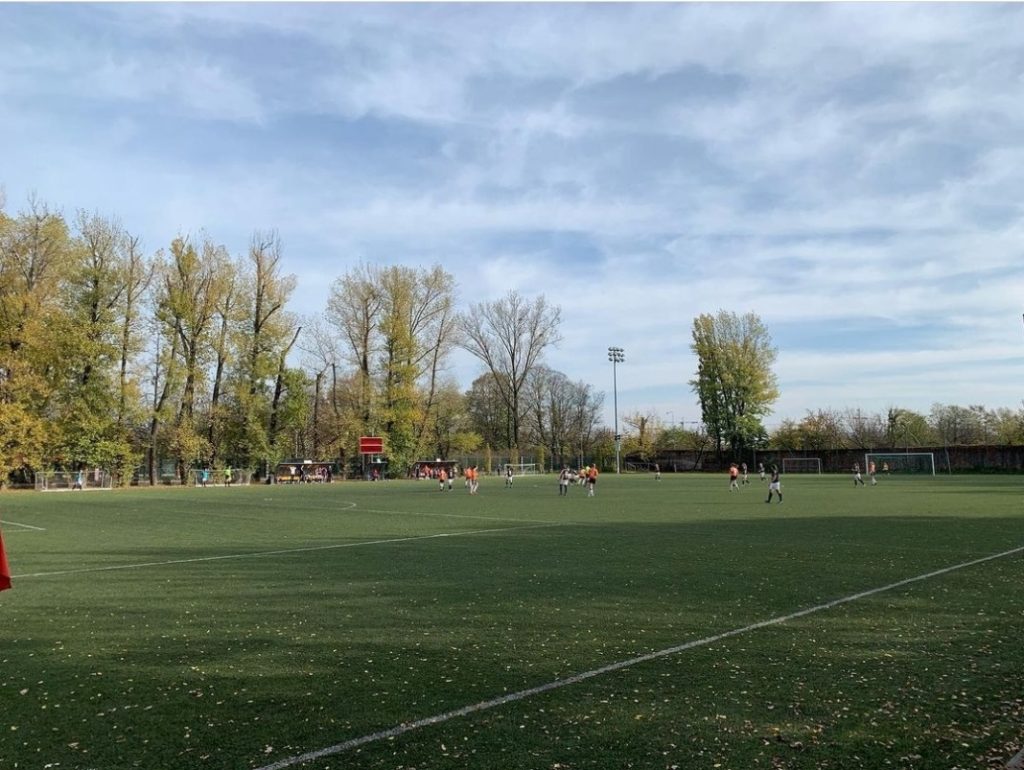 It sits just one and a half miles from Warsaw's National Stadium and is located between social housing blocks and an abandoned factory. The club rent the pitch and it's no longer in the best condition. They to raise enough funds to improve it, they could look to relocate, but Jan described the ground as "special" and "our home."
Despite the game being played elsewhere, the atmosphere created was still as powerful. When you go to a top flight game you always see fans segregated, with heavy police presence to make sure troublemakers are controlled.
The beauty of this, and of non-league football in general, is that it isn't needed. There was even AKS merchandise being sold throughout the game with away fans making sure they added some to their collection.
Before the game word got round that the FC United manager had finally made it to Poland. The fans of course took this opportunity so start singing "where's your passport gone." The lost flag had also been recovered and was tied to the railings beside the touchline.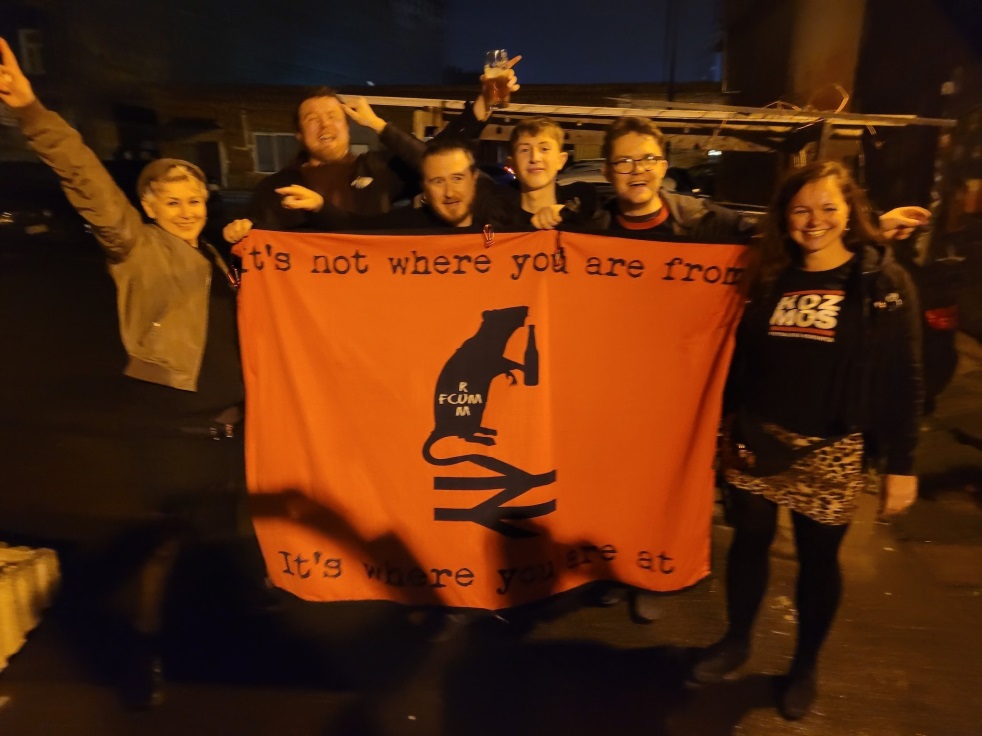 Both sets of fans were in full voice throughout the game, with the home side mesmerised by the level of away support. It was that big of an event for them that even Polish TV cameras were present.
The game saw a convincing 6-1 victory for the visitors, but this was about more than just that.
After full-time we headed to an after party in the city centre, where both sets of players, coaches and fans came together. Laughs were shared, drinks were shared, and we were celebrating all night.
At one point the FC United captain Michael Potts was in the middle of the dancefloor surrounded by fans all singing his name, its exactly what football is.
The whole trip was a unique experience that you just wouldn't be able to replicate the higher up the divisions you go.
Some fans might think that a competition like this isn't important, and that clubs like FC United and AKS Zły should focus on their league form as it has more pedigree.
However, in many ways this is even more significant, regardless of the result it's good to remind people what real football, what 'punk football', is all about.
To stand up against the giants and make friends not millionaires.