Manchester City Women's defender Paula Radtke says revenge will be on the team's mind when they take on Chelsea on Sunday in the Continental Cup semi-final.
With losses to Chelsea in the Women's Super League (WSL) and the FA Cup, City are determined not to make it a third defeat as they enter uncharted waters in their first ever semi-final.
City have stacked up four wins out of five in the group stages and will want to bring this momentum into the weekend match and march into the final.
"Although we have lost to Chelsea before, I think we can win and everyone has the feeling we can get revenge," Radtke told City's website.
The club's new German signing Radtke has joined City for one reason only: to win trophies.
"When I joined this club, I said I wanted to win trophies and become the first German player to do so with Manchester City Women.
"I really want to win. Semi-finals are brilliant. I love them. It would be amazing if we could reach the final."
City captain Steph Houghton (pictured above) stressed the importance of the fans' – and their male counterparts including Gael Clichy, Joe Hart and Aleksandar Kolarov – support to help the team along.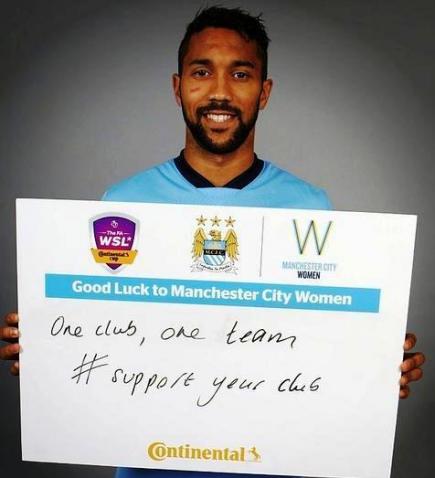 "It's a massive game for us. We want to go and perform well and ultimately, win. Hopefully, it will be the first of many that we'll be involved in.
"If the supporters can get down and spur us on, that will give us that little bit extra as we walk out onto the pitch.
"Having that support behind you is a massive factor and as a player, I can say it's been great that we've had such fantastic support so far this season. I hope it can continue."
Manager Nick Cushing spoke of his appreciation for the support the team have been getting, especially at home.
"The players love playing at home because they receive great support," he said.
"We got an excellent reception from the fans at City Live as well and it reinforced to the players how together this club is.
"The supporters have an equal focus on each team – that in itself makes us unique as a women's team. We need them to show their support at the Chelsea game.
"When our first-team play in the big games, the fans play a huge part in helping the players to secure the win by creating a real atmosphere.
"Another example is the Benfica game for the Elite Development Squad  last year. That atmosphere for an under-21s game was incredible and I don't think many other clubs could do that.
"This club can and if the fans can replicate that for us in September, we'll stand a great chance of reaching the final of the Continental Cup."
If you want to attend the game there are tickets still available, for more information please click here.
Main image courtesy of Manchester City FC via YouTube, with thanks.