Jos Buttler was lauded England's 'greatest white ball batsman' after his scintillating century against Sri Lanka on Monday afternoon.
Buttler's 101* (67) took England to an insurmountable 163/4 and helped secure their 4th straight win of the World Cup.
The keeper-batsman's 101* (67) highlighted both facets of his game, showing great patience in the powerplay as wickets fell around him, before accelerating through to his maiden T20 century, hitting 77 off his last 37 balls.
As a T20 opener Buttler's numbers continue to impress, with the 32-year-old averaging a staggering 60 at a strike rate of 149.
Nasser Hussain was astounded by the effortless brutality which Buttler showed in his innings.
He told Sky Sports: "He is a freak – he is England's greatest-ever white ball batsman, and he showed here today in different conditions to Dubai in Abu Dhabi.
"He's such a smart cricketer. I think we've always known how talented he is, but he shows how smart he is. He speaks in a very calm voice, but he is far from calm with the bat in his hand."
Livingstone flying the flag for Lancashire
Liam Livingstone has become an instrumental figure in England's early success this World Cup, but maybe not in the manner you'd think.
The 28-year-old, who's mightily impressive summer secured his spot in England's starting XI has yet to feature with bat in hand.
Somewhat surprisingly, it has been Livingstone's 'liquorish all sorts', a combination of leg spin, off spin and sliding variations which have been used to great effect in the sub-continent.
In the last two matches Livingstone has bowled his full quota of four overs, picking up five wickets in the process. More importantly these runs have come at an economy of just 5.8 runs per over.
The graphic below highlights Livingstone's stats in comparison to the other notable part time bowlers in the tournament.
Livingstone hasn't just bowled more overs, but also has the lowest economy and has claimed more wickets than any of the others listed below.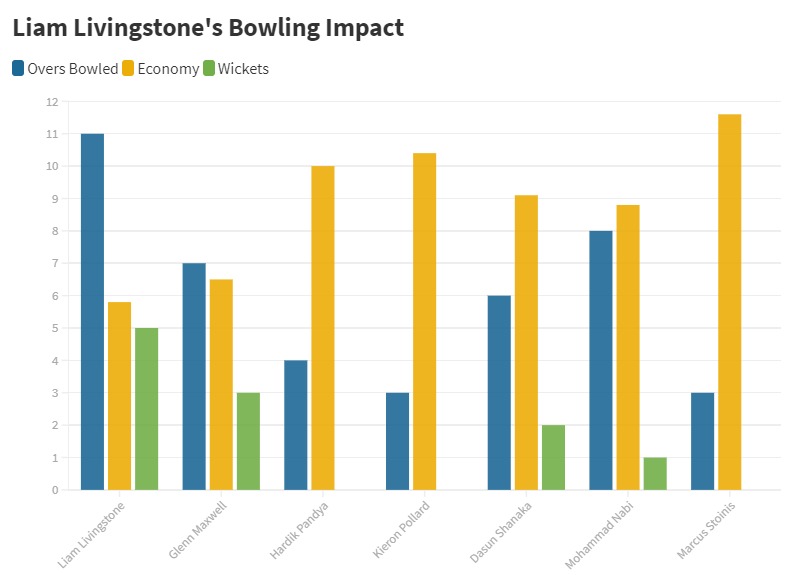 His spin has become an integral part of Eoin Morgan's gameplan, and his versatility allows England to fit a vital extra batsman in their XI.
Livingstone will look to impress again with bat and ball as England take on a confident South Africa side in a table-topping affair on Saturday afternoon.