Manchester Giants forward David Watts says the team's rousing weekend comeback was nothing to do with star performances but rather a shared pride in playing for their city.
The Giants saw off the much-fancied Worcester Wolves 93-83 at the Trafford Sportsdome to make it two wins on the bounce, and they next look to kick on with victories against Leeds Force and Bristol Flyers this weekend.
Sunday night's MVP Watts, with a team-high 19 points and eight rebounds, deflected the glare of the limelight by telling MM about the team's driving factor.
"What's most important is we've got players who want to be here and everyone is proud to be representing Manchester," he said.
"Instead of stepping on the floor and representing the name on the back of the shirts, we want to represent the name on the front first. And I think that really shows."
The 31-year-old added: "The backbone of our club is the home support. The fans are absolutely fantastic. Year on year they just get better and better.
"In person, on social media, on the street when people come up to you in town, it's a big thing. And it means a lot to me and the guys.
"The whole city is behind us and you couldn't wish for more than that."
Two home wins on the bounce @powerleagueUK for @ManchesterGiant's #LETSGOGIANTS

— Manchester Giants (@ManchesterGiant) October 5, 2014
Many thought the Giants would get trounced on Sunday, especially after Worcester beat an extremely talented Newcastle Eagles side on the road last weekend.
The Giants did little to change this perception early on, at one point going down by 15 points, seemingly overawed by their illustrious opponents.
But after a second-quarter surge, it was their explosive third period that was the key to the victory, dominating the visitors with their physicality and work rate.
Callum Jones' on-court leadership was key throughout, while new arrival Martyn Gayle set the tone for the comeback with his electrifying energy levels.
Giants coach Jeff Jones believes his team's performance will send shockwaves through the league but is adamant his players won't get ahead of themselves at this early stage.
He told MM: "People will definitely sit up and take notice of us now. We're going to have to get better because people will not take us lightly.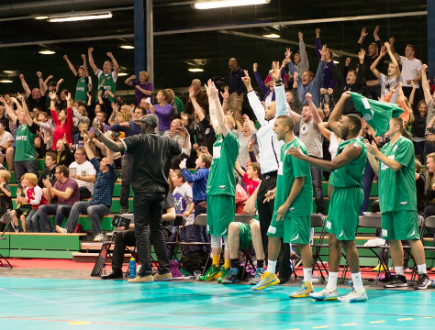 HEAR THE ROAR: Giants and their fans unite in joy at weekend
"I'm happy with this win giving the team confidence, as long as it doesn't give them too much. That's the biggest thing.
He added: "Complacency has no place on our team. But actually the character of these guys means I don't think I'll have to worry about that. 
"And anyway I wouldn't let it happen. I think the guys will push each other to get better and just keep going."
Manchester Giants: Watts 19 points, 8 rebounds; Eaves 18pts, 10rbs; Bernard 12pts, 4 assists; Gayle 11pts; Gill 11pts; Jones 10pts; Bankevics 6pts
Main image courtesy of Jack Hinds, with thanks.