It may be all but over for Stuart Lancaster's beleaguered England side but the city of Manchester is not letting their national team's woeful performance in the World Cup spoil the party.
To mark the World Cup clash between England and Uruguay in Manchester this weekend, a brand new sport held its inaugural contest at the Chill Factore: Rugski.
Combining skiing thrills with rugby skills, Rugski tests participants to their physical limits, while also enhancing their balance and hand-eye coordination skills.
Two teams of four lined up on the Manchester venue's slope and took part in the world's first ever game of the new sport.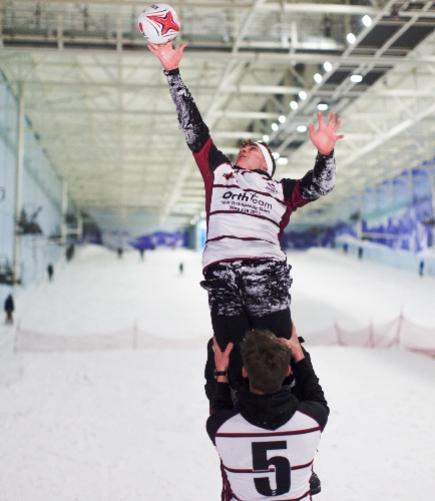 WE'LL BE BACK: Bowdon Rugby Club say 'Rugski' greatly enhanced their passing skills and they'll return if the sport becomes a regular
The participants were made up of skiing instructors and players from Bowdon Rugby Club's cup-winning under-17 Team.
Each team skied down the slope, passed a rugby ball between them, removed their skis at the bottom and ran back up the slope to score a try.
On the night, the youngsters from Bowdon Rugby Club were the indisputable winners.
Steve Harrison, head coach at Bowdon Rugby Club said: "The team has had a strong start to the season but practice makes perfect and we were delighted to take part in the Rugski trials at Chill Factore."
He added that the Chill Factore instructors were good, but no match for the rugby players.
"I certainly think that the guys' passing and teamwork skills were enhanced by playing Rugski, if it becomes a permanent fixture I'm sure we'll be back," he enthused.
Morwenna Angove, CEO at Chill Factore, said: "After a successful trial we're considering adding Rugski to our portfolio of activities and further help improve our guests' co-ordination skills.
"Rugby and skiing share a number of key attributes – balance, poise, precision and bravery are all hugely important, and with Rugski, we are sure that we've developed a sport that will be as fun as it is unique," she added.
Perhaps the England rugby team should hit the slopes before they face Uruguay on Saturday…
Rugski is currently being trialled and is not yet an offering at Chill Factore.