It has certainly been a journey for Salford Red Devils in rugby league over the past four years, but the club has remained true to its core values of "trust, honesty and hard work," values which have constituted to recent success.
These values were outlined by their Director of Rugby and CEO Ian Blease, who has endured a roller-coaster ride in his current role since the former Salford prop was brought back to the club in a more formal capacity in November 2016.
Three seasons ago, Salford were playing in the second tier of the British rugby league system, and a year later were scrapping for their lives in Super League before exceeding all expectations last term by reaching the Grand Final in October, where they lost 23-6 to St Helens at Old Trafford.
Blease said: "At the start of the year, Watto (Ian Watson), our head coach, said to the players: 'what are our values this year?' And it's ended up being three values — trust, honesty and hard work. Everything they do is based on the three values."
'Identity crisis'
Despite their rapid rise and unbelievable success over the past year, Blease admits the club are suffering from an "identity crisis" with the root of this crisis being their move from The Willows in the heart of Salford, to the AJ Bell Stadium in Trafford back in 2013.
"We have an identity crisis because we've come away from the middle of the city to here (AJ Bell Stadium) which is on the periphery," Blease said. "It's a great set-up and everything, but we've lost our identity in that we're not in the centre of Salford at the moment. And as a club we need to get that back but it's a challenge."
Over the past few years, Salford have overcome many challenges to eventually put themselves in a position where they were 80 minutes away from winning the Super League Trophy in October.
But perhaps the biggest challenge in Salford's remarkable road to that particular stage came in the promotion play-off against Hull KR three years earlier when they beat the Humberside outfit 19-18 in extra-time — a game that outlined the finest of margins in sport — margins Blease witnessed firsthand just before he took on his role as the Red Devils' Director of Rugby.
"When we were in the 'million pound game' with Hull KR and we dropped a goal in extra-time, I wasn't at the club," Blease said. "But I knew if we won that game, I was coming to the club."
"I went in the reception area, there were players' wives of the opposing team in that reception area on the floor because their husband has just lost their job. So if anyone wants to tell me 'it's just a game,' I don't subscribe to that.
"If we get relegated from Super League, everybody's livelihoods are at stake. Not just the players, all the backroom staff too."
It's fair to say that if Salford would have won the 2019 Grand Final, it would have been reminiscent of Leicester City's underdog story of when they won the Premier League back in May 2016.
Blease gave, in his words and from his own experience, the feeling of putting together an ambitious plan and watching it all come together ahead of schedule unexpectedly.
"I had a five-year plan in my head and down on paper, which I thought might get some way towards there (the Grand Final) in five years. But it came in three," Blease described.
He dedicated the achievement to the community structure of the club.
"It's too much to take in and I always look back on it and say to myself: 'how did we do it?'
"Well, I know how we did it. Because we had good people round the club, all pulling in the same direction. We signed the right players, and it was an embodiment of local people.
"In sport, my belief is: if you can get within your club culture, local people they will try and put the effort into that club more than you will ever realise. It's intangible really, you can't demonstrate it."
In terms of who has influenced the way Salford is run as a rugby league club, Blease believes Sir Alex Ferguson's successful Manchester United teams of the 1990s and 2000s provide an ideal model to try and work off.
"I watched the great success United had for years and years and when you look at that team, it had the body of local talent in that team, plus youth," he said. "They brought youth through, and that's what we try to do here as well — bring through young, energetic players."
Salford Red Devils Foundation
Key to Salford's ethos of developing talented young players is their foundation, who provide pathways for people from a young age to take up rugby league.
John Blackburn, Head of Foundation at Salford Red Devils Foundation, explained how it works in a way to instil the clubs' values of 'trust, honesty and hard work' into people from a young age.
"Fourteen years ago, we decided to set up the foundation, which is the charity arm of the club," Blackburn said.
"It's a community, but it's also about developing players. We have a players' pathway in primary schools, years four and five, and we go right through to the high schools and colleges. And then we coach Salford and Manchester University."
The Salford Red Devils Foundation are currently running a project called 'Younger Stars' for school years six to nine, who could get an opportunity to play at under-12 and under-14 level in a Tri-Series against Bradford Bulls and Huddersfield Giants this summer.
Speaking to MM, Blackburn explained the aims of this project.
"To get kids involved in rugby, we want to develop local guys to become Super League players for the club," he said.
"It gives them a healthy lifestyle, it teaches them within the team rather than working in gangs. It sets it up as lifestyle."
As well as being Head of Foundation, Blackburn currently coaches Salford Red Devils' Reserve Team, who compete in the Reserves League — a platform for young players to showcase their skills and use it as a springboard for them to play in Super League.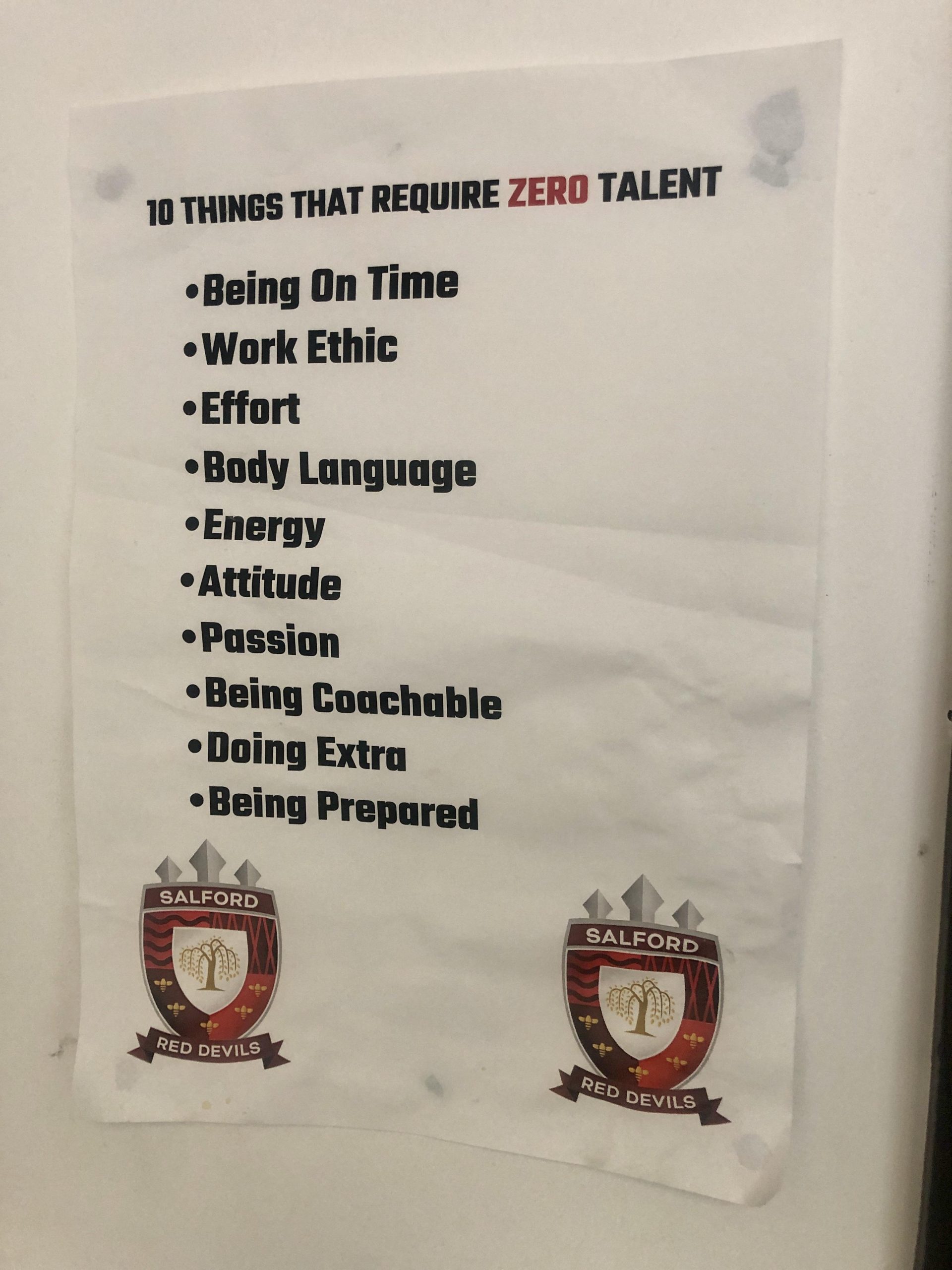 Salford's financial constraints place extra emphasis on reserve team rugby at the club.
"We then have another pathway, a reserve team," Blackburn said. "So there's a full pathway from six years of age right through to Super League, and we look after that element of the club.
"The main reason for the reserves is to develop young players for the future rather than paying £300,000 out for an Australian or an Islander.
"We look for talent, but ultimately, it's about finance. Salford haven't got the finance, so we have to develop our own players."
The increased opportunity which Salford Red Devils Foundation provide, opens up avenues for young rugby league enthusiasts from North West England, including individuals who could be surplus to requirements at other Super League clubs in the region.
Lewis Lockett, Community Development Manager at Salford Red Devils Foundation, explained: "We run slightly differently to other professional clubs where they can be a bit more selective."
"They run scholarships and academies as well. We don't at this moment in time because of our category system, so that gives us a blessing in that we can develop a lot more kids — kids from not just our area, but from Wigan, Warrington, and outside the area as well.
"So, children who haven't had a look in at Wigan, Warrington or St Helens for whatever reason, have got the opportunity to come here and have a quality training programme and schedule, and be with us for a long amount of time as they would be in a scholarship situation anyway. This helps them develop."
Devils prepare to take on Warriors
Examples of players who have been successfully nurtured into top Super League players via Salford's academy are Niall Evalds and Jake Bibby.
The pair were influential in Salford's run to the Rugby League Grand Final last season, but tomorrow they will line up on opposite sides when Salford welcome Wigan Warriors to the AJ Bell Stadium.
Bibby moved to Wigan at the end of last season as former Warrior Dan Sarginson moved in the opposite direction.
Speaking to MM ahead of tomorrow's crunch game against his old club, Sarginson insisted that his current side must "meet fire with fire" when they welcome Super League leaders Wigan Warriors to the AJ Bell Stadium tonight.
"We need to meet fire with fire really and take it to them," Sarginson told MM.
"When you play the big sides, they bring out the best in you, and we've got to be at the top of our game to even compete with them.
Salford have won just one out of their first six games so far this term.
Wigan, meanwhile, have lost just one out of six, winning the other five, but Sarginson believes that this could help bring out the best in Salford.
"I know with the Wigan, Saints and Warrington games, the boys are usually fully fired up for them games and we probably play a bit better than we usually do so that will certainly help us," the Australian centre said.
Wigan are a team in white hot form right now, they've won their last four Super League games and scored 130 points in the process in victories over Toronto Wolfpack, Hull FC, Huddersfield Giants and Hull KR.
Salford have a huge task in front of them tonight, but if they repeat their semi-final heroics of last season and beat Wigan, it could well be the catalyst to kick start a run of form for last year's Grand Final runners-up.
Sarginson played for Wigan in last season's Super League semi-final that Salford won 28-4 at the DW Stadium, but tonight he will be playing for Salford at the AJ Bell.
He added: "We've had a pretty poor start but we can pick up towards the back end, so I think it's how you finish the season that's important.
"If we can beat a team top of the league, it's obviously massive for our confidence, and to be honest we just need two points now and any win will do for us. But if we can take down top of the league it's certainly puts us on a step."
Image in the main body of the text taken by Dane Massey, with thanks to Salford Red Devils.