You can now be the proud owner of Manchester United's famous Old Trafford ground – but it'll take a Premier League footballer's pay packet to meet its £39,000 price tag.
The Theatre of Dreams, which became a football fortress under Sir Alex Ferguson, celebrated its 100th anniversary as the home of the Red Devils in 2010 with the scale model on display in its museum.
The model was built by Peter Oldfield-Edwards, a professional model maker and artist specialising in sports stadia and is now up for grabs on online auction site eBay – and he has touted out ex-United star David Beckham as a suitable buyer.
Peter insists he was overcome by its size when he first visited the stadium in 2004.
"I wanted a challenge and it was the biggest and best stadium in Europe at the time," he said. "I had to blanket photograph the stadium and then it took me about 18 months – about 3000 man hours – to complete.
"I used to make stadia myself as a kid, because the Subbuteo stuff was all out of scale, and it's fantastic now to be able to make a living out of it."
The Old Trafford design is an exact replica of the stadium as it stood in 2009, to a scale of 1:220.
The model includes a car park, the railway line and the Bridgewater Canal and is all painstakingly put together by hand.
"You can't buy railway track that small so I had to make it myself out of clay. The canal is actually glass with a ripple effect so it looks like water. The embankments are mostly clay and the main material for the stadium is plastic."
However, its creator is not taking his decision to part with the model, which has even appeared in the Sky Sports studio, lightly, having already turned down one offer.
"It will hurt a little to let it go because it is my baby," said Peter.
"I want it to go to someone who might put it on public display so that lots of people can enjoy it. I'd love it to go to someone like the Beckhams."
The piece will now face the transfer deadline day-style lottery of eBay.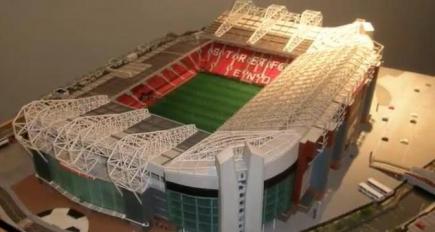 FOOTY FEAT: The model was made by hand over 3,000 man hours (©Peter Oldfield-Edwards via YouTube with thanks)
Old Trafford is the biggest project that Peter has completed to date – but he has several grounds which he would love to be commissioned to create.
"As a childhood Arsenal fan, I'd love to do the Old East Stand at Highbury which I managed to photograph it extensively before they knocked it down. The marble interiors are just beautiful," he said.
"I'd also like to do Anfield, with the old Kop from the 1970s with the standing areas."
If £39,000 is beyond your price range, then there are two more of Peter's works on display at the National Football Museum, including the Kippax Stand from Manchester City's Maine Road stadium, on sale for £2,000.
Peter has also worked on Brighton & Hove Albion's old and new stadiums, the Goldstone Ground and Amex Stadium respectively, as well as the now defunct Chesterfield ground Saltergate and even the iconic twin towers of the original Wembley.
Image courtesy of Peter Oldfield-Edwards via YouTube with thanks