A Manchester snowboarder nicknamed 'beardy Rich' has expressed his excitement and desire to set a new official Guinness World Record at Trafford's Chill Factore next week.
In an audacious attempt to write his name in the history books, Richard Millington will try to snowboard 25km down the UK's longest real-snow slope continuously for 24 hours.
Richard, a supervisor of guest service at the Chill Factore, is attempting the mammoth task in hope of raising £1,000 for Disability Snowsport UK having come up with the idea earlier this year.
"It was when I came back off holiday in March in France," he said, speaking exclusively to MM.
"I thought 'I have just been getting up really early and been skiing and snowboarding for 10 to 12 hours so why don't I try riding for 24 hours at the Chill'.
"So I sat down with my team and worked it all out and here we are ready for it in three days."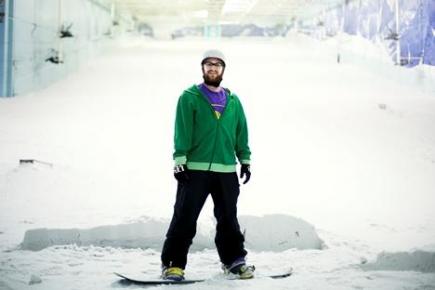 STANDING TALL: Richard is up for the brutal challenge
Supported by family, friends and work colleagues, Richard will stand at the top of the 180-metre slope at noon on Monday and not finish until the same time the following day.
Despite having to stay awake and continuously snowboard for 24 hours, the daunting challenge Richard is set to embark on appears not to worry him.
"I can't wait," he said with a beaming smile.
"It's for a great cause and it's going to be a brilliant occasion.
"When I'm at the top and ready to start I'm going to be a little bit nervous but I'll be filled with adrenalin and more excited."
Richard has been snowboarding for the past 11 years and his enthusiasm to try and set a world record doing the sport he loves is evident.
Yet for all of Richard's charisma and keenness, the task he faces will ultimately present the snowboarding fanatic with some tough challenges. 
In preparation Richard reveals he's done a lot of fitness work, including cycling in the hills near where he lives in Withington and believes fatigue will not be an issue.
Boredom, however, will.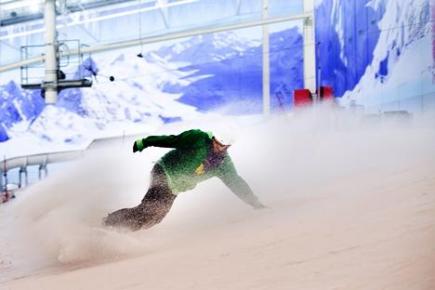 IN GOOD SHAPE: Richard making another solid turn
"Fatigue or dealing with sub-zero temperatures won't be a problem because I've done my training and I'm quite physically fit," he said.
"It's going to be the boredom factor on an evening when there won't be much people around.
"I'm going to have a lot of playlists on my phone to keep myself entertained and I'll be listening to a diverse range of songs.
"I like most types of music and I might even fancy a bit of classical just to keep the flow going."
While it will be an unprecedented achievement on a personal level, Richard is keen to stress that attempting such a feat is to raise money for DSUK.
The DSUK is a people-centred organisation that works alongside Chill Factore to persuade people with all disabilities to participate in snowsports.
The donations currently stand at around £500 and Richard believes that the target of £1,000 is still reachable.
He said: "Donations can still be given after I've done the event so of course it's still possible.
"Hopefully more people will donate and show their support because at the end of the day it's for a great cause.
"All the money that is raised will go into one pot and it'll get spent on new equipment such as sit skies and harnesses for people with disability."
Richard says all donations are welcome and can be made here.