Ask the average Joe on the street to name their favourite combat sport and most will reply with boxing, some may even say UFC or even taekwondo.
Muay Thai may not be top of most people's list but with a number of up-and-coming fighters on the rise both locally and nationally, a new wave is on its way.
MM was invited to the recent 'Road To The Main Event' in Ashton-under-Lyne to savour this ancient martial art up close and to learn some moves.
Muay Thai is a combat sport combining the use of fists, elbows, knees and shins and this combination can make for an explosive array of shots.
At times this can be brutal to watch but this is neutralised by the sheer amount of respect and traditional Thai values that are clearly ingrained into the sport.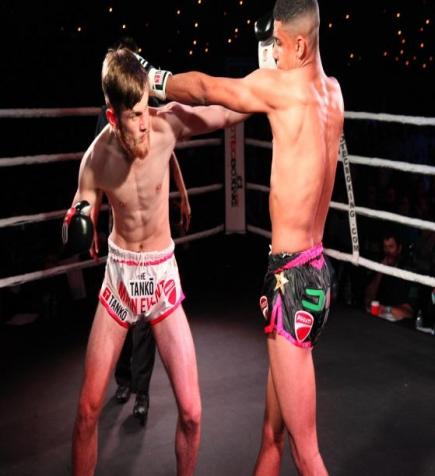 MANCHESTER RULES: Nine of the 19 bouts at last month's 'The Road to The Main Event' were won by Mancunians 
The card featured a handful of established bouts and numerous up and coming fighters from around the country, with the winners given the opportunity to feature 'The Main Event' next spring.
And the local talent was clearly there with Manchester now seen as a hotbed for the sport with a number of high standard training gyms in the area.
Of the 19 bouts that took place throughout the day, nine of them were won by Manchester-based fighters.
The international feature fight of the day saw Sale-born superstar in the making Dakota Ditcheva continue her unbeaten run.
The bout saw the teenager defeat an opponent 10 years her senior, with 25 professional fights under her belt and only two losses, and she never really looked in any danger.
The 17-year-old recently became the first British fighter to ever win the 'most outstanding' title at the World Championships and has just been named Young Sportsperson of the year at the UK Pride of Sports Awards.
Trained by her former world champion mother at Northern Spirit gym in Sale, MM asked the youngster if she felt any pressure at such a young age.
"There is a lot of pressure to be honest. Because my mum used to do it as well and she was so good, it means me stepping up and kind of taking her place so I have got to live up to.
"I'm a pro now too so fighting adults is more pressure as well. You can get hurt more at this level now compared with kids so it's a lot of different things really."
Ditcheva is certainly the jewel in the crown of British Muay Thai and will be instrumental in raising the profile of the sport going forwards.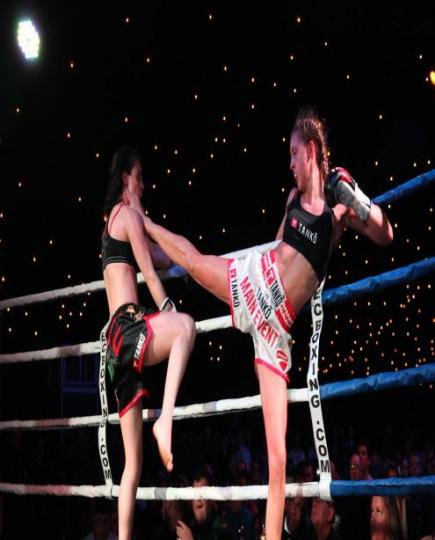 R-E-S-P-E-C-T: Fighters at the Ashton-under-Lyne ring mixed tenacity with admiration for each other's skills
Other headline success came for Andrew Lofthouse of Team#OO in Bolton after his stunning spinning kick finish in the second round.
Northern Spirit and Team#OO were to face off against each other in the much anticipated rematch between Leyton Collymore and Tyler Liptrott.
Collymore won the 67KG bout by way of unanimous decision after five gruelling rounds of flying knees and high kick combinations in what was probably the fight of the night.
After the fight the exhausted pair embraced in a show of unity and admiration for each other's efforts.
The South Manchester based champion, who has now won all eight of his fights this year said: "We are really good friends outside of the ring and train at each other's gyms."
This attitude was apparent throughout the day and is why there certainly should be more attention cast in the direction of Muay Thai.
After witnessing two highly trained fighters kick seven bells out of each other it was refreshing to see the sheer amount of respect that they had for each other after the fight.
This is a discipline that could teach one or two other well-known sports a thing or two about dedication and respect.
Other notable victories on the day were Chris Donaldson (2Technical, Manchester) who took the ISKA Northern Area Title spoils with his victory over Nathan Blundell (Supergym, Knutsford).
Salford's Mark Skeer (Salford Muay Thai) made a spectacular first round knockout, flooring opponent Jack Battershell (Shinkick, Woking) after just a minute of the 67KG Class A bout.
The fight card featured three junior bouts too, with the young hopefuls putting on a promising display making an exciting new generation of UK Muay Thai fighters.
Interest in the art of Muay Thai is rapidly increasing and there's no reason why it shouldn't be right up there with the most popular combat sports in the future, both to watch and to participate in.
Manchester-based combat sports management company, Tanko Management, launched not long ago with the aim of doing just that.
The company has partnered up with double world champion Panicos Yusuf, manager and owner of Stockport's AllPowers gym with a vision of increasing participation even more.
According to recent figures involvement already showed a 182 per cent increase over the last year.
One of the company's first signings has been the young Dakota and they hope that she can spur on other young people, male and female to dedicate themselves to the art.
"I think just go to your first session and you will either love it or you will hate it," she said.
"It's a big confidence thing for some people. The people that you meet within Thai boxing all builds your confidence and you make some really good friends so I think it is good for everyone.
"For women especially if they sometimes feel less confident around men then something like this can be beneficial."
Most of the fighters are taking a short break over the festive season before going again hard in their prospective gyms for the next upcoming fights.
'The Main Event' is due to take place on May 14 2016 at the Bolton USN Arena which will feature the best fighter from the UK and further afield.
Ticket information here http://www.tankoevents.co.uk/events.php