On Friday, Manchester Storm announced their first signing of the 2020/21 campaign with the news that Tyson Fawcett had been retained for a second season.
The diminutive Canadian had a strong debut year in Storm colours, ending the season as the club's joint top scorer with 14 goals in 49 appearances, and is delighted to be returning to Altrincham in the summer.
"I'm super excited to be back in Manchester! I love the people of Manchester and the Manchester Storm organisation. The fans also helped make it an easy decision to come back. I can't wait until the season starts and see how loud the Storm Shelter can get this year."
With more squad announcements expected over the coming weeks, Mancunian Matters select six players who Ryan Finnerty and co should be desperate to retain.
#1 Matt Ginn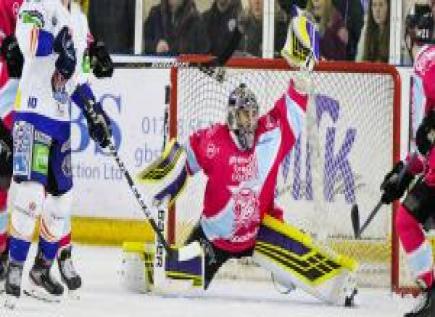 YOU'RE OUT: Matt Ginn catches the puck against Coventry Blaze in March (Photo: @Mcr_Storm)
Matt Ginn was Storm's best player last season and was deservedly selected for the second line of the EIHL supporter's All-Star side. Of goaltenders to play more than 30 league games, he had the highest save percentage with a huge 92.11%. That's just 137 goals conceded from 1,736 shots faced.
The Canadian was the match winner for Storm on numerous occasions, but perhaps the best display of his talents was in the 5:4 SO win over Belfast Giants when he pulled off a stunning stop with 12 seconds remaining and saved four penalties to secure the two points.
The only reason Storm were still in playoff contention in March was because of his heroics between the pipes. Lose him and next season could be a struggle.
#75 Mathieu Gagnon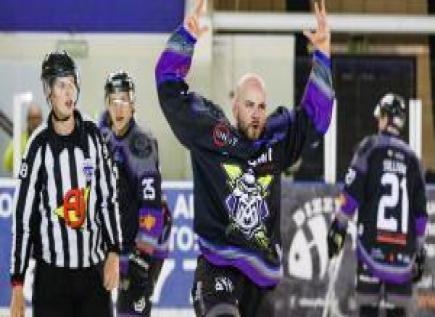 GAGNON STYLE: Gagnon gees up the crowd after being sent to the penalty box against Belfast Giants (@Mcr_Storm)
Manchester's defensive powerhouse. Six foot two and 98kg, Gagnon is a beast of a defenceman who very few forwards can overpower. He's a threat offensively too, finishing last campaign with six goals and seven assists – second only to captain Dallas Ehrhardt amongst his fellow defencemen.
However, the Canadian's best quality is the energy he brings to the ice. Whether it's putting in a perfectly legal hit on a forward or engaging in heated brawls (Belfast Giants anyone?), Gagnon always puts on a show to get the crowd and his teammates in the mood for hockey.
#7 Raymond Grewal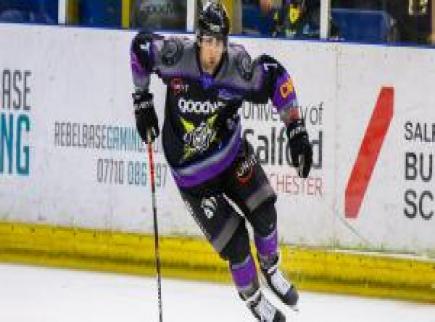 RUN RAY RUN: Grewal goes on the offensive against Belfast Giants in February (@Mcr_Storm)
If only Grahame Greene had called his novel The Quiet Canadian. Ray Grewal is the only surprise on this list, but he was arguably Storm's unsung performer last season. He may not be as offensively minded as Ehrhardt, nor as level-headed as Zach Sullivan, but he has an incredible knack of always being in the right place at the right time.
He does go beyond the neutral zone occasionally – contributing one goal and eight assists last season – but it's his positional awareness and strength as the last defenceman which are his greatest assets. After an impressive debut season, and still only 24 years old, Storm can expect great things to come from the British Columbia native.
#37 Mario Puskarich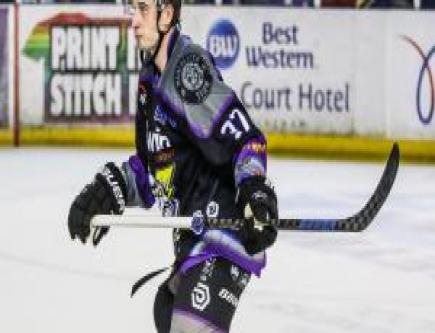 SUPER MARIO: Puskarich keeps his eyes on the action against Dundee Stars in December (@Mcr_Storm)
Cam Critchlow originally had a place in the front three and after amassing 29 points last season, he is more than welcome to pull on a Storm jersey come September. However, just as Ross bumped Isabella Rossellini for Winona Ryder, Critch has been replaced by Mario Puskarich.
Offensively, little separates the two forwards – Puskarich has 13 goals and 17 assists, Critchlow nine goals and 20 assists. However, what shifted the jury in the American-Croatian's favour was his defensive capabilities.
At the end of February, with just five fit defencemen, Super Mario dropped back to plug the gap for a few matches and it's this versatility which earns him a place on the team sheet.
#9 Jared Aulin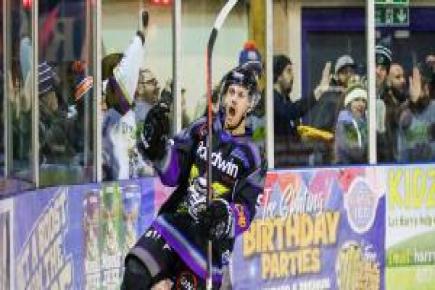 CANADA CAULIN': Jared Aulin celebrates one of his many goals at the Storm Shelter (@Mcr_Storm)
Aulin was comfortably Storm's best offensive player last season, scoring 10 and finishing joint second in the EIHL for assists with a whopping 35. What makes these numbers even more impressive is that the Canadian achieved them aged 38.
In his 20 years as a pro hockey player, Aulin has amassed 17 NHL appearances (LA Kings), played for top division clubs in Sweden and Germany – widely considered to be two of the best leagues in Europe, and has won trophies in both Switzerland and the American Hockey League. Given that Storm had the third youngest squad in the EIHL last season, Aulin's vast experience – even if it's only for one more season – could prove invaluable once again. 
#91 Frankie Melton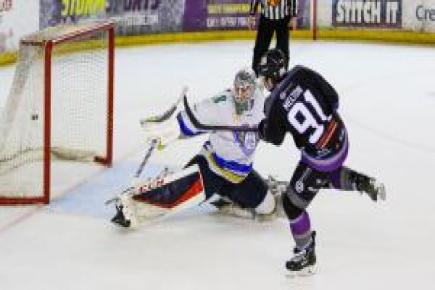 PENALTY KING: Frankie Melton scores the only penalty against Fife Flyers in February (@Mcr_Storm)
The second non-Canadian in the line-up, Melton was a revelation for Storm despite only playing 16 games. Signed from SPHL side Fayetteville Marksmen in January, the 23-year-old American totalled 15 points (seven goals and eight assists), including match-winning penalties against Belfast Giants and Fife Flyers in February.
Scale this impressive goal per game ratio up to a 50-odd match season and you have a forward capable of scoring 20+ goals on your hands. Add in 20-odd assists and just a handful of penalty minutes (he received just two this season) and you have the makings of a future EIHL All-Star.