Manchester's 'beardy Rich' smashed his way into the Guinness Book of World Records after snowboarding more than 46,000metres continuously for 24 hours at the city's Chill Factore.
Richard Millington sealed the title of 'Greatest Distance Snowboarded Indoors in 24 hours' at 12pm today in front of a jubilant crowd.  
The 31-year-old was challenged by the Guinness Book of World Records to cover 25,000m but Richard destroyed that target covering an unprecedented 46,200m.
"I'm stoked," revealed Rich, with a beaming smile breaking through his grizzly beard.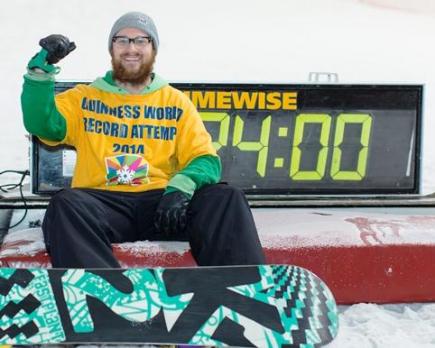 NEW MEMBER: Rich full of beans after joing exclusive Guinness club
"I can now buy the book when it comes out at Christmas and flick through it and find my name in the Guinness Book of Records.
"I remember when I was five and reading the book thinking 'I wouldn't mind been in there'.
"So to have my name in the book now is pretty cool and a terrific feeling."
Despite going up and down the UK's longest snow-slope over 300 times and battling through sub-zero temperatures, Richard still appeared as chirpy as ever.
He said: "It's a weird feeling because I've been awake for around 28 hours and I feel like I have got loads of energy.
"But I feel a bit sick as well and excited at the same time so there are loads of emotions flying around at the minute.
"I just can't wait to get home now and have a bath, a well-deserved beer and some sleep."
Richard's mum was among friends and work colleagues who gathered to watch Richard descend down the slope for the final time.
She had been at the Factore for the best part of 18 hours and expressed her delight of Richard setting a new world record.
"Words don't tell you how proud I am of him," she said.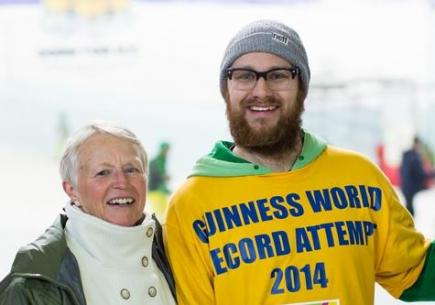 NICE GUYS FINISH FIRST: Rich flashes another grin next to his mum
"He's an amazing child and I never doubted him for one minute because if he says he's going to do something he will do it."
Richard attempted the feat in aid of Disability Snowsport UK for whom he has raised £1,120.63.
Richard, who revealed the money will be spent on equipment such as skis and harnesses for disabled people, is thankful of the amount gained so far.
He said: "I am grateful for everybody who has donated and the family who have supported me and everybody who has come down and rode with me."
Donations can still be made at http://uk.virginmoneygiving.com/fundraiser-web/fundraiser/showFundraiserProfilePage.action?userUrl=RichardMillington