Despite his imposing physical presence, upcoming Manchester boxer Charlie Schofield is fun to be around – sparky, animated and full of energy.
The record suggests that the latter personality trait is one that he carries with him into the ring: 12 of 13 victories have gone the distance to see him claim victory on points, including an impressive win earlier this month against Doncaster's Adam Jones.
It served as another stepping stone for the unbeaten light-heavyweight, breaking into BoxRec's national top 10 with a further demonstration of his considerable potential.
"I remember someone telling me ages ago that your first four or five fights, although they're tough, you're learning your trade, almost like an apprenticeship," he said.
"The last two fights have been a good step up in class, and I can feel it when the opponent, instead of just sucking it up and taking shots, is actually throwing stuff back at you and wants to win.
"Even though the last fight wasn't my best performance it's great to come through it with a win."
The victory allowed for a momentary celebration for the 24-year-old – two glasses of Malibu and lemonade – before Schofield, trainer Rob Rimmer and the team from the Betta Bodies Gym were back to work.
Minds are now focused on Saturday May 5, with a bout against an as-yet unannounced opponent at the Victoria Warehouse in Manchester.
"Preparations are going great," Schofield said. 
"For the last fight we had a horrible training camp – that's a good thing, it was hard – but had a couple of little niggles and things weren't really going right.
"The first week is breaking your body back in again, then you're doing more longer distance runs, more swimming.
"The work you're doing is more fitness stuff, rather than short burst stuff.
"And then as you get closer to the fight you work on more explosive stuff – the running becomes sprints, the swimming gets sharper.
"This time I've started off where I left off, I'm injury free and feeling great."
PUNCH DRUNK
Facing him across the table in Central Manchester's Grosvenor Casino Soames, it's difficult to picture the 6′ 3″ Schofield as a stringy kid putting on the gloves for the first time.
"My dad took me down to a gym – I had loads of energy as a kid, so he was probably thinking 'right, let's get rid of him' – and I just loved it.
"I had my first amateur fight and it was a great buzz as a kid getting in the ring, but I've never been as tired as I was then.
 "I felt like I'd been in a car crash!"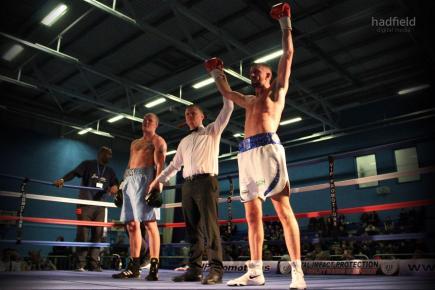 He continued to impress legendary coach Bobby Rimmer, who nurtured his innate talent while ensuring a productive outlet for all that energy.
"When I was 13 or 14 of a Friday night my mates would be going out and drinking, and I'd be in the gym getting punched," Schofield recalls.
"I won a few titles at amateur at 16 and 17, and started to think that I could do make a living from it."
After 30 or so amateur bouts Schofield made the decision to turn professional, and hasn't looked back – even though he keeps himself occupied with other activities.
To supplement his fight purse income, he is a personal trainer – an ideal job for the self-confessed gym rat.
"I love fitness and so I chose to sport at college, just because I really enjoyed it, but I was thinking that hopefully I could turn pro and box for a living.
"I run a few boot camps and things like that – so I'll get beasted in the gym and then later take the anger out on loads of clients!"
The clients he speaks of have likely been enticed and enthused by boxing's welcome resurgence to the forefront of the national sporting scene.
Last month saw Anthony Joshua secure victory over New Zealand's Joseph Parker with a unanimous points decision at Cardiff's Principality Stadium, which in turn put him one step closer to becoming the undisputed world heavyweight champion.
For Schofield, it's an indication of what can be achieved when talent, hard work and good timing converge.
"What he's done is amazing – if I could do half of what he's done I'd be buzzing, he's a national treasure now, and it's done so much for British boxing.
"You turn the telly on and Anthony Joshua's on it."
HATTON INSPIRATION
Beyond the star attractions, the talent pool in British boxing is deep at many weight classes.
Anthony Yarde, Callum Johnson and Frank Buglioni have made an impact internationally in the light-heavyweight division, and Schofield is looking to challenge that bracket of fighters.
"It's a division that's been pretty quiet in the past few years, so I'm hoping the light-heavyweights get some recognition.
"There's really good talent in it, especially in the top 10 or 20 fighters.
"I think it's going to be one of the divisions that comes to life in the next few years, and it seems to be sparking now."
Top sparring today with my team mate @jackmassey123 Finishing off the session on the water bag  #TeamSchofield #WednesdayWisdom pic.twitter.com/l3eNFNWOQi

— Charlie Schofield (@Chaz_Schofield) April 11, 2018
On the way up the ladder, Schofield knows he can rely on a strong following to provide added impetus when the going gets tough.
It's easy to picture the city supporting a lad like this, just as it has done with Anthony Crolla – though as a Blue, Schofield would perhaps prefer to emulate Ricky Hatton.
"I've got a top following and the people who consistently come and watch me are ace, I can't thank them enough for the support.
"Crolla is a great lad and it was great to see the city getting behind him, you could really see how hearing the crowd spurred him on.
"Being from Manchester and being a Man City fan as well, I remember being a kid and watching Hatton walk out at the Etihad with his belts and it was inspirational.
"I remember thinking to myself 'one day I could be walking out there to those fans' – I think you've got to aim for that level."
After a dawn rise for a morning training session, you'd forgive Schofield for a little tiredness, but he remains an ebullient character throughout our long chat.
Sterner challenges lie ahead as he progresses to "that level", but Manchester can be confident that Charlie Schofield has the energy to match the best.