Bacup's Martyn Gibbons believes contesting the cycling races at the first ever Invictus Games is just the start of things to come for him in the sport.
The 40-year-old has lost three stone since February in his preparation for the road cycling event and is looking to grow the Military Mountain Bikers organisation he founded this year in Rossendale.
The Royal Regiment of Fusiliers veteran, who is a mountain biker at heart, was content with his road cycling performance having only started the sport seven months ago.
Gibbons finished eighth in the IRB2 road bike time trial and 11th in IRB2 circuit race but for him, just competing signaled a huge moment.
"I think I could have got a slightly better time as I was only about a second off the pace. But I'm happy as I've only been riding since February. In fact, I'm over the moon," said Sergeant Gibbons who was awarded an MBE for displaying outstanding bravery and courage in Afghanistan.
"It's been amazing to be compete at the Invictus Games. It's massive and I don't think anyone thought it was going to be this big but then you see how many people have been watching all the events and it's just incredible.
"It's my mission to be competing with the top young guys who could be pushing for the Paralympics."
The Invictus Games are an international sporting event for wounded, injured and sick service personnel, with more than 400 competitors from 13 nations taking part in nine sports across four days in London over the past five days.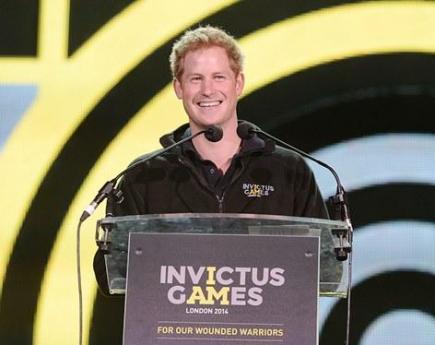 ROYAL PRESENCE: Prince Harry launched the Games in March
Gibbons, who was wounded by shrapnel during a mortar attack in Afghanistan back in 2007, has used all his grit and determination to regain the use of his legs.
And the Rochdale-born serviceman, who keeps the part of the bomb that changed his life as a reminder, admits sport has been a crucial part in helping to get him back on track.
"Sport has played a massive role in my recovery and rehabilitation," he added.
"I was in a wheelchair for a year and a half as I couldn't walk but I could ride a mountain bike.
"I built up my strength and stamina and I've recently classified for para-cycling so I'm hopefully going to push on and do some of that.
"It's great to see the support that we've got from all the spectators who have come to watch the different competitions."
Jaguar Land Rover is proud to be the presenting partner of the Invictus Games, the international sporting competition for wounded, injured and sick Service personnel. For more information visit www.jaguar.com and www.landrover.com
Main image courtesy of AFP via YouTube, with thanks.