"I think we'll make the final and have every chance of winning the thing."
Andy Goode gave an enthusiastic response when asked about England's World Cup chances come later this month.
The former flyhalf appeared 17 times for England throughout his career and made 236 outings in English top-flight rugby, scoring over 2,000 points and becoming the second-highest point scorer in the league's history.
"This is the most open tournament we've had in a long time, and New Zealand are obviously a big [favourite] going into it. But they've shown they're able to be beaten, such as Australia and South Africa have.
"We've had a good football World Cup and this summer we saw it again which we won in dramatic fashion. Hopefully that encourages people to get behind the team and grows the support of the sport and encourages people to get behind the team.
"England just need to navigate their way through the group stages, get momentum to build.
"We're the only northern hemisphere team to win the tournament and this year we have players with the age profile, the talent profile, some of the players with the likes of Owen Farrell and Billy Vunipola are unstoppable when firing, so we can definitely take the win."
England's win came in truly historic fashion 16 years ago, a memorable drop kick by the talismanic Jonny Wilkinson in the 100th minute. However, since then, northern hemisphere teams have performed disappointingly – of the 12 semi-finalists in the proceeding three tournaments, a northern hemisphere team has filled that spot only three times, and made the final once, England in 2007.
"You look at Wales are at the moment, they're the Six Nations champions and they played exceptionally well that tournament and they're in a position that, if there's one opportunity to win it, it's now," said Goode, when asked about other possible northern hemisphere champions. 
"Alun Wyn Jones is at the height of his powers and he won't be there in four years' time. You've got a lot of quality throughout the squad, but the only thing is the loss of Gareth Anscombe, but Dan Biggar is a wonderful player.
"Ireland are also up there, they're number one in the world right now in terms of IRB rankings and with that, they'll be backing themselves.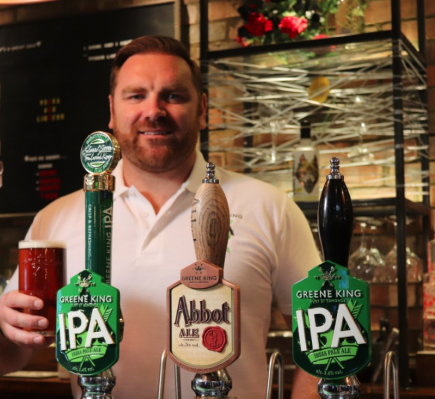 THE GOODE STUFF: The former flyhalf told MM pints of Greene King IPA went down nicely during his playing career 
"I think they peaked a year too early. If the World Cup had been this time last year, they were primed and ready to go, being grand slam champions and having just beaten New Zealand."
While the earnest is indeed upon other northern hemisphere teams to show their worth come September, there's also the added anticipation of an upset.
SALE STARS
Speaking of surprise packages, coming after Japan's marvellous beating of South Africa last time out, Goode said: "Fiji are full of fantastic players, they're some of the most skilful players I've seen on the field. The power, the pace, the ability to beat the man, they could cause an upset there.
"Japan beating Scotland in their last big pool game. The whole country, and most of the world, behind them to cause and upset and that game could decide who makes it out of the group."
Tom Curry and Faf de Klerk both ply their trade for Sale Sharks and Andy was full of praise for the both of them, though laughingly he hoped the former outshines the latter.
Someone must have told @TomCurry98 its the team photo shoot next week…

Hell of a pose!  pic.twitter.com/pYIjUQSLq6

— Sale Sharks (@SaleSharksRugby) July 30, 2018
"Tom will be a real standout player. He's physical, he can carry the ball well, his relationship with the other members of the back row will be key.
"[His] works ensures the ball is free for the big boys like Billy to carry it, so he's going to be instrumental for us at the breakdown and a really intelligent player for England.
"Faf is a great player, he makes brilliant breaks and causes all kinds of problems for the opposition when he has the ball. You hate playing against people like him because he's also so good at causing disruption for the opposition."
A new rule in rugby stipulates independent doctors have to be present at every game, an addition which Goode thinks is "100% the right way to go."
"Player safety needs to be a priority," he said.
"It's great to have doctors with no influence present. They'll judge it purely on the severity on the injury and not the game which is definitely the right thing to do.
"It's more physical than when I played, so injuries are unavoidable, and the players know that."
FORWARDS WITH HANDS
Comparing the game to when he played and mentioning the increased physicality and size of the players, Goode also thinks the game has become more ferocious and physical, but not to the detriment of the speed or skill.
"They're getting physical, better, the speed is powerful. It's a game that's always had physicality a part of it but it's getting tougher and more physical.
"Even going back five, ten years ago, if you consistently lose the breakdown you aren't going to win a game of rugby, are you?
"[Kyle Sinckler's] immensely powerful but he's got the ability to put a player through a hole. So, England's ability to play at the breakdown but have forwards with hands is going to be a big thing for them."
Every professional athlete has a particular habit they've got, and Goode was no different. When asked what his biggest vice as a player was, the answer was simple.
"To be honest, my biggest vice was Greene King IPA. You know after every game, I'd go to the pub and have two or three. It was something great to help me wind down after."
Japan kick-off the tournament with the opening game against Russia on September 20 before England's campaign begins two days later against Tonga before they face the USA four days after that as Eddie Jones' team build towards their first big test in the form of Argentina on October 5.
Here's my column for @RugbyPass looking at the @EnglandRugby squad selected for the @rugbyworldcup. Is the balance right or is it a risk taking two tight heads and two scrum halves? Have a read here https://t.co/foFBaKjPVF

— Andy Goode (@AndyGoode10) August 13, 2019
Greene King IPA is an Official Community Club Partner of England Rugby, encouraging Brits to get down to their local and debate the RWC! Key matches for the Rugby World Cup, including home nation and knockout stage games, will be aired at more than 500 Greene King pubs nationwide.