For an Englishman in Manchester, it could almost feel as if the Rugby World Cup is over.
Perhaps it's the week-long gap between the final pool games and the quarter finals, or maybe it's the fact that the area has buried its collective head in the sand and tried to pretend the last few weeks never happened.
But local interest is not helped by the lack of enthusiasm for rugby union in Manchester.
Despite local Sale Sharks recently being crowned Kings of the North, as well as George Ford and Owen Farrell both hailing from these parts, there is a tangible difference between rugby in the North West and the rest of the country.
There have been reports of an empty, lifeless Albert Square fanzone last weekend, and there are notably fewer local clubs available for aspiring Roses to develop their talents than in other areas of the country.
While there is no quick fix, and with England's World Cup failure doing the region no good in terms of youth involvement, the RFU must be praised for its efforts.
Eccles RFC hosted an All Schools event last week, which saw many young players taking part despite not having regular chances to play competitive rugby.
All Schools is an RFU initiative which has introduced 400 non-rugby union playing schools to the sport, and plans to add a further 350 before Japan 2019.
At the event, Stuart Lancaster (pictured above and below right) and eight of his England players took time to coach and guide the schoolchildren, passing on their talents and giving Lancaster a chance to say to his players: "See? It's not as easy as you think!"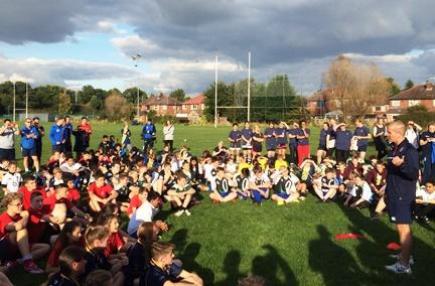 400 AND COUNTING: All Schools plans to have introduced rugby union to 750 non-playing schools by 2019
Lancaster had endured a torrid week of nigh-on abuse in the press prior to the event, which happened to fall on his birthday, and he highlighted exactly what those at the top see as the real issue of English rugby's stagnation.
"For me, investment into coaches is as important as investment into the game – it is more important really," the 46-year-old told MM.
"If you have got good coaches who put on good sessions and are effective at motivating kids, then you are going to have more kids playing the game."
At this stage, he appeared almost frustrated, as if saying: 'it's so obvious but no one is listening or doing anything about it'.
And Lancaster has a point. As a country, we hark on about English football failing because of the lack of coaches relative to Germany and Spain, so why should we treat rugby any differently?
"It absolutely stands to reason for me that you have got to put more time and effort into coaches, and educate them on how to motivate kids," continued Lancaster, referring to the RFU's recent training of over 2000 new coaches via the QBE Coaching Club.
"We have to give coaches good ideas on how to do that, and then the whole thing becomes cyclical; you get more kids playing the game and so it grows."
Other countries do not have such problems, with New Zealand and Wales prime examples of kids getting involved in union early on due to the engrained rugby culture that England lacks.
All Schools is taking steps to correct this, but there is no getting away from the fact that England has missed its once in a generation opportunity to give rugby union a foothold in its North West conflict with football and rugby league.
The whole country is in mourning, but nowhere else will the impact be felt so heavily. Elsewhere, kids will continue with their union clubs every weekend, albeit disappointed, but in Manchester this was meant to be the spark that set union in the area alight.
Last weekend's Uruguay clash was the first time the Rugby World Cup had come to Manchester; a staggering fact considering the tournament has twice previously been held at a range of English stadia.
Had results gone to plan, it also would have been a pool decider for which the whole world tuned in, but losses to Wales and Australia made it a dead rubber and saw almost 5,000 ticketholders simply not turn up.
Around 4,000,000 tuned in to ITV's coverage, compared to over 10,000,000 for the hosts' matches against Wales and Australia.
Conversely, the Super League Grand Final was a thriller that drew a capacity crowd and provided yet another brilliant advert for rugby league.
In an area already partial to the 13-man code, this deflated atmosphere building up the World Cup match was damaging and could heavily impact the tournament's northern legacy.