BMX is heading to the National Cycling Centre and Manchester-based duo Tre Whyte and Charlotte Green are determined to make home advantage count.
The world's best BMX riders will compete in the UCI BMX Supercross World Cup on the weekend, with the British Cycling taking to the track they know best.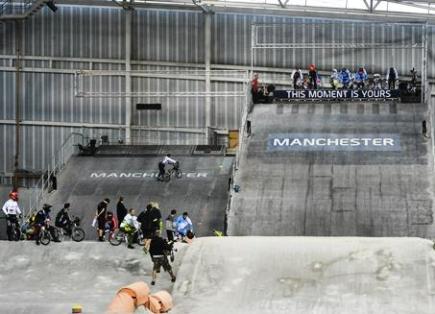 SEIZE THE MOMENT: Competitors at this weekend's UCI BMX Supercross World Cup train hard in preparation.
And 21-year-old Whyte, who won bronze in last year's World Championships in Rotterdam, is eagerly anticipating home support ahead of a busy season which involves Olympic qualification.
"It's our home track," he said. "We train here quite a lot and it's the start of the World Cup season so just being able to compete in it is massive.
"In Manchester we get the best atmosphere, every year. And when you drive around you see people on BMXs which you don't see elsewhere, which is great.
"When you're on the gate and someone shouts your name, it's incredible. If you make a move, or do something good, you know about it because the crowd goes wild."
Riders ready? Open training session for Great Britain ahead of the @BMXSuperX next week #BMXSX pic.twitter.com/DEzaJsExms

— British Cycling (@BritishCycling) April 9, 2015
The Peckham-born rider is also thrilled to see the sport getting the coverage and recognition it deserves, particularly in schools.
"People never used to know what BMX was and when I was at school I was the only person riding BMX," he added.
"Now when I go home, there are schoolkids doing BMX in PE and I think kids are looking at it as a cool sport to do."
Meanwhile, Green, who finished fourth at this event last year, is hoping the tournament will have a positive effect on the younger members of the crowd.
"I think the event last year did a lot for BMX and it inspired the kids that are now involved with cycling in general and I'm sure this year's event will also have a really positive effect," she said.
"Lots of kids from around the country involved in cycling will be coming to watch, so they'll all be able to see the biggest riders around and their heroes so for them it's massive.
"It'll be a really big inspiration, even if they're not actually here – it'll be streamed live on the internet so lots of people will still be able to watch."
To look at how you can get involved in cycling, visit https://www.britishcycling.org.uk/getinvolved
Images courtesy of Koray Erol, with thanks.