Max Verstappen and Lewis Hamilton's duel in 2021 was the most compelling F1 battle in years – and yet there wasn't a woman in sight.
Last season's dramatic title battle will be one for the history books but another year on, there hasn't been a woman on the grid, in fact there hasn't been one in 45 years.
Unlike many sports such as football, rugby, golf and athletics there are no gender-based rules in motorsport. Men and women can race side by side.
The longstanding opinion of whether women will ever be able to compete competitively alongside men in either F1 or MotoGP has always been the norm. 
National motorsport journalist Zoe Burn has been in the industry for 20 years.
Burn, who writes for the Daily Star and Daily Express, admitted sharing this opinion. She said: "A woman is never going to be able to wrestle a 1000cc motorcycle in the same way a woman is never going to be able to drive an F1 car."
This view is one held by many in the industry including the ex-F1 boss Bernie Ecclestone who said that a female driver would not physically be able to drive a F1 car quickly.
However, racing driver Helen Allen, who has been circuit racing for 25 years in saloon cars disagreed.
She said: "I don't see any reason why we shouldn't see a woman in F1. I think the reason why we see so few women in motorsport is because women don't believe they can do it. And so, because you don't believe it you don't do anything about it."
She also added that you don't have to be particularly strong to drive an F1 car but you have to be fit because of the G forces, but fitness and strength are two completely different things.
However, within all the excitement of seeing women rise through the ranks of motorsport there still is one common problem. Are women just there out of gesture? To be a successful racing driver you have to be the best of the best, not just the best female.
To date there have only been two women racing drivers who have qualified and started an F1 race.
Italian racing driver Maria Teresa de Filippis was the first women to drive in F1 in 1958 and 1959. She faced a lot of sexism, with the director of the French Grand Prix preventing her from racing by saying 'The only helmet a woman should wear is the one at the hairdressers.'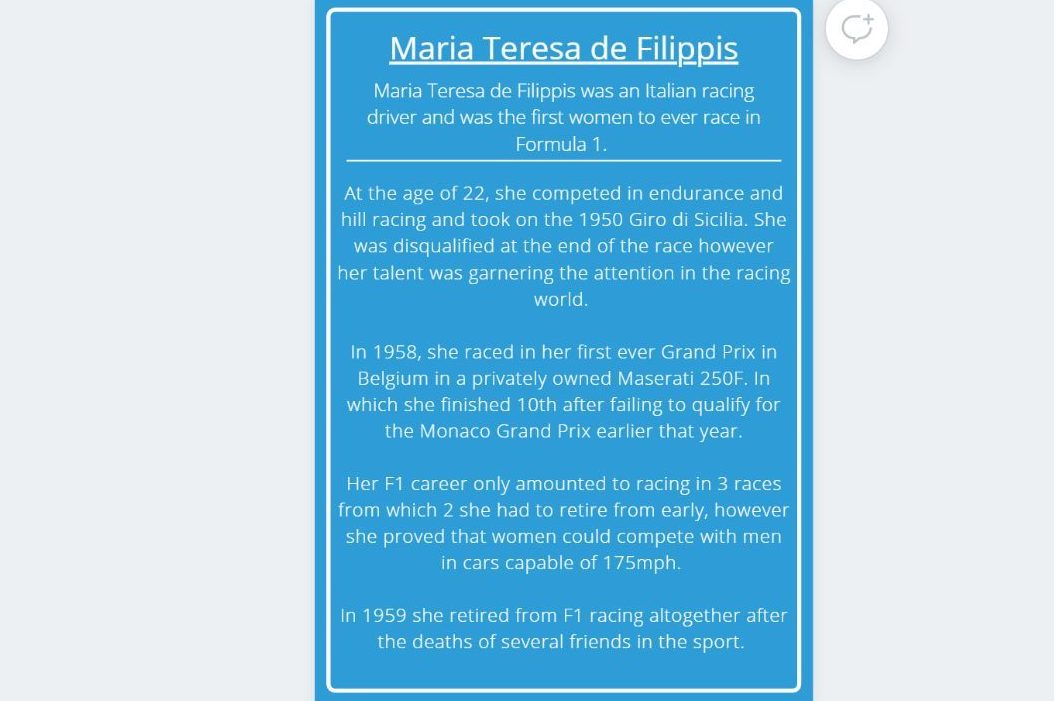 The second and final woman to drive in F1 was Lella Lombardi in 1974 and 1976 who became the first and only woman to score points in a F1 Grand Prix race.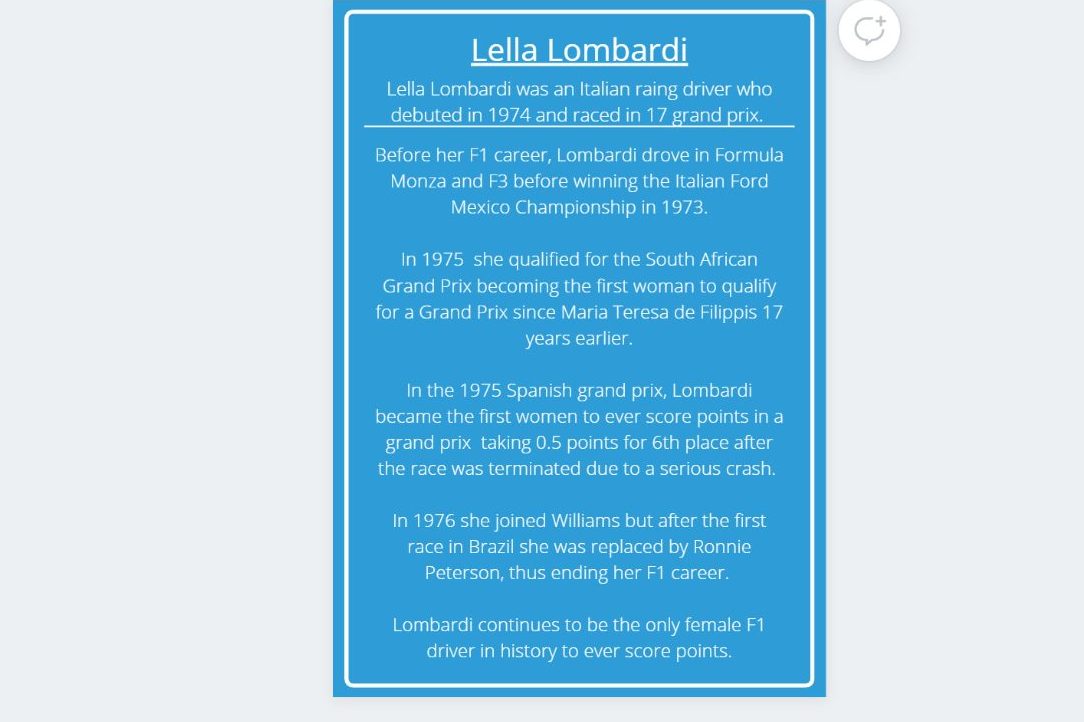 When asked about whether getting into the motorsport industry was harder being a woman, Burn – who now covers predominantly motorcycle racing – said: "I don't know if it's hard because I've always been a woman and this is how it has always been.
"It's not any more difficult as long as you know what you're doing. I found it harder in bikes but that's just from the attitude from fellow bike journalists who don't think women should have anything to do with them."
The financial aspect of the sport has held back many talented drivers and when asked if women find it harder to gain sponsorship, Burn believes that in motorcycle racing there are normally two types of female racers – those who want to make a fuss because they're female and the ones who just want to ride a motorbike and don't care that they're female. 
The interesting thing is the ones who don't want to make a fuss that they're female, although you can respect them more, they're not the ones getting the sponsorship. It's the ones going out riding in pink saying 'hey I'm a girl' that are getting the sponsorships.
Throughout recent years, the rise of women's media coverage in sports such as football, rugby and cricket has been encouraging as women are proving that they can be as successful at these sports that are traditionally associated with men.
The explosion in popularity in women's sport has been rapidly growing in the past few years.
The Women's Sport Trust (WST) revealed that 2021 was on track to beat all records for broadcast audiences of women's sport in the UK growing from 46.8 million in 2019 to 51.1 million by the end of 2021.
For example, the FA Women's Super League broadcasting deal with the BBC and Sky brought in 7.87 million new viewers and 47% of the total live coverage hours of The Hundred across the BBC and Sky were dedicated to the women's game.
Regarding the future of women in motorsport, Allen said: "I'd like to see more and I'd like it to be less of a surprise when women are around motorsport. I'd like it to be more accepted and not just as drivers but as mechanics, engineers, technicians etc. Women seem to get the office jobs and the backroom jobs. We're all people at the end of the day and whatever talent you have you bring to the sport."
The W Series is a great example of women proving themselves that they too can be just as successful at motor racing as men and creating a platform to encourage more women to race and get involved in the sport.
The W Series is an all women, single-seater championship. The first season took place in 2019 and featured 20 drivers contesting in six races.
It has allowed women to display their talent, speed and potential in the sport. Unlike many other race series, drivers don't need to pay an entry fee or have financial backing from sponsors. They are chosen based on their fitness and ability to succeed.  
Allen said: "I was at the final meeting at Brands Hatch in the first year it was on and the buzz around Brands Hatch that weekend when the girls were competing and everybody stopped to watch the girls race. It was absolutely brilliant and they did some fantastic racing. I want it to be normal for women to be racing.
"The W series really showcases what women can do. Most of the mechanics and technicians are females as well."
Commenting on the forthcoming 2022 season of The W Series, CEO Catherine Bond Muir said: "Our landmark partnership with Formula 1 has resulted in increased interest in the series around the world and a larger pool of talented female racing drivers from which to choose from in season three.
"The eight races will allow our fast and fearless female racing drivers to showcase their skills on some of the world's most iconic racing circuits, in Europe and the Americas, and literally follow in the tyre tracks of the greatest racing drivers in the world today."