Laura Nuttall once idolised the marathon runners she watched on television.
From the other side of the screen as they pounded one foot in front of the other and bounded to the finish line – their faces a blend of fierce determination, exasperation and coolness – the 27-year-old thought it was unimaginable for her to do the same.
Despite once being unable to last 10 minutes on the treadmill, she began running as a hobby in 2010, while on a two-year teaching placement in South Korea. She has since triumphed, running two marathons in consecutive years.
Embarking on her biggest challenge to-date, taking the scenic route along Hadrian's Wall country from Carlisle Castle to Baltic Quay in Newcastle, it's been a turbulent journey in the lead up to an Ultra and one which makes running for mental health charity, Manchester Mind, all the more understandable.
"You do face some dark patches when you're doing endurance," she told MM, recalling the 2014 Greater Manchester Marathon, her first ever, where the pressure of performing caused a mental 'wall' eight miles into the race.
"It was like a dark cloud just came in front of me out of nowhere. I wasn't having any negative thoughts and I can only describe it as an overwhelming sense of doubt.
"It's funny because as an outsider I'd look at that situation and think, 'stop running' but when it's you, you can't.
"If I stop, I've failed and I think it was that fear of failure and not achieving what I'd set out to do – what I'd invested months of training and hard work into.
"I don't know how I managed to get through it – it's just about playing mental games with yourself to try and stop thinking about the dark thoughts because prior to that I'd never experienced any anxiety or panic attacks."
Frightened and deterred from running, Laura vowed to not do another marathon again, but as she wrote on her training blog where she updates readers on her progress: "The feeling of the ground beneath me as I lay on the floor past the finish line was so comforting and the post-race banana was the greatest thing I'd ever eaten, and I don't particularly like bananas all that much."
It was this quiet resolve that made Laura and her story so endearing, along with the matter-of-fact way she described it all.
Determined to then find the enjoyment in running, though marathons were never on her bucket list, she signed up to the 2015 Windermere Marathon.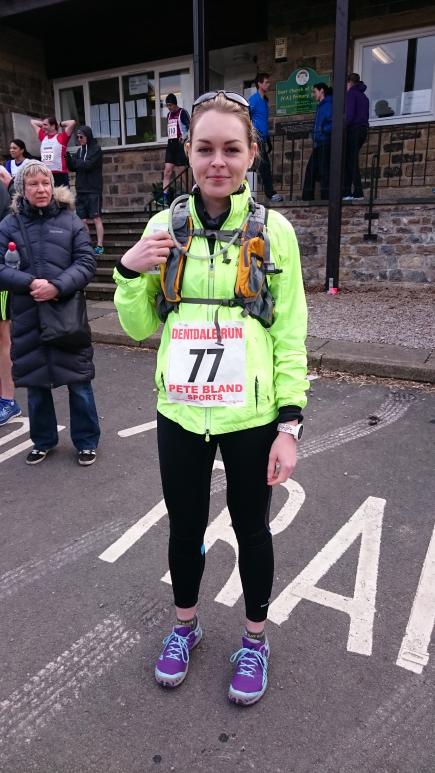 DETERMINED: Laura after the Dentdale run
Crowned the UK's most scenic, it was a perfect fit for this countryside girl whose adoration for the great outdoors is her 'number one running inspiration' and a far cry from the congested high rises where she lived, aged 23, in Korea or her drab run to work through Princess Parkway to central Manchester.
"Having something to look at in the distance or a gorgeous lake, just being out in the fresh open air," she began – but there was something deeper than just the fantasy of a 'beautiful, postcard perfect' location that justified Laura's relationship with the sport.
Running is cathartic and a way for self-conscious Laura to 'mould into the background and get on with it'– the sole reason she prefers trail runs in the Lake District over road running, and has never joined a running club.
She said: "I'm amazed. I'll be running out in the hills and I won't see anyone for hours and I just think people are missing a massive trick here because it's so fulfilling.
"You can really find peace and get your best ideas while you're out running.
"It's a process that I do to help me de-stress and organise my future, I suppose."
An account executive for a national PR company, Laura wanted to give meaning to the ultra by running for her employer's 'adopted charity', but is keen to highlight that neither is she an 'attention-seeker' or someone who ever wanted to play the 'champion'.
She said: "Running can be a very selfish thing and I've thought about this, what I'm doing is selfish in a way because it's my own goal and what I'm achieving, but I'm raising money as a way to raise awareness.
"Anybody can do what I'm doing but it takes somebody else to be a volunteer for Mind and the work that they do is invaluable.
"They're actually a lifeline so we need to support them.
"I still don't consider myself to be an athlete, it's just that I'm drawn to challenge more than anything.
"I always seem to need a goal to work towards to keep me occupied so the ultra has evolved from that."
Feeling guilty about pestering friends and family to sponsor yet another challenge, Laura chose not to set a fundraising target but says she would be pleased to hit £500.
She said: "It's hard asking for people to donate because a lot of people when parting with money want to know what's in it for them, but I would just come back to the fact that Manchester Mind is a charity that one day, no matter what, you or somebody you know is highly likely to need those services and being fully run by volunteers, they do need the funding."
An independent and entirely self-financed charity, separate from the national organisation, Manchester Mind work to alleviate the impact of poor mental health on young people, adults and families in the city.
Supporting over 80 volunteers each year, they engage with service users through a variety of grassroots projects, that aim to help people live more successfully in their communities and become mental health ambassadors.
Adopting a flexible but consistent training programme since she signed up for the race last October, Laura, currently runs three times a week – combining interval sessions of sprints and jogs with a long run on weekends to build up the mileage.
She said: "I honestly find it so boring heading out for a 20 mile run when you know you're going to be out for three hours.
"You've only got so much music on your iPod that you listen to over and over again."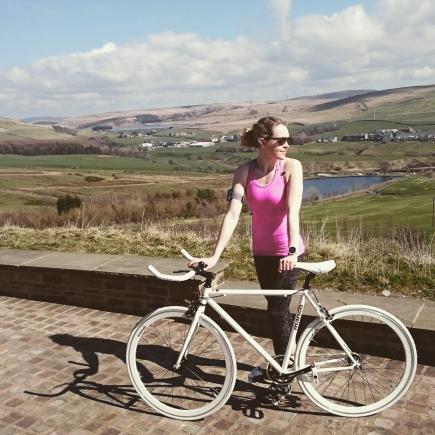 NEW WHEELS: Laura said getting a bike was the best thing she did
Cramming running, cycling and the gym around a high pressured job, private life and not to mention sleep – Laura had contemplated extreme measures to get her exercise in which didn't involve the more logical, but equally as dedicated, running to and from work.
"I've even considered should I go into the staff toilet's and do my five minute ab exercises just to get them out the way, but if anybody walks in and sees me on the floor, they'll think I'm having a fit," she confessed to MM.
"It's trying to be as efficient as possible with my time but you do get days where you lack motivation completely."
Completely different to the prep for a normal marathon, she explained, it's vital to 'get in the gym and lift weights' with strength of mind and muscle conditioning key to surviving the full day.
She said: "If you can run a marathon then you have the cardiac ability to run further distances, but it does come down to muscle strength and your sheer determination, and not giving in to those mental demons that creep in."
Winning a competition to be the female face of 'The Wall' after she responded to an open call, Laura, while filming, had an early peak at the route she'd be facing.
Running part of the ultra at night, MM asked Laura whether she was preparing for the practicality of being alone in the dark.
She said: "When we were filming, I thought, 'shit' this is quite scary running down a country lane and you don't know if you're running the right way.
"I know in the past they've had problems with local people in Newcastle switching the arrows around and sending people on a two mile detour which is funny for them, but after you've run 60 miles, you're probably not so pleased about that.
"A lot of people have been getting up at 2am and 3am on runs to get used to being lonely. Well one, I think that's not so safe in Manchester and two, I really think you can over-train and get to the start line and be exhausted because you've been so worried about doing everything you can, when actually on the  day, you'll be fuelled with adrenaline."
Spurred on by a huge amount of support from her family, including partner, Simon, who Laura joked is a golfer not a runner – "The furthest you'll probably get him going is 18 holes on a golf course," – she shares their excitement and hopes they'll watch her cross the finish line.
She said: "My parents are really blown away because I don't come from an athletic family, having said that though, my grandma jokes that I must get it from my granddad as he was in the SAS so he was a proper hard arse.
"He was absolutely thrilled to bits that I was doing it, he thought it was fantastic, especially for a woman.
"My grandma on the other hand wasn't so happy it, she wasn't even happy about me doing a marathon but I think they were just worried about whether it was too much for me to take on."
But more importantly, had Laura surprised herself throughout the last eight months?
"Yeah, I think so. I never thought I'd ever do a marathon" she replied.
"Sometimes when I head out the door now and it's nice and warm, I think, what was getting me out of bed in January and February when I was up in the dark at 6am to do my interval training? It was freezing.
"I'm happy that I managed to do it and committed but I think after the Ultra, I'll give myself a six month rest."
Psyching herself up for what seems like an incomprehensible amount of mileage in a day; Laura's game plan is simple: one foot in front of the other until she has to crawl and focus on the real cause.
She said: "As long as you're moving forward, you're making progress.
"I saw a meme the other day and it said: 'My strategy is: run what you can, walk if you have to, crawl to the end' so that's literally going to be me until the tank is empty and I cannot move.
"Manchester Mind have been fantastic between supporting me and raising awareness of what I'm doing, they're the real heroes, to be cliche, and that's what's going to keep me going."
For more information on the work of Manchester Mind visit www.manchestermind.org