When it comes to inspiring others, lifestyle and fitness guru AJ Odudu made sure to lead by example at this year's Great Manchester Run.
The 30-year-old is best known for her work as a TV presenter and fitness professional – and she put the latter to good use as she took on the role of being a Duracell Bunny Pacer for Sunday's race.
Blackburn-born Odudu, who now resides in London, was the first of several lifestyle and fitness stars enlisted by Duracell to help the UK public #RunForLonger.
And there was no doubt about how seriously she took her responsibilities both on the day, and the in the weeks leading up to the race.
"The whole point is to encourage people to run for longer and to get over the finish line," said Odudu, who kickstarted the campaign by inviting members of the public to join her at a special Great Run Local event in Salford Quays where she provided top training tips.
"It's not just been about the race day, there's the pre-run preparation which is equally important. It's been great to have been able to help people out and offer different tips and advice, like what to eat and drink. People have been really enthusiastic, especially across social media.
"And then you get to race day and the crowds in Manchester are amazing, you hear the music and you just want to get going.
"Running can be such a sociable activity and that is definitely on show at the Great Manchester Run.
"There is pure enthusiasm. And if you're struggling, the crowd just drives you on. It's the power of teamwork, people just egging you on. I think it really does help you run for longer when you've got other people cheering you on."
The Duracell Bunny Pacers have been a cornerstone of Duracell's sponsorship of the Great Run Series since first partnering with the organisation back in 2016 with more than 200 individuals performing the role last year.
Additional fitness and lifestyle stars will take on the role at the Great North Run on September 9, the Great Scottish Run on September 30 and the Great South Run on October 21.
And for Odudu, the day will live long in the memory as she proudly took to the streets and helped other people enjoy running as much as she does.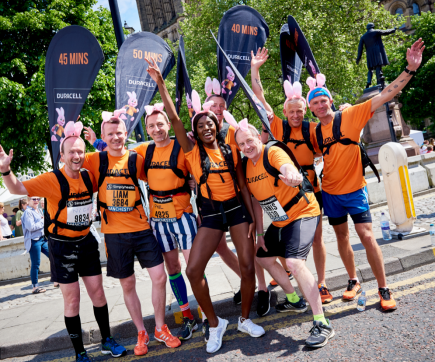 "I love to run, I normally run twice a week but then I'll also do pilates and other sorts of training sessions. Get a good playlist going and you're off," she added.
"It's so lovely being back in Manchester. I live in London but it's always nice to go back to familiar places. Mancunians are very vocal people so you couldn't ask for better support for the race."