Salford Cycling Club rider Peter Murray arrived early in Burnley for a lunchtime start to his Veteran 60+ category race last Sunday.
The 63 year-old Scot stood in 3rd place after two races of the league season and said he was nervous before coming to Towneley Park.
A senior journalism lecturer at Manchester Metropolitan University, he'd been working the day before and felt tired ahead of the race.
I asked what decisions had been made on choices of tyre and their pressure in his preparation.
Overhearing our conversation in the next parking bay was Nigel Dykes of Lancaster CC riding in the Veterans 50+ league setting off two minutes before Peter's race.
Peter said: "Don't get cyclo-cross riders started on that!
"So there's three of us standing here. Someone else is gonna say something different.
"I've got mud tyres on and I've got the pressure really low. If it's remotely muddy I'll put the mud tyres on, if it's dry as a bone, I'll put file treads on."
The last time he'd visited the course was to marshal to the 2019 North of England championships where John Galway of Keswick Bikes won in Peter's category.
Of that day, Murray said: "It was an absolute quagmire. People were having to run all the way along the lower section.
"The mud was ankle deep and beyond. But I've been around, it's all rideable."
In the car park next to his converted van with warm up rollers nested underneath I asked how the course and the weather – it was a damp day with showers before the race – would affect his chances.
"There's a couple of guys in the kind of middle rankings. And we just kind of race against each other."
Peter made no bones about clawing back any ground on league leaders Brian Gough of Southport CC and Jan Kardasz of Fibrax Wrexham Roads Club.
Dykes confirmed he'd seen the riders, currently lying in first and second place in the standings, at the venue.
"So they're around are they? Yeah, they're around so they'll make mincemeat of me!"
I ask what it would take to get them within reach. Peter replied: "Losing 10 years?
"You know that the thing is, everybody struggles. It's just a matter of how strong you are really."
Each lap of the 40 minute race would take the leaders around eight minutes over the 1,900 metre course.
International cyclo-cross riders are known for their explosive burst of power with some thriving in other disciplines of cycling.
Olympic mountain bike champion Tom Pidcock won for Team GB in Tokyo and reigning UCI world road race champion Julian Alaphilippe each have a background in this side of the sport.
I walked the course as the day-long event organised by the North West Cyclo Cross Association (NWCCA) filled up with first timers, novices and those in young rider categories.
After starting on grass and negotiating a twisty opening section, a shallow incline on a bed of compacted gravel drilled the racers into a wooded area.
A steep inclining bank took the pace off before twisting and passing alongside the neighbouring Brunshaw golf course.
Technical areas in a copse bogged the riders down before dropping back down to the finish where pit crews were waiting with a clean bike to swap then jet wash the other.
Murray got off to a flying start in his race and led the field after the first half-lap.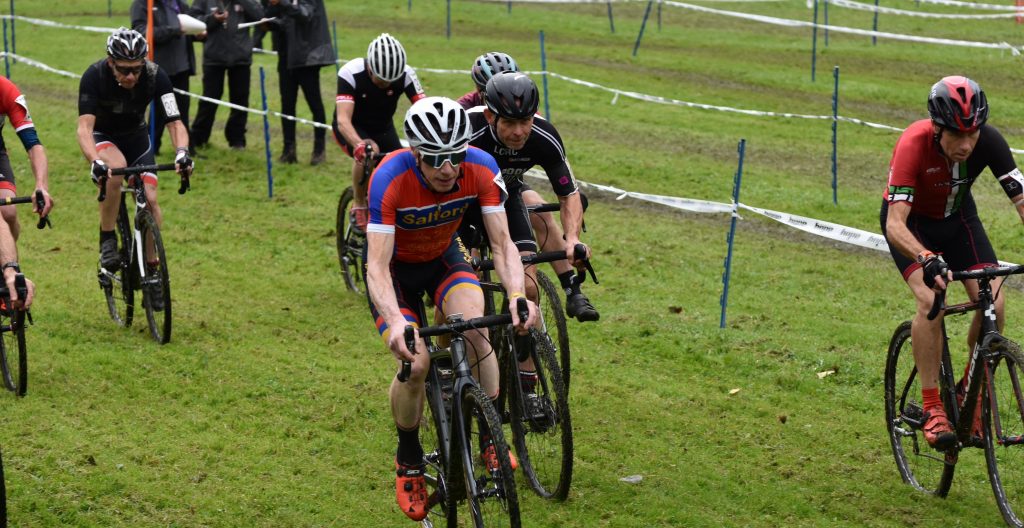 Calamity struck early on with a crash at the first steep embankment, put down to the one mistake Peter indicated each rider is guaranteed to make per race.
Afterwards he said: "One guy stalled in front of me. My front wheel went in between his disc brake and frame.
"It was a bit of a wrestling match to get that out.
"That kind of held me back and then the guy from Kendal who was 200 yards behind me came up really close at that point."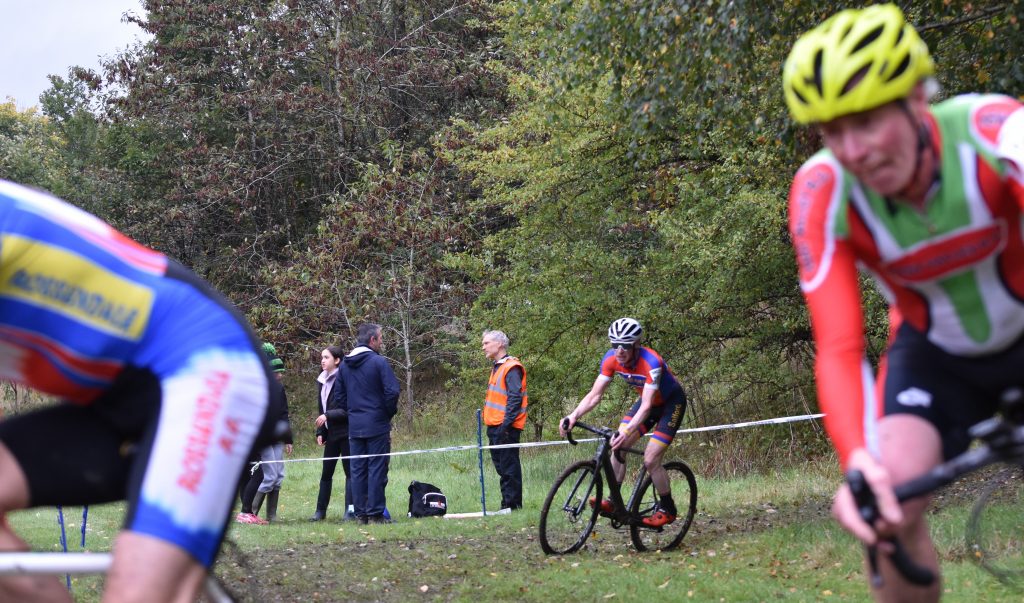 Murray's third lap was timed at eighteen seconds slower than his second, almost twice the time difference of riders who finished above him.
He would eventually finish one place and less than two seconds behind Michael Spears of Kendal Cycle Club.
Brian Gough completed five full laps winning in a time of 42 minutes 12 seconds followed by Jan Kardasz at 54 seconds.
At the end of the race back in the car park, Peter shared his experience of the race and some war stories with his fellow riders.
"It was quite a lot of this stuff (stamping his foot on some gravel) going uphill. You go quite fast compared to the muddy sections. It almost felt like recovery time.
"That mistake when I ran into the back of that guy, he said 'I didn't know what direction you were coming from'.
"And that probably was my fault actually because I didn't shout 'I'm coming on your right' or 'your left' just 'cause I was so knackered."
Of his fast start, Murray said he surprised himself and would later tell me that a training regime which now includes deadlifts which may have played a part in his escape.
Peter will spend the next week resting up between a weight session, commuting from Eccles to Oxford Road and back then putting his commuter bike on the turbo trainer when he gets home.
Murray's next race is in the HSBC UK National Trophy Series this weekend at Callendar Park in Falkirk where he lies in 34th position after two rounds.
He also has a place at the UCI 2021 Masters Cyclo-Cross World Championships to be held at Trinity Park, East Suffolk on 3rd – 4th December 2021.
Salford Cycling Club are scheduled to host the final event of the 2021-2022 NWCCA league season at Buile Park in January. Mancunian Matters will be reporting on the planning from volunteers, organisers and the NWCCA in an upcoming feature.