FC United of Manchester manager Karl Marginson heralded his club's support as 'absolutely magnificent' and his players 'second to none' following their promotion to the Conference North on Tuesday night.
His side needed to win their home fixture against Stourbridge to be sure of the Evo-Stik Premier League title and they duly obliged, collecting three points in a nervous 1-0 victory thanks to Greg Daniels' second-half header.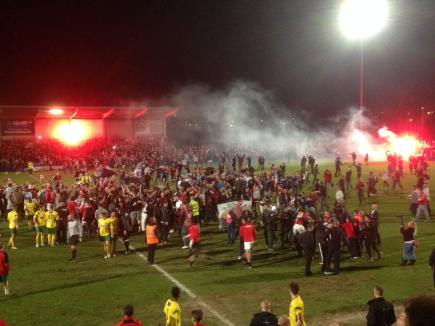 ABSOLUTE CREDIT: Marginson heaped praise on the club's fervent supporters, 3,588 of whom spurred FC United on to victory last night
And Marginson – who has been at the club's helm since its inception in 2005 – thinks that this promotion ranks as his greatest footballing achievement.
"It's the greatest thing I've achieved, definitely, as a manager, as a player," he said after the match.
"It's about making people happy, and I think we've done that tonight so that makes me happy.
"We're always looking for progression… so that being achieved makes me immensely proud.
"Not just for the players and all the staff, but also for the supporters, the support that we've had all year. It's been absolutely magnificent and they're an absolute credit to the club."
After a meteoric start to their footballing life which saw them achieve promotion in their first three seasons, 'the Rebels' have faced disappointment in recent years, failing to reach the Conference North while losing in the play-offs for the last four years in a row.
The team, which formed as a protest to Manchester United's takeover by the Glazers, has garnered massive support and media interest due to their fan ownership scheme and large crowds – 3,588 turned up to see their latest success.
Marginson credited the attitudes of his talented squad, who had to show a fair amount of heart to pull through against a Stourbridge side who offered little going forward, but made things very difficult from the off.
"We live and die together, that's what we're about," Marginson stated, dripping in champagne at the side of the pitch amid the jubilant scenes.
"We've had that belief all season, and that's been worked on for years, the attitudes of these players is absolutely second to none.
"Every one of them will be offered the opportunity to come back and stake a claim for a place next year, it's down to them to do that."
After United's latest success they are only two promotions away from the professional ranks and will next year rub shoulders with the likes of Stockport County, who were playing in League 1 when FCUM were first born.
They will also move into their own stadium in May, after sharing grounds with Bury and Curzon Ashton during their brief life so far.
Construction is nearly completed on Broadhurst Park, which will be officially opened with a match against Portuguese giants Benfica.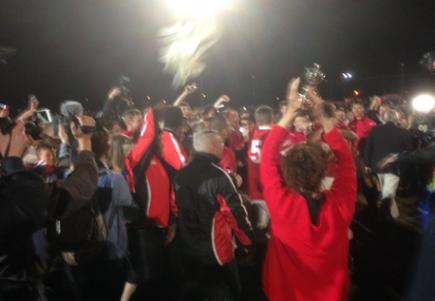 NO FEAR: Portuguese giants Benfica are on FC United's fixture list though Marginson and his team are unfazed by all the media attention 
But Marginson is far from daunted by the task ahead, and thoroughly believes that his side will be comfortable playing at a higher level.
"We know what it's going to hold for us, there's no fears on a football level," he said.
"We've worked hard, we've put the plans in place, we've got the infrastructure in place.
"The plans are in place to take us forward. We've got our own ground, that'll be online by then.
"If you look around, there'd be teams in the football league who'd give their right arm to have support we've got."
Although Marginson did state that league football at some point is realistic, the club have repeatedly refused to be drawn into making over-eager assumptions about their future status and no-one will be taking the Conference North lightly.
But for now, the FCUM fraternity has an awful lot of celebrating to do – with Marginson sure to be leading the way.
"I'm hoping that the Nag's Head is still open so I can go and have a pint" he said, as a loving fan planted a kiss on his jubilant face.
One thing is for sure, he certainly won't need to spend any money if there's any FC fans drinking in the same watering hole as he is.
Image courtesy of Hard Lines Productions via YouTube, with thanks.