For many Bolton Wanderers fans, the name Gareth Farrelly will bring back happy memories.
The retired Irish midfielder played a key role in The Trotters' 2000/01 promotion season to the Premier League, as the former Everton player made no fewer than 41 appearances in what was known as the 'First Division'.
In fact, most football fans will probably remember Farrelly for his time at Goodison Park, as his goal against Coventry City on the final day of the 1997/98 season kept the Blues in the Premier League.
As fate would have it, this came at Bolton's expense as they returned to the First Division.
Farrelly commented: "Obviously at that time being an Everton fan staying in the Premier League was obviously a massive thing.
"Little did I know that my next club would be Bolton, then I was reminded about that [goal] quite quickly."
Growing up in Ireland, Farrelly had started supporting Everton and after watching the side play on his television in 1983, he fell in love with the team's Le Coq Sportif kit which then developed into a lifelong investment in the club.
After coming through the ranks at Dublin's Home Farm, which has produced the likes of Liam Brady and Ronnie Whelan, Farrelly would find himself on the other side of the Irish Sea when he joined Aston Villa in 1992.
In 1999, the former Ireland international was signed by Colin Todd's Bolton, before Sam Allardyce took over the reigns in the October, and would go on to oversee one of the club's finest eras in its history.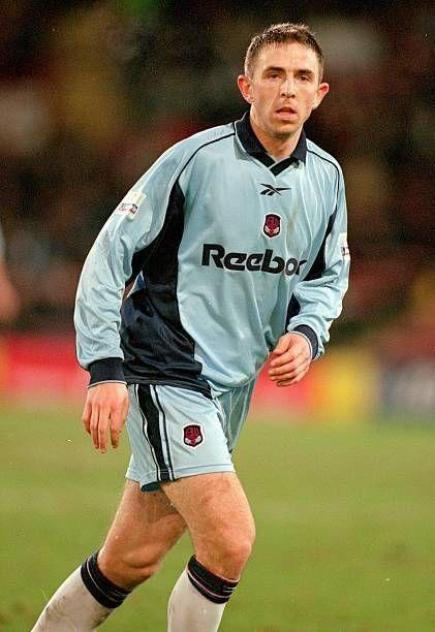 In Allardyce's first full season at the club, Bolton would return to the Premier League after three successive years in play-offs, but Farrelly insists that there were no expectations during the pre-season.
"I think it was interesting that we were beaten in the semi-final of the play-offs the year before.
"We lost to Ipswich Town who went on to be promoted but then we lost some players.
"There was not a huge expectation and there was an uncertainty over where we would go during the season."
However, Farrelly did admit there were still players of Premier League class in the squad and credited striker Michael Ricketts, who was instrumental in the club's promotion after netting 24 goals for The Trotters following his transfer from Walsall.
A third-placed finish meant a third successive year in the play-offs for Wanderers, finishing on 87 points, as Fulham and local rivals Blackburn Rovers filled the automatic promotion places.
West Bromwich Albion were beaten 5-2 on aggregate during the semi-finals, which meant the final would see Bolton face a local rival in Preston North End at Cardiff's Millennium Stadium.
Prior to the final, as players and fans from the North West all headed down to South Wales, Farrelly admitted that his Bolton side were feeling confident of returning to England's top tier.
"At the that time we would have felt like we were the third best team in the league and the team that had finished third had never been promoted.
"Everyone stayed focused and had a degree of belief that we would be successful.
"We played Preston a number of times during the season and we had won, everyone knew what they had to do."
17 minutes into the final, Farrelly put Bolton 1-0 up before Ricketts and left winger Ricardo Gardner scored late goals as The Trotters gained promotion with a 3-0 win in front of 54,000 people.
Similarly, Farrelly's goal in the play-off final was a half-volley struck with his weaker right foot and was reminiscent of the midfielder's strike versus Coventry and the Irishman has noted the significance of each.
"You celebrate any goal, especially ones that are significant goals that mean something. The Everton goal, if you look at it in isolation, we are probably only having this chat now because of that goal 22 years ago.
"I think the Bolton goal was significant as it meant getting Bolton back in the Premier League.
"I didn't score as many goals that I should have, but I was lucky enough to score goals that were significant."
Crucially, after moving down a division to join Wanderers, Farrelly feels the play-off win vindicated that decision, as he was set to face his former employers Everton in the following season.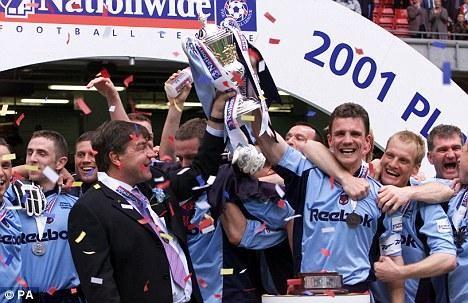 Prior to the 2001/02 season, Bolton were many people's favourites to be relegated from the Premier League, and it was this dismissal of the club's survival chances that inspired the promoted side to defy expectations and begin an 11-year stay.
"The players were looking forward to the start of the Premier League and that became really important because people tended to say that would be the first team to be relegated.
"I think that kind of galvanised everybody who wanted to disprove that and added motivation for the players."
Bolton did exactly what most were not expecting, as Allardyce steered the side to a 16th place finish four points clear of Ipswich Town in 18th.
Unfortunately for Farrelly, despite his key role in the season before his playing time was limited due to an injury during the pre-season, before making his first appearance of the season in a 2-1 win over Liverpool.
"I picked up an injury in the pre-season and then that injury puts you on the back foot because you have missed out on a lot of training and games and you felt like you were behind the curve.
"The team started exceptionally well then you're waiting to break back in and when you do sometimes you're not match fit and you're always fearful that the manager has got new ideas of how and who he wants to play."
As his playing time continued to reduce, his relationship with Allardyce deteriorated to the point the two fell out, and the midfielder left the club on a series of loans to the likes of Burnley, before joining Wigan Athletic permanently in 2004.
Looking back on his time at the then called Reebok Stadium, Farrelly recalls how proud he is to have played during a successful era for the club with "really good people", and there is no doubt the Irishman left his mark at the club.
After hanging up his boots in 2008, the retired footballer opted for a career change: whereas most players will stay in the game with a coaching or media role, Farrelly became a qualified lawyer.
The former footballer admitted that it was a big change after he decided to swap football pitches to lecture theatres at Edge Hill University.
"It was a huge culture shock, I had been out of education for 16 years and I didn't even have an email address.
"I had no real idea of what was ahead of me.
"I was very lucky because Edge Hill was so welcoming, and I had a really positive experience the having the support and good will from the right people made it easier."
Significantly, Farrelly had decided to study law after recovering from a serious illness in 2008, where he was required to undergo surgery to remove part of his stomach, pancreas and colon as well as his entire spleen after falling ill on the M40.
However, Farrelly was quick to note he is not the only former footballer who has turned to law, highlighting that Premier League winner Stuart Ripley is also a qualified lawyer.
When asked whether footballers who are approaching the ends of their careers should also consider a career in law the former Ireland international offered some key advice.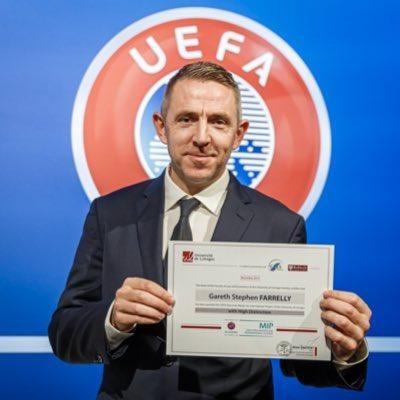 "I would not say to someone to do this because there is still a huge amount of commitment and hard work involved.
"I think people need to find their own path. You have to try certain things to see if it is for you."
Nowadays, the former midfielder is a successful lawyer who works as an arbitrator for the Court of Arbitration for Sports and is a member of the Football Association Independent Football Panel.