Joseph Parker defends him WBO World Heavyweight title against Hughie Fury – cousin of Tyson no less – tonight at the Manchester Arena.
It's a showdown that is attracting plenty of attention so here's MM's essential guide. 
Where is it?
The fight will be held at the Manchester Arena (the first major sporting event to take place at the Arena since the terrible atrocities committed there in May).
What's at stake?
Parker is defending his WBO World Heavyweight title against British challenger Fury.
What time is the main even scheduled to start?
The ring walks are expected to take place at approximately 10pm, although this is subject to change.
Who is favourite to win the fight?
 According to Sky Bet, Parker is favourite at 8/11 with Fury close behind at 11/10 with the draw being 25/1.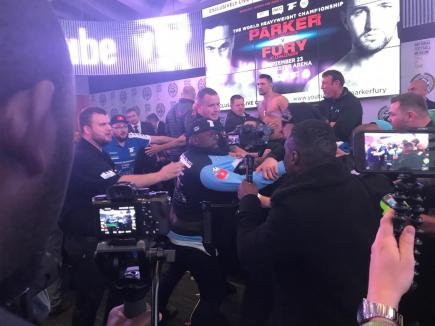 BATTLE: Things got heated at Friday's weigh-in
Who is on the undercard?
There are two title fights on the undercard, with Josh Wale defending his British Bantamweight title against Don Broadhurst and Jimmy Kelly looking to regain the WBO Inter-Continental title at Super Welterweight against Stiliyan Kostov.
Also on the undercard, Joe Murray and Matty Fagan face off in an eliminator for the British Lightweight crown in a fight that has the potential to steal the show.
Shayne Singleton also features on the bill as he looks to get his career back on track against Peter McDonagh who is having a purple patch in the ring at the moment.
The undercard also features former British and European champion Ryan Farrag as well as Lyndon Arthur, Jack Cullen, Yusuf Safa, Mickey Ellison, Jack Kilgannon, Alex Dickinson and Lee Carter.
Where will the fight be broadcast?
Tonight's action will be available to stream on YouTube for the price of £14.99.
Is there any other news from the weigh in?
The weigh in heralded a number of talking points as members of both Team Parker and Team Fury clashed after a heated head to head between the fighters.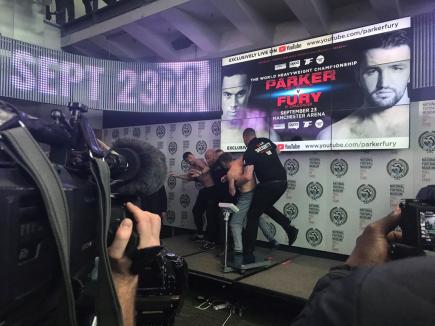 SHOWDOWN: The fight is being broadcast live on YouTube
Just after Fury gave Parker a shove, one of Parker's entourage tried to grab Hughie on the stage causing a scuffle to ensue between the two camps.
Security separated the two teams, but the events of today have just added more tension ahead of tomorrow nights showdown.
Aside from a violent clash between Shayne Singleton and Peter McDonagh, the rest of the weigh in passed quite calmly.
After McDonagh pushed the face of his opponent, Singleton proceeded to give his best impression of a bull chasing a red rag as he charged as the Irish man with the security having to drag him out of the venue.