In the month where a female official has taken charge of a match in one of the top five European leagues for the first ever time, it is reasonable to wonder when we might see the same courtesy offered to the array of female referees available in England.
Bibiana Steinhaus, a chief inspector in the German police, made history earlier this month when she refereed a match between Hertha Berlin and Werder Bremen in the Bundesliga.
Meanwhile, the Premier League is 25 years old and is still yet to see a female referee officiate one of its matches.
That fact is bound to change with a large pool of talented female referees coming through the ranks across the country.
One of those tipped for a big future in the game is Yasmin Saeed, a 19-year-old currently enjoying life as a Level 5 referee for the Manchester FA.
"There are doors and avenues there for female officials in the Premier league and that's my ultimate dream. It will take a lot of hard work, dedication, commitment, sacrifices, but, I'm ready for all that."
Her determination to make the grade as a professional referee is evident throughout our twenty minute exchange as she enthusiastically discusses the art of refereeing, her current milestones and prospects for female officials in the future.
She said: "If you're working with assistant referees there's an ideal position, a 'control path'  that you're supposed to follow but I read play well so I'm not usually following that because I'm in a good position, checking my shoulders, seeing what's ahead of me and what the next stage might be."
Her ability to read the play successfully stems from her playing days as she was once a promising product for Everton Ladies until she suffered three bad injuries in three successive seasons but refereeing has offered her a chance to stay and work in the game she loves.
Incredibly, Yasmin's fledgling refereeing career began at the frighteningly tender age of 16 when she reffed her first open age game.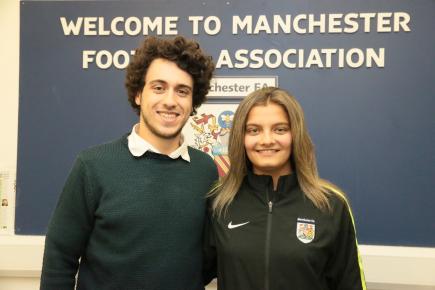 INSPIRATIONAL: Yasmin with MM reporter Nathan Jacobs
Three years on and she has come a long way in the refereeing world.
At the end of the most recent season, she became the first female referee in England to have an all-female team to help officiate a men's football match when they took charge of one of the North-West County cup finals held at the home of Trafford FC.
However, there is still a long way to go before the chance of officiating in the Premier League could become a reality and there is plenty of competition for that opportunity, too.
"There are females ahead of me in other counties and hopefully one of those girls will get there but if not, I'm willing to take up the challenge.
"One of us will make it, definitely," she added with the kind of conviction that makes you automatically believe her.
One feature of the profession that might dissuade those training to be referees is the constant streams of vitriolic abuse.
Facing abuse seems to be part and parcel of a referee's life but as a young female in a traditionally male-dominated field, the abuse can be intensified even more.
Yet, in keeping with her character, Yasmin hasn't let that get in the way of her progression.
"At the end of this season just gone, I was sending someone off but in the same instance a teammate of his turned around to me and said 'this is a man's game – why are you here?'
"So obviously I sent him off – and he got a lengthy ban and a fine.
"If it is a spectator you can't do much about it but when you hear something like 'oh it's a female' – can she keep up with the game?' I actually take that on board and thrive off it to prove them wrong. Whereas, if it's a player you have the appropriate tools to discipline.
"I've never faced a bad incident where I've wanted to quit refereeing or take a break, though."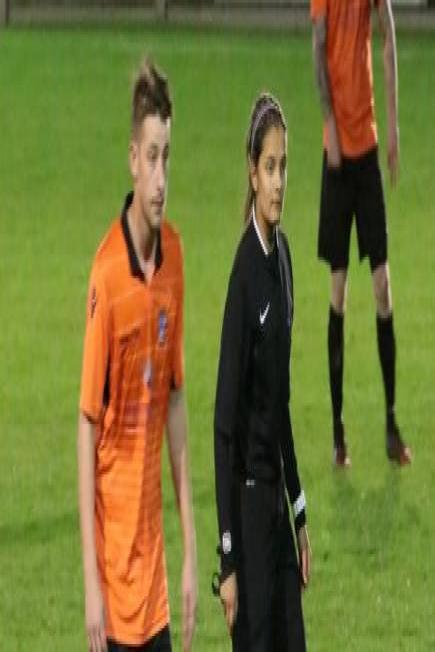 The inspirational teen isn't content with only progressing her own career though as she also coaches younger referees who are just starting their refereeing journey.
"I'm looking after a group of young female referees. When I started, I had no female role models but these girls hopefully see me as something to look up to and I'm happy to help them."
As it stands, Sian Massey is the only female official part of the roster for the Premier League in a lineswoman capacity while Amy Fearn became the first female referee to take charge of an FA Cup clash between Dover and Corby Town in 2013 but hopefully Yasmin will become one of many to grace the Premier League.