George Best, the Belfast boy who thrilled Manchester with his outrageous skills, would have celebrated his 68th birthday this month – and four of his closest friends came together to remember the player and the man.
The gathering, held at the National Football Museum, was chaired by Wilf McGuinness, a former Manchester United player and manager.
The David Moyes of his day, he was given the almost impossible task of succeeding Sir Matt Busby in 1969, aged only 31.
He recalled Best making an instant impact on joining the club in 1963.
"When he came in from Belfast, everyone loved him," he said.
"In training games we couldn't get the ball off him, so we changed the rules to two touches only, then one touch, and we still couldn't get it off him."
Even in a squad containing the talents of Bobby Charlton and Denis Law, Best was something special.
His natural trickery and rapid pace, combined with a fierce desire to win, put him in the top bracket of those who have played the game.
Former team-mate Pat Crerand said: "He was a mixture of (Lionel) Messi and Cristiano Ronaldo.
(Alfredo) Di Stefano might have been better, but he's one of the greatest ever, and George was certainly in that same class."
Mike Summerbee, who played for Manchester City from 1965-75 and struck up a great friendship with Best, went even further.
"No one has been as good, given the conditions – the state of pitches and defenders allowed to tackle from behind," he said.
"Even Ryan Giggs isn't in the same league."
His ability forced opponents to take desperate measures, Summerbee adding: "In Manchester derbies we'd put David Connor on him.
"Teams would sacrifice a man to take George out of the game – not that it always worked."
Benfica in particular couldn't stop him, as he ran them ragged in 1966 and scored the vital goal against them in the 1968 European Cup final.
But United failed to reach those heights again until the Sir Alex Ferguson era, as players aged and drifted away – leaving Best, with his need to be a winner, frustrated as the club did not replace them.
Best remained unplayable however, scoring 23 goals in the 1969-70 season, including six in an 8-2 win over Northampton Town in the FA Cup.
Those goals came in McGuinness' one full season in charge, who followed Busby's hands-off approach when it came to coaching Best.
"I just left him to play," he admitted.
"I gave him a bit of help, like telling him to play wider sometimes, but it was clear he was just a genius."
In order to cope with United's declining fortunes, Best turned to off-field enterprises.
He ran a boutique with Summerbee and opened a nightclub – Slack Alice on Bootle Street – with Malcolm Wagner, who became his closest confidant in the 1970s.
"George was brilliant, just a good mate, no airs and graces, generous," said Wagner.
"We never talked about football unless he wanted to, which I think meant something to him."
The inspiration behind the nightclub came from Best's own popularity.
"George wasn't interested in the business side, but he was very smart," Wagner added.
"Our crowd of friends were followed around the clubs, as George was followed wherever he went.
"So we thought we should get our own place. His role was in the promotion – just by being there.
"Slack Alice just took off. Seven days a week we'd it had 400 people in it, and its capacity was 350."
The nightclub tapped into the thriving cultural and social scene that Manchester had as it becam
Michael Parkinson said it was the most happening place on the planet at the time – with Granada being set up and the Beatles and the Rolling Stones first appearing there.
But none of it was enough to replace Best's love of the game and  according to Wagner, he never wanted to leave Old Trafford, but leave it he did aged only 27.
It was then that alcohol became an issue which would ultimately lead to his death in 2005.
Nonetheless, fans – of United and other clubs – will never forget the way he expressed himself on the field, and he continues to inspire others to this day.
Those inspired include The Electric Stars, who have this year released a re-recording of the 1970 tribute song, Belfast Boy, to raise money for the George Best and Manchester United Foundations.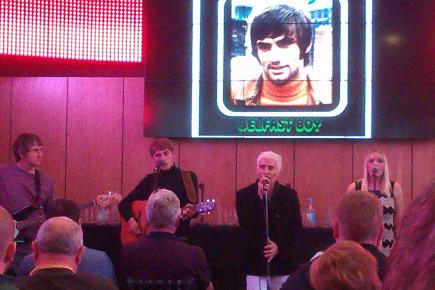 REMEMBERING GEORGE: The Electric Stars performing Belfast Boy
They performed their B-side, Georgie (The Brightest Star), during the event and lead singer Jason Edge told MM about their fundraising efforts.
"We're all United fans and three of us work for the club in various roles, so there's a strong United connection," he said.
"The idea for the song came from speaking to Eamonn Holmes, President of the George Best Foundation.
"It's important for the foundation to reach out to people who like music, not necessarily football fans."
He also spoke about his gratitude for all the support they had received.
"Everyone has been fantastic, from Manchester United to the foundation and the Best family.
"We've had support from fans of other clubs, who appreciate that George did everything with a smile on his face, and did the nightclubs and boutiques before any other footballer.
"We have no idea how much we've raised until we sell out of CDs. The other side is downloads – we hope that people will be buying it online for years to come."
Image courtesy of BBC, via Youtube, with thanks