Women's football is making progress in the city – but more needs to be done to prolong girls' interest in the sport, says FC United of Manchester Women's manager Lee Sutton.
Despite his club, as well as Manchester City Women's FC, investing money and effort into a number of projects in the city, Sutton told MM that girls are playing catch-up to their male peers.
That is because team structures are not in place for girls until under-10s level, by which point it may already be too late.
Sutton recommended having girls start at under-8s and building from there, as well as making a special effort to stop girls dropping out of the sport when aged between 16 and 18.
He said: "I think if they invest money into the development and progress of girl's football it will keep them interested as they get older and build numbers to develop teams into open age.
"This will also develop skills and confidence in the players and give them a better chance."
This highlights the concerns at grassroots level, even with City raising awareness of women in the sport with their high-profile signings, such as England international trio Steph Houghton, Jill Scott and Toni Duggan.
They have also made headlines on the pitch, beating FA Women's Super League heavyweights Arsenal and Liverpool this season.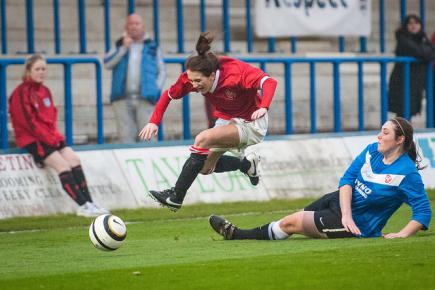 OVERCOMING HURDLES: Both the red and blue sides of Manchester are developing teams
Their outlook has also extended to women's football in the community, a club spokesman telling MM: "At City we are trying to create a pathway from grassroots through to the first team.
"Previously, we didn't have this player pathway and now there are far more opportunities for girls in Manchester to play football due to the support of the club."
In the past year, City in the Community (CITC) has delivered number of schemes, including the Women and Girls Football Programme, which involved 180 girls in 330 satellite sessions across Manchester over 30 weeks.
In addition, there have been a FA Girl's Player Development Centre (which worked with three team's under-11, 13 and 15 levels) and Play the Game – girl's sessions, taking place each Wednesday for 36 weeks.
CITC also runs girls-only soccer schools during every half-term holiday, which aim to engage more girls in football through training and provide a platform for development.
The women's club also entered a partnership with the Women's Sports and Fitness Foundation (WSFF) in April 2014, hosting their first joint event at last week's City v Notts County Ladies match.
Responding to the 2012 Health Survey for England which said that only 8% of 14-year-old girls meet recommended physical activity levels, City and the WSFF sought to showcase the opportunities available to young sportswomen.
The work being done at The Etihad shows signs of progress – but outside of the limelight there is also support for the women's game from Manchester's red contingent.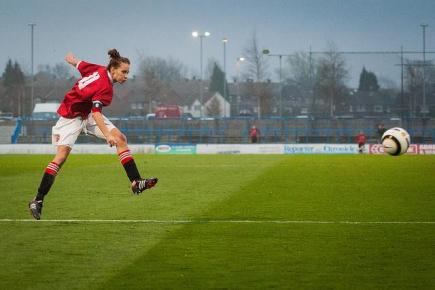 TAKING A SHOT: FCUM have put their full force behind female sides
Manchester United do not cater for female players older than 17, so the baton has been taken up by FC United of Manchester, the breakaway club formed in the fall-out from the Glazer takeover in 2005.
Kate Ramsey, FC United board member and matchday secretary for the women's team, said the side's formation in 2012-13 had been in the works for a while.
She said: "We had tried to set up a team a number of times before – but we were not really ready as a young club.
"It was [manager] Lee Sutton who was very keen to do that – he made the case to set it up and it came about through his sheer determination."
The uptake for the new women's team was beyond anything the club could have expected.
"The first trials got a phenomenal response with 80 players trying out," Ramsey said. "Most teams struggle to get a team together."
Another 20 players came to the trials for the 2013-14 season, some of them internationals, joining the existing team who had themselves decided to re-audition for their places in the squad.
That popularity extends to bodies through the turnstiles too, Ramsey said: "The support at our games is just ridiculous – 200 to 300 fans for big matches, sometimes even 600."
In their short history, the club has reached a couple of cup finals and twice finished second in the Greater Manchester Women's Football League, frustrating when only the top side gains promotion.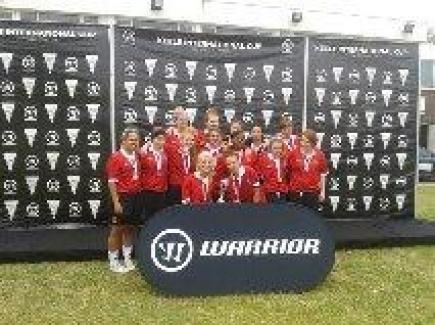 SUCCESS: FCUM girls celebrate cup victory
The club has also been engaged with the local community.
Ramsey said: "Off the pitch, the club has been committed to making sure the team is part of the club, not like clubs with a token women's team.
"It gives us the opportunity to do stuff in the community and at grassroots level."
The club is working with Moston Juniors, particularly on the set-up of a futsal team which has already been a hit on the national stage, and with the National Football Museum on a number of projects.
Another FC United project, A Woman's Place is at the Match saw the club produce three films and host a panel discussion involving MP Barbara Keeley, a strong advocate of women's football, and Shelley Alexander, the BBC's editorial lead on women's sport.
Through these off-field activities and partnerships, both City and FC United have proved that they are serious about women's football in Manchester.
Nonetheless, Sutton's argument remains – only more time on the training pitch and more encouragement of talent will get girls to give the sport a go and to stay in for the long haul.