Penalty shoot-outs were first used at the World Cup in 1982 and have decided knockout ties at every edition of the tournament ever since.
In total, there have been 26 shoot-outs contested by 26 different countries, with a combined success rate of 71 per cent from 240 penalties taken.
But, while England have only scored half of their 14 attempts, Germany have missed just one of 18 over the course of more than 25 years.
Clearly, there's a knack to achieving success in what many dismiss as being a lottery. And the Betway Insider Blog analysed every shoot-out in the tournament's history to discover the secret to success.
#1 Always Go First
At first glance, there appears to be little advantage to going first or second, with an almost exact split of 14-12 since shoot-outs were introduced.
There's been a definite swing in recent years, however, with 12 of 15 shoot-outs since the start of the 1998 World Cup being won by the team going first.
Research proves that taking the first penalty gives you a 60 per cent chance of winning the shoot-out and, with FIFA yet to adopt the fairer ABBA system that has recently been trialled in England, it pays to step up first should you win the coin toss.
#2 Choose your strikers
Unsurprisingly, forwards have by far the highest success rate, having scored 79 per cent of their 70 attempts.
That's compared to 69 per cent for midfielders (76 from a possible 120) and 65 per cent for defenders (39 from a possible 60).
It's worth you getting as many strikers as possible on the pitch, then, even if it means leaving your side more exposed during extra time.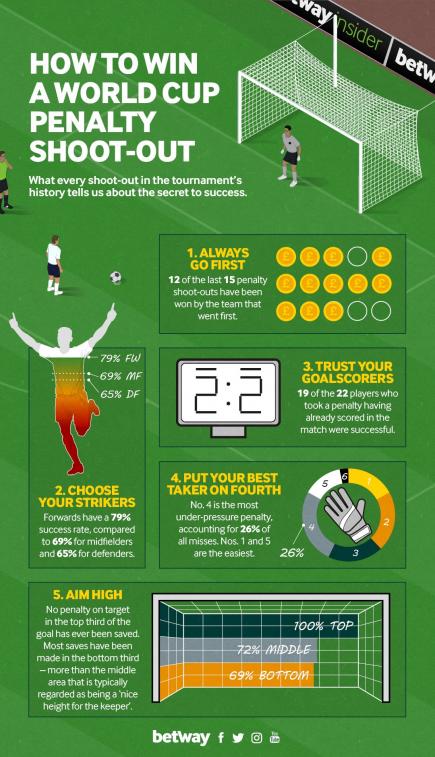 #3 Trust your goalscorers
Likewise, you should always keep faith with anyone that has found the net during the 120 minutes that precede the penalty shoot-out.
In total, 19 of the 22 players to take a penalty having scored in the game have continued their hot streak – resulting in a dramatically improved success rate of 86 per cent.
So, if somebody has already managed to get themselves on the scoresheet, that increased confidence in front of goal ought to carry them through.
#4 Put your best taker on fourth
The general perception is that the first and last penalties are the ones that carry the most responsibility, though this theory is not supported by the numbers.
The fifth penalty actually accounts for the fewest of 70 missed penalties (14 per cent), closely followed by the first (17 per cent).
Number four, however, has been responsible for more than a quarter of all misses – so it makes sense to reserve that slot for your best taker.
#5 Aim high
So, you've chosen your takers and put them in the right order, but now comes the hard part: how to beat the goalkeeper?
Luckily, the answer to that is simple. You should always aim high, with no penalty on target in the top third of the net ever being saved.
Interestingly, the success rate of penalties on target in the middle third – or the so-called 'nice height for a keeper' – is slightly above average.
This is because 61 per cent of 49 saves in World Cup shoot-outs have kept out penalties on target in the bottom third, with bottom left a keeper's favourite spot.
But, such high reward also comes with high risk: of 21 penalties that have failed to hit the target, seven have struck the crossbar and six have gone over (62 per cent), compared to four hitting the post and four going wide (38 per cent).
Image courtesy of Jimmy Baikovicius via Flickr, with thanks.