Chris Latham's stunning hat-trick ended his week at Six Day London in style as he and Steven Burke finished 11th overall.
The Lancashire pairing struggled in the opening days, the highlight of their week being a team elimination race victory on day one.
But all that changed on Sunday, as first they won another elimination race, before powering to victory in the 60-lap derny final B and seeing their 250m Madison time trial mark – set on Saturday – fail to be bettered on the final night.
That meant three trips to the podium and an overjoyed Latham.
"It's a lovely way to finish it, I'm buzzing with it," said the World Championship bronze medallist from Bolton.
"It's mad, when the crowd is going it's so loud and it's absolutely mint.
"We won three so we were ok to take a beating in the final chase, but it's fine because we'll come back next year.
"I've known him [Burke] for years now so I know he's got a kick for a finish, but he only races team pursuit so he has to train on an upright bike most of the time.
"I had confidence in him so I thought we'd do alright."
Elsewhere at the Lee Valley VeloPark, Matthew Rotherham racked up two keirin victories on his way to fifth in the sprinters event.
Rotherham, a two-time world paracycling champion as a tandem pilot, held his own in a field containing Olympic medallists and multiple world champions.
Younger brother Thomas has switched tack to endurance racing this season so was not accompanying Matt in the sprint event as he had the last two years.
"I was pushing hard in the sprint qualifying all week and trying to get towards the sprint finals, but I was really happy with two keirin wins," he said.
"Riding the tandem is a different way of applying power compared to solo riding, so I'm finding that I'm learning to ride my own bike again – every day I felt better.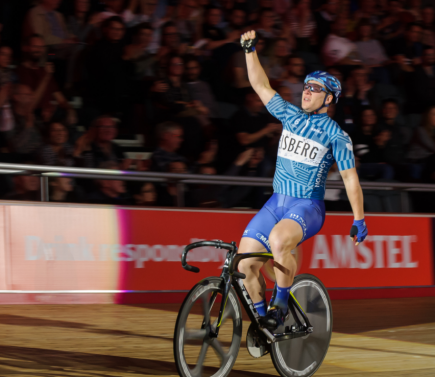 BEST MEMORIES: Matthew Rotherham in action at the Lee Valley VeloPark, where he claimed two keirin victories
"It was different this year. It was good fun the last couple of years with Tom by my side and it's one of the best memories I'll ever have in cycling.
"But he has decided that he's going to try endurance and has had a successful run of it.
"He's learning to ride a totally different event and he didn't have much luck here, it didn't quite go right, but he'll be back."
The younger Rotherham finished eighth in the U21 standings, riding alongside Stockport's Joel Partington, three laps down on eventual winners Bryan Boussaer and Jules Hesters, from Belgium.
Tickets for Six Day London 2018 go on general sale on November 1 at 11am. For more information go to www.sixday.com