Hyde FC hope to rise from the ashes of a recent arson attack with a £10,000 social club refurbishment – and have just eight weeks to raise the cash.
The club are using a Crowdfunder page which was set up days after the club's tea house was targeted by arsonists and set alight, causing thousands of pounds worth of damage.
It is one of a number of vandalism attacks that have plagued Ewen Fields and the club had planned to set up the page to raise some much-needed funds before the blaze.
Since the launch two weeks ago, the page has already received a large number of donations, amassing £3,403 from 69 backers.
Now 1/3 of our way to our target remember if you pledge you choose what you want for your pledge ie signed shirt etc, http://t.co/Yc86amDIdq

— Hyde FC Official (@hydefclive) May 28, 2014
The repairs which the social club requires includes new flooring, replacing ceiling tiles, fixing a leaky roof, rewiring the electrics as well as a host of other problems.
Tony Spencer works at the club and was one of the brains behind creating the fundraising page.
"The idea for the Crowdfunder page was Director Darren Mellor's idea," he said.
"FC United did the same thing and wanted to raise £26,000 over five weeks I think."
In the end, FC United's page raised over an astonishing £50,000 – but Tony is aware it might be tougher for the Tigers.
"It's harder for us because we are a small club, even though we are higher in the league than them," he admitted.
"But I think it's going how we expected it to go, not thousands in the first few weeks but a steady amount."
A donation of £1,600 by former club chairman Allan Kenyon has certainly helped the Tameside club move closer to the target though.
A massive pledge of £1600 just come in thank you very much x over £3000 pledged In total £7000 to go can we do it ? http://t.co/X2hggehxb4

— Hyde FC Official (@hydefclive) May 27, 2014
"The donation is from a former associate of the club who is still in love with it and just wanted to help us out," added Tony.
"We have more chance of reaching the target now so I think it will be 50/50 whether we get it.
"If we hadn't have got the £1,600 donation, I probably wouldn't be so sure at this stage but I think we can get it."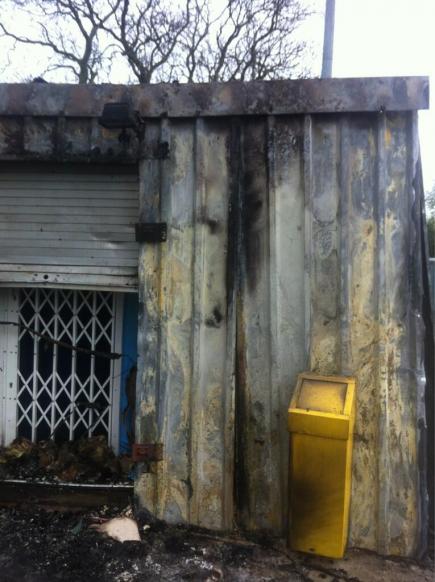 ​

BURNING ISSUE: The tearoom was torched earlier this month (©Tony Spencer via Youtube with thanks)
The money will be much-needed after the recent fires but Tony told MM that it was an unfortunate coincidence that the page was set up only days after the blaze.
"We planned it two weeks before the fire happened and we had to have it approved so it was just a bad coincidence," he said.
"People have said 'is it (the tea room) not covered by insurance?' which it is, but it's still costing a lot to get fixed.
"Any additional money we get from Crowdfunder would be spent on building a new tearoom."
Working at the club for three years after moving to Hyde six ago from East London, Tony has big plans for the clubhouse – if they can raise the money.
"My aim is to make the clubhouse better than it is," he said.
"I want to get acts on, I know a Meatloaf impersonator who is one of the top acts in Tenerife that I'm looking to get to play in the social club and karaoke nights as well as other events."
After the club's recent relegation – where they managed only one Skrill Premier win all season – and the recent vandalism attacks, revenue for next season will be stretched and any income will be vital.
"The social club is definitely there to make money which will obviously help with player wages and admin fees," conceded Tony.
"But I also want it as a place where fans can come for a drink and a chat."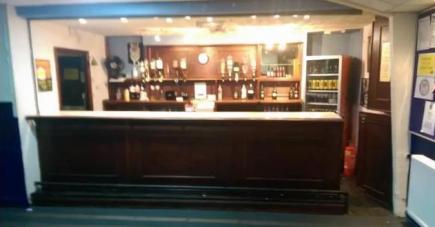 RAISING THE BAR: Hyde FC's facilities need some love poured into them (©Tony Spencer via Youtube with thanks)
Crowdfunder is a way to source funds for projects and in return, donors receive a reward for their support.
If the money is raised within a certain timeframe, or exceeded, then the funds go towards the cause but, if not, then all money is returned to the public's pockets.
Around 3000 projects have been successfully launched so far, raising over £1.5million with support from over 70m followers.
For £4, pledgers will receive a Hyde FC car sticker, £50 will get backers a signed photo of the first-team, £120 will secure a signed first-team kit and £160 a training session with the team or for the bargain price of £800 they will be given a pitch-side advertisement board.
One donor was happy to help pledge money after the recent fire at the club and said: "So sorry to hear about the arson attack on your facilities earlier this week, happy to pledge a little towards a refurb of your social club, supporters are everything."
Other people to have donated to the club include manager Scott McNiven and UKIP candidate for Hyde Werneth, Phil Chadwick.
If every follower of @hydefclive gave just 25p to http://t.co/htJKc70Lf7 we'd hit our target NO problem. Just 25p think about it #tigerlove

— Phil Chadwick (@PhilChadwick81) May 27, 2014
One fan made a bold commitment by posting a tweet saying he would donate a pound for every retweet it received.
If each of @hydefclive twitter followers gave £1 to their crowd funder they'd be laughing. I'll give £1 for every* RT this gets. *up to 20.

— phil martin (@lipmarty75) May 27, 2014
Hyde fan Lisa Keogh, under the Twitter name @chaddylady, donated and posted: "Happy to support Hyde FC. Born and bred in Hyde. My dad still goes to every home game. Good luck with your fundraising :)."
Col-fee also sent in a donation and said: "Great project, let's give as much as we can afford."
The Hyde Twitter account is notorious for being active and posting humorous material, which caught the appeal of one donor, who said: "Happy to give a bit for all the Twitter banter last season………hope next season brings you Tigers some success."
It isn't just local fans who are getting behind the team though, as supporters from other clubs showed their support for the Tigers.
Once such fan was Tschew of Skrill Premier champions Luton Town, who appreciated the support shown when his side visited last season, who posted: "As a Luton Town FC supporter with not much chance to see either my team or Hyde play as I am based in Singapore I have donated some money to your good cause and hope it succeeds,"
"I understand real Luton Town FC supporters have a great affinity with Hyde due to the great reception you gave them last season."
Middlesbrough fan ijt also sent a message of support, posting: "Enjoyed 'following' you this season, as a Middlesbrough fan I'm used to downs as well as a few ups and was glad when people helped us back in '86."
To make a donation, click here 
Image courtesy of Tony Spencer via Youtube with thanks