The first art exhibition of its kind is on at HOME, showcasing a seriously Mancunian collection.
Never before has an exhibition truly been 'open' to all, as emerging amateurs have been invited to present their works alongside esteemed local professionals such as Mancsy, Nick Burton and Karol Kochanowski.
The Manchester Open Exhibition has already attracted over 20,000 visitors, 200% more than its intended target. Queues were out the door as 3,750 people visited in total over the opening weekend, with a record-breaking number of attendees to the launch party on January 18.
More than 500 pieces of work cover the gallery walls, from paintings, prints and photographs – to sculptures, mixed media and performance pieces filling the floor space.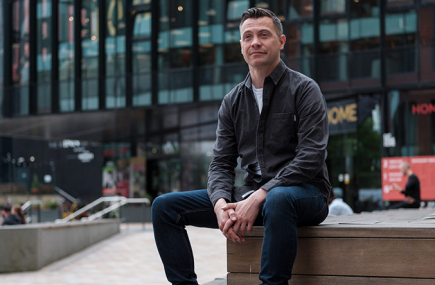 HOME launched the initiative last year with the tagline; "everyone's an artist", and that's exactly the feeling you get when engulfed by the colourful walls of the installation.
The eclecticism of the art involved is vivid, with a special focus from curator Bren O'Callaghan (above) to include established professionals alongside enthusiastic first-timers, regardless of their background or level of experience.
"It's open to all artists – whether you consider yourself to be a professional or just a hobbyist, a regular visitor to galleries, or have never set foot in one," O'Callaghan told MM.
"There's no theme – this is a chance to exhibit a piece you've been working on for two years, or something you've done for this exhibition. We often have people who would love to submit work for an exhibition, but can't give the time due to other commitments perhaps as a parent or carer – this competition is for them."
From the 2,000 entries that HOME received, it was O'Callaghan's job to sift through them and select the 500 that would make the cut.
One of the many newcomers featured in the exhibition is photographer Ngozi Ugochukwu.
"I believe my work started off as self-expression. You know, it's obvious I'm in a wheelchair, I can't get into a lot of spaces if there isn't accessibility.
"I think I just started taking pictures out of frustration, I couldn't get into these spaces, and then I started noticing the beauty of the architecture of the stairs with the photographs I was taking."
The freedom that photography gives Ngozi is a breath of fresh air in comparison to her school-life in a specialist disability school. Her new hobby takes her all over the city, and led her to submit 'Lines' to the Manchester Open Exhibition last year.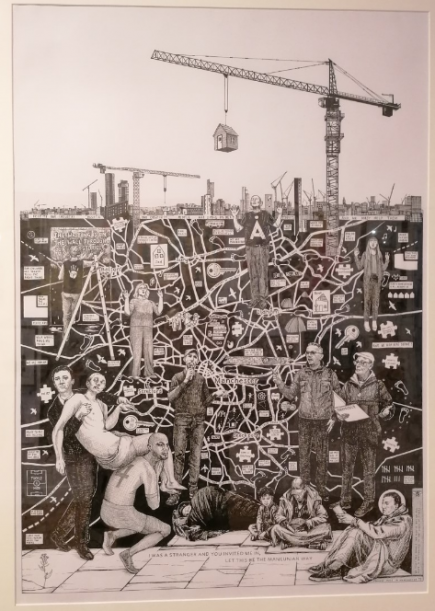 I WAS A STRANGER: Mancsy's art features prominent and not so prominent local figures with regards to the homelessness crisis in Manchester
"I wasn't 100% sure about this photograph, but everybody loved it. It's just a very simple shot, of stairs surrounded by wood.
"I think it's just really simple and beautiful and I think that's why a lot of people are attracted to the artwork."
The exhibition is not only cultivating local talent to a growing audience each week, its also laying the roots for five artists to develop their skills further with a handful of prizes.
At a celebratory event last Thursday evening, a specialist panel awarded five prizes of £2,000 to five exceptional entrants, which will be put towards each artist's development.
Whether that's on new materials, opportunities to learn new skills, rental of a studio space, or even putting on their own exhibition – the decision lies with the winners.
The winners:
Manchester Open Award: bOlder Greater Manchester Prize – Jai Chuhan, Shadows and the Sea
Manchester Open Award: Illustration & drawing – Catherine Lansdale, Cannulas
Manchester Open Award: Sculpture, materiality & form – John Carney, We scorn what we eat, we eat what we despise
Manchester Open Award: Granda Foundation Gallery exhibition – Karol Kochanowski, Class
Manchester Open Award: The People's Choice – George Fell, Octopus (below)
The Manchester Open Exhibition will run at HOME until Sunday March 29 2020 and is free to enter.