You can run. You can hide. But there is no escaping Lewis Capaldi. No matter how hard you might try.
Reports suggest that Martians are packing up and moving to the far-reaches of the Solar System just to make it less likely they'll ever hear Someone You Loved again.
Capaldi has taken over from Ed Sheeran as the man to monopolise the airwaves. Even his little cousin Ava is apparently sick of hearing him on the radio.
He often shows up where you don't expect. Good Morning Britain recently displayed a photo of the Brit-Award winner's face instead of Ant McPartlin. Because, you know, that's an easy mistake to make.
You might think it's fine because you stream nothing but South African Ska music. Doesn't matter, he'll still pop up in your suggested artists. You'll brush your teeth, get into bed and what would you know – there he is. Tickling your chest and stretching too far into your half of the bed. But he was nominated for a Grammy and he's loaded, so it's cool.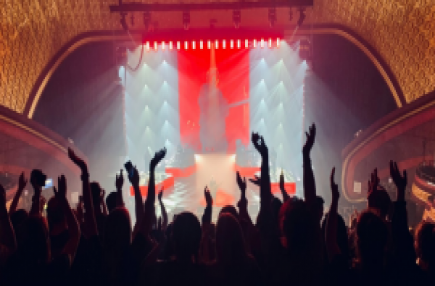 It was no surprise then to see Lewis Capaldi at the Manchester Apollo, given it was a ticketed event in his name. This, day two of the tour and the second night in Manchester was another sell out.
Not even the impending obliteration of civilisation by COVID-19 could keep fans away. Nor could it deter former Manchester United star and Capaldi fan, Wayne Rooney, taking vantage from the lower circle. His wife Coleen also joined him on detective duty.
Unsurprisingly, Manchester-legend Noel Gallagher was nowhere to be seen. Him and Capaldi, let's say, don't quite see eye to eye. "You might wanna try and find some joy in your tunes you're destroying the youth," Noel had tweeted back in 2019, having also referred to him as 'Chewbacca'. The feud shows no sign of slowing down.
Indeed, Manchester was positively joyless on Tuesday night, as Capaldi worked his way through hits from the melancholic but critically acclaimed Divinely Uninspired To A Hellish Extent. But that's why fans were here. The more miserable the song, the louder the people sing.
Opening with Grace, the crowd erupted into gregarious sorrow. The audience was a mix of generations, many clinging on teary-eyed to every word. "I'm not ready to be just another one of your mistakes," sang Cindy, aged 11, as she grieved over the messy end to her relationship with Aaron after an unfortunate packed-lunch incident.
From here, there was no turning back. The audience didn't miss a word of every morbid anthem. The noise was deafening as Capaldi introduced Forever, and after four songs, Capaldi, self-aware as he has become known, promised that the happy songs were done, and the crowd should get ready for an hour of disappointment.
The crowd were not left disappointed.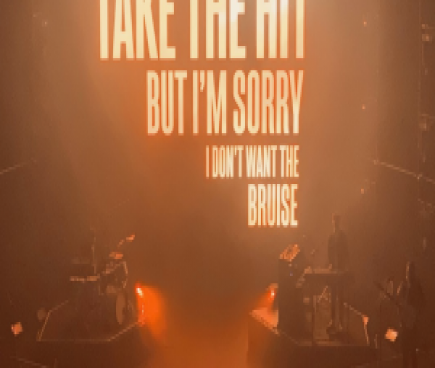 Capaldi, as well as being a gifted vocalist, showcased his eloquence and charm. "If I run off, it's because I've sh*t myself," he said. "I could burst at any minute."
He has a nack of getting away with such quips in ways that others wouldn't. Don't ever expect Emeli Sandé to take to the stage rattling a box of Imodium.
The evening was a sour cocktail of top-quality entertainment. A base of brilliant ballads, a dash of heartbreak, and a touch of stand-up comedy. Capaldi has a sharp wit stimulated by sadness that would be befitting of a Channel 4 panel show. 8 out of 10 Cats Does Breakdowns, perhaps.
"I want you to think about all the things your partner did with your ex that they now do with you," Capaldi asked the audience to fits of laughter, as couples juddered and looked in opposite directions.
He even turned agony-aunt, providing relationship advice to an audience member who had bought tickets to the gig for her and her boyfriend, only for him to break up with her. "Go away for year," he advised, "write an album and you might find it does really well." He went on to suggest that her ex might even "go on Love Island and win the f*cking thing."
This truly was Live at the Apollo.
Even in the foot-stomping Hollywood, Capaldi reminded us that the song is "actually f*cking sad."
Alas, the beautiful and emotive Someone You Loved was saved for the encore as audience members and Martians joined in on the biggest sing-song of the night.
Wayne Rooney later described the event as "unbelievable" on social media. As did Coleen, as she packed away her magnifying glass.
They were right. The lovable Scot is at the helm of British music for a reason.
Capaldi took to the stage like a jaunty student who had stumbled into the wrong lecture. It's as if even he can't believe the speed of his rise to the pinnacle of British music. And he's making the most of it, before he goes away to record the difficult second album.
Only if Noel had been there, perhaps he'd have changed his mind on Capaldi. Definitely. Maybe.