Punk rock band Frank Carter and the Rattlesnakes kicked off their short but sweet UK tour in Manchester on Wednesday.
In support of their much-loved 2019 record End of Suffering, the rockers surely kicked up quite the fuss and made it a gig surely to be memorable.
Well known for their high energy shows, it was the band's biggest headline gig to date, with the Academy having a capacity of 2,300.
The night got underway with support from Canadian band Cleopatrick and the rather interesting industrial hip hop group Ho99o9 (Horror).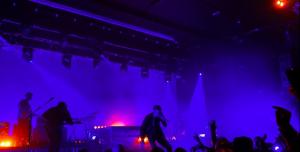 However, that was nothing compared to what ensued next.
Frank Carter and the Rattlesnakes soon had hands in the air and mosh pits flowing – the true sense of any good gig!
With a setlist that did not disappoint, managing to cover all three of their albums, fans' morals were certainly high.
Songs such as Spray Paint Love, Kitty Sucker and of course the iconic I Hate You were played on the night, along with the first ever live debut of title track End of Suffering.
Frontman Frank, along with the rest of the crew, is an avid believer in female safety at such events. It was empowering to see them instigate a female only mosh pit, a tradition which the band now follow.
It really was difficult to fault this show and lived up to expectations and was definitely a good night out for all.
For those who enjoy an atmosphere with undying energy and great music, Frank Carter and the Rattlesnakes should be on your list.