Move over U2 – the Emerald Isle's biggest new band has plans for a British takeover.
The band recently joined their fellow Dublin pop-rockers and Hozier on Island Records, when the label signed them this summer after hearing their ambitious new album released in October. 
Having played huge venues back in Dublin including the 3Arena, which has a capacity of 23,000, lead singer Danny O'Reilly thinks they can reach the same magnitude here. 
"That's why we moved over here, we have the ambition to be as big as we can be and play our music to as many people as we can."
The Coronas are rising stars in the UK: the release of their lead single 'All the Others' is a prelude to the calibre of musical talent the band have – with hints of falsetto-like vocals and drum heavy sounds.
Lead guitarist Dave McPhillips said: "[The new album has] a bigger sound than any of our other albums."
When asked if they are ready to be as big as Oasis or U2, Danny said: "Definitely I would welcome that many people wanting to listen to my music in a second.
"There are some good points and some drawbacks – it's definitely not about fame or it's not about anti-fame for not wanting that.
"I absolutely wouldn't rule anything out", he jokingly added, "[but] the only problem is Liam Gallagher is a City fan and we're United fans."
Dave added: "We've done it in Ireland. We have a big sound and Danny's voice can definitely travel around the world, so that's what we're aiming for.
"I'm not really going to be disappointed if we're not as big as Oasis but we'll have fun trying anyway."
The music industry is currently a bit of a minefield with the complicated business of getting signed and promoting music, however back in Ireland, The Coronas are signed with their own independent label.
Having only recently been signed with a major record company, Danny explained the difference that being signed has made.
"It's great to have different people, whereas before we were sort of in charge of everything, we were learning as we were going."
However, he also explained that having a major label behind you is not the be all and end all.
"There's a lot of examples of bands who have done it themselves. Even if you look at people like Hozier, he has a big deal and he's on Island Records as well, but when he started out it was just the success of word of mouth really that took him to the next level.
"I think people will relate to a good song and that's the most important thing."
Boasting three double platinum albums back in Ireland, The Coronas moved to London to extend their music to a wider audience.
They are currently in the middle of their UK tour. Having played in Manchester and Glasgow they are now going on to play in London.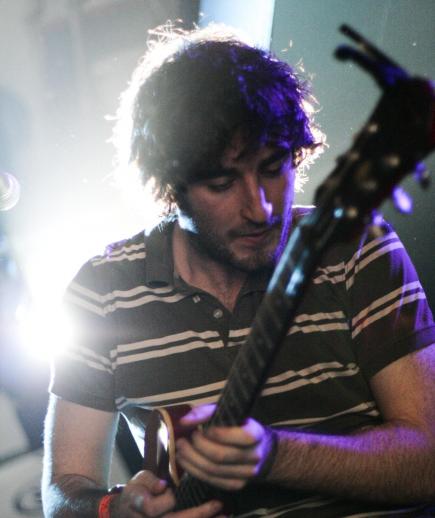 NEXT STOP GALLAGHER: Lead singer Danny O'Reilly thinks the band can make it just as big over here (© Neil Dorgan, with thanks)
For their next album, the band worked with British producer Eliot James, who has worked with The Kaiser Chiefs and Noah and the Whale in the past.
"Eliot was chilled out," said Dave on working with a new producer. "We moved over to London a couple of years ago so it felt like we were kind of coming home every time we finished in the studio." 
The band has supported great artists, old and new, including Sir Paul McCartney and The Script.
Currently The Coronas are in calm before the storm, but in about a month's time the storm is coming.
There is an Irish saying – 'tá cúis le chuile ní' – that translates to 'everything happens for a reason'.
The Coronas are a band we are likely to be hearing more about in the coming months for precisely that fact: they are a band with a reason.
That reason being to be heard by as many people as possible.
The Coronas' new album, 'The Long Way', is out now.
Top image courtesy of Christopher Murray, with thanks