Please note: the guide will be updated throughout the week. Ensure you check back for updates!
Looking to eat and drink in Manchester? You've come to the right place….
The DISARONNO Terrace @ The Oast House, Spinningfields
Spinningfields bar The Oast House will be drinking in the DISARONNO Terrace all summer with a string of one-off parties and performances from musical acts.
Mancunians looking for a sip in the sunshine can head to the terrace to enjoy a cocktail to the sounds of indie stars The Cribs (DJ set), Little Comets and more from July 30.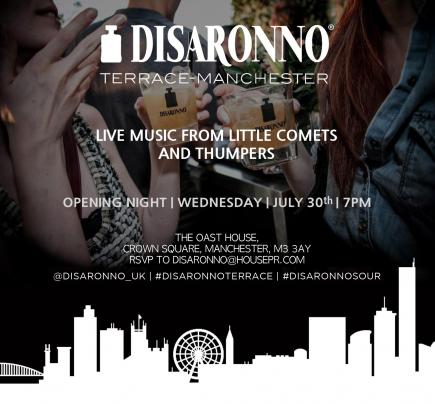 PLAYING OAST: The DISARONNO Terrace comes to Manchester's Oast House
Away from the stage, local artists will be creating pieces before guests' eyes on La Tela Nera (The Blank Canvas) with interpretations of DISARONNO's 500-year history to admire.
Fresh from a four-week stint in London, the touring terrace will add a measure of cocktails, a slice of culture and more than a pinch of good times before shaking them up at Oast House's signature beer garden.
And if you think you can do better, you can learn from the pros with complimentary mixology masterclasses and tasting sessions also on offer before the last glass is emptied on August 20.
When: July 30-August 20 (every Wednesday from 7pm)
Where: The Oast House, Spinningfields
Price: Free
Loch Fyne Seafood and Grill Alderley Edge
Situated on Brook Lane, Loch Fyne Seafood & Grill in Alderley Edge offers the ideal setting for summertime seafood dining.
Open from 10am and with lots of outside seating for warm summer days, guests can treat themselves to breakfast, a light snack or a full seafood feast from the new summer menu.


SHELL OUT: Loch Fyne Seafood and Grill offers a range of food from the depths of the sea
Starting as a small oyster bar on the banks of the loch, Loch Fyne Seafood & Grill has 25 years of expertise in fish and seafood.
Much of the fish and seafood served today is still freshly delivered from the loch and is sustainably sourced; either wild or responsibly farmed.
Where: Brook Lane, Alderley Edge, Cheshire, SK9 7RU
When: Ongoing
Loch Fyne Seafood and Grill Knutsford
Loch Fyne Seafood & Grill in Knutsford can be found in the Grade II listed Royal George building, lovingly restored to provide an historic and stylish setting.
Whether you are looking for a lunch with friends or a seafood feast, you will receive a warm welcome from the friendly restaurant team.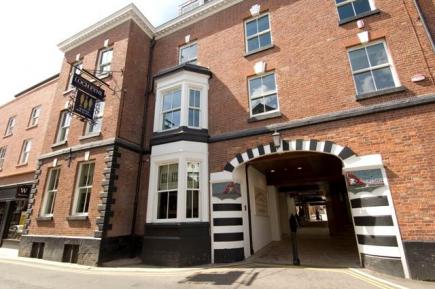 HOLY SHRIMP: Loch Fyne Seafood & Grill has 25 years of expertise in fish and seafood
Starting as a small oyster bar on the banks of the loch, Loch Fyne Seafood & Grill has 25 years of expertise in fish and seafood.
Much of the fish and seafood served today is still freshly delivered from the loch and is sustainably sourced; either wild or responsibly farmed.
Where: The Royal George Building, Regent Street, Knutsford, WA16 6GR
When: Ongoing
With quirky dishes such as the Heisenberger, Pizza The Action and The Kevin Bacon intrepid foodies with a lust for all things meat and dairy may well be willing to overlook the fact that V Revolution rustles up nothing for vegan fare.
The popular dairy-free hangout offers a new junk food-inspired spin on meals and also a salivating range of tasty treats including dairy-free ice cream and huge slabs of vegan cake.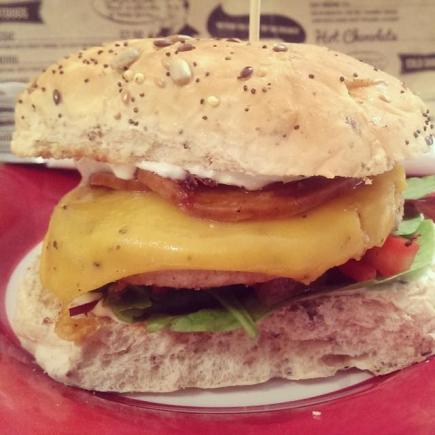 DAIRY-FREE ZONE: One of the many vegan specials (picture courtesy of V Revolution, with thanks)
Perfect for a leisurely lunch or an on-the-hoof 3pm sweet fix V Revolution certainly ticks all the vegan boxes. Plus you can browse the punk vinyl collection while you're there.
Where: 88 Oldham Street
When: Ongoing
More info: https://www.facebook.com/vrevolutionuk?fref=ts
Grand Pacific and the Late Lounge @ Australasia, Spinningfields
Like a serene sanctuary nestled among the hustle and bustle of city life, Grand Pacific offers a taste of Pacific Rim flavours in the heart of Spinningfields.
An extension of the already much-celebrated Australasia, Grand Pacific offers similar Australian and eastern-themed food and cocktails to its older sibling but with the welcome addition of a canopied outdoor garden.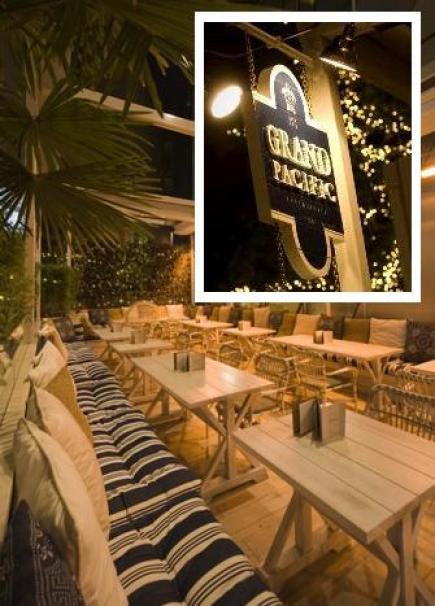 NAUGHT-ICAL BUT NICE: Grand Pacific is a open air cocktail paradise in Spinningfields
With warm summer evenings already upon us, there are few better ways to shake-off a day in the office than with Grand Pacific's signature cocktails – many playfully showing their Pacific heritage with names like Love You Long Time, Ladyboy Martini and Bush Fire among the highlights.
Don't let some of the floral flavours put you off. Hibiscus Martini may sound like you're about to get a mouthful of flowers yet their expert mixers manage to pull off a delightfully subtle and easy drinking cocktail, while the Lychee Lemonade begs to be revisited as soon as you've finished the first one.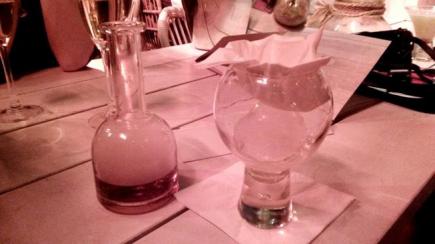 SMOKIN'! The Smoky Old Fashioned lives up to its name here, but with a modern twist
For those of you wanting something a little simpler, you may be a little more at home with the Smoky Old Fashioned – but even this comes presented in a pouring flask capturing its own smoky essence. A true gem.
And never fear if you want the party to continue once the sun goes down. Book a table in the Late Lounge and continue to enjoy the same drinks range downstairs (Thurs-Sat) in Australasia complete with guest DJs.
The Milton Club, Deansgate, Manchester
Celebrity hotspot and contemporary members club The Milton Club is the perfect place for professionals to shrug off the 9-5 slog and kick off the weekend in style.
Rio Ferdinand, Danny Cipriani and John Ameachi are just some of the famous faces who have dropped into the Deansgate bar to enjoy a tipple or two in the elegant amber and charcoal surroundings.
Offering a wide range of classic and contemporary cocktails The Milton Club also sees in-house DJs play soul, disco, funk and contemporary hits on Friday and Saturday nights to take revellers into the small hours.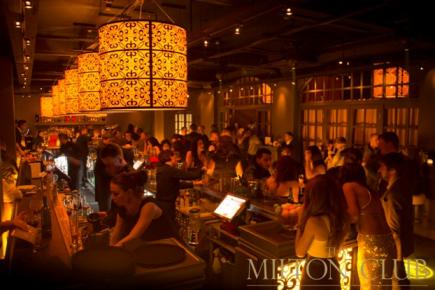 SIGNATURE OF THE CITY: The Milton Club embodies the heart of Manchester
If you're looking for something a little special, there are private booths in the VIP area – complete with their own bar – and the venue is also available for private hire Sunday-Thursday, offering dedicated services and hire packages.  
Where: The Milton Club, Milton Hall, 244 Deansgate, Manchester, M3 4BQ
Tel: 0161 850 2353 More info: Visit here.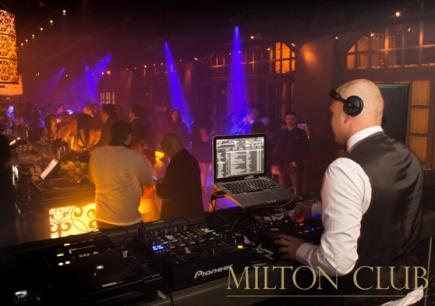 WHAT HATH NIGHT TO DO WITH SLEEP? Whether it's the Friday feeling, weekend fun or private hire, The Milton Club is waiting
Paying a visit to the jewel in the Curry Mile crown is now lighter on the wallet with Indian restaurant Spicy Hut offering an 'early tea' deal that strikes 20% off the total bill for the meal.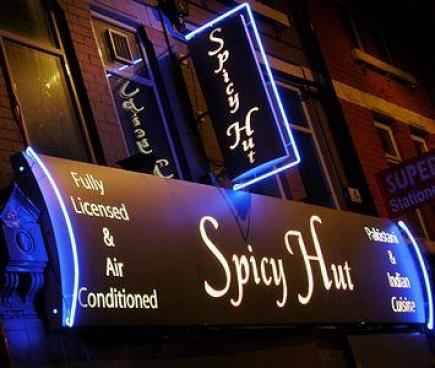 RICE FOR LESS PRICE: Spicy Hut are offering a tasty new deal
By quoting 'early tea' when booking, diners can get a quality curry for pakora prices. The deal only applies to seat reservations, rather than takeways, so you'll have to pay visit to sample the samosas first-hand.
When: Before 6.30pm Sunday-Thursday Where: 35 Wilmslow Road, Rusholme, Manchester, M14 5TB
Price: 20% off total bill. See menu and full terms and conditions here.
For more information visit here.
Main image courtesy of Duncan Hill, with thanks.