With new restaurants opening all the time in the city, all trying to offer 'something different', it's quite tricky to keep track of what's hot.
But never fear because MM's resident foodie is here to give you a taste of what's on offer at some of Manchester's latest eateries.
Hawksmoor
This new steak restaurant has been a huge success in London, with five successful sites open in the capital. Their latest offering in Deansgate is their first outside of London. Part of the Victorian Courthouse development, the restaurant is set in lavish surroundings, looking like a vintage restoration with several quirky, restored features.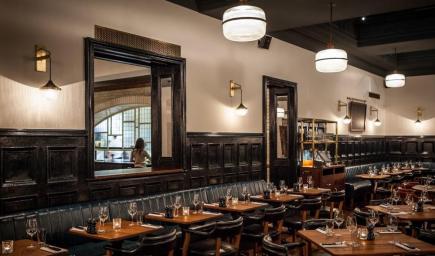 STEAK OUT: Hawksmoor's opulence doesn't stop at the interiors
The huge glass ceiling in the main restaurant, which was part of the original building acts as a further beautiful talking point. Than to the food, their renowned steaks take centre stage.
With eight different cuts to choose from all cooked over charcoal for that authentic, barbecue taste.
The opulence doesn't stop at the interiors, on the a' la carte menu, roast scallops with tarragon and garlic (£12.50) and veal rump with fried oysters (£24) certainly offers a more high-end feel to the menu, whilst still including their own Hawksmoor burger (£12) and an express menu (2 courses for £24 and 3 courses for £27) to add value for money.
Urban Cookhouse
Located on Princess Street, Urban Cookhouse aims to provide an eclectic fusion restaurant, with food inspired by the owners' travels, with influences from The Deep South, Asia and Jamaica.
The restaurant is inspired by downtown NYC with a relaxed urban style and contemporary vintage interior it is certainly looking to become one of the more trendier restaurants in Manchester.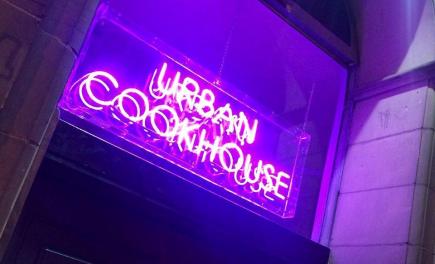 NEW YORK STYLE: Urban Cookhouse takes its inspiration from the Big Apple
The location was chosen to be in close proximity to the more cosmopolitan areas of the city, with Canal Street and Chinatown only a stones throw away.
Their most notable dishes include crispy cod cheeks with Asian slaw& chilli & lime jam (£7.50) and jerk pork loin, sweet chilli and pineapple, pak choi & Jamaican fried dumplings (£16).
With three courses costing roughly £25-£30, Urban Cook House certainly offers great value for money, for a menu with such variety and high standard of cuisine.
Iberica
A stylish new Spanish restaurant, opened in Spinningfields last month. Iberica looks to offer "authentic Spanish gastronomy" with a menu devised by triple Michelin starred chef Nacho Manzano.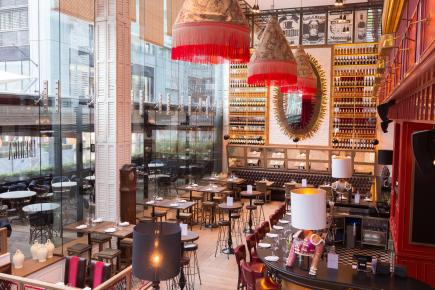 TAPAS TREAT: Iberica's latest restaurant in Spinningfields (Pic: Iberica)
The Asturian-influenced menu created has a collection of tapas, which combines traditional classics with innovative cuisine.
This is the first of their restaurant chain, which has been opened outside of London. The huge 200 seater restaurant, fitted with sumptuous and sophisticated interiors certainly gives the impressive venue an elegance which fits right into the Spinningfields dining scene.
As well as offering traditional, well-known national dishes such as croquettes and paella the menu also has a lot more experimental offerings such as fried chorizo lollipops with pear alioli sauce (£5) and sea trout with almond puree, pickled cauliflower & smoked olive oil (£8 as a starter, £16 as a main dish).
Due to its location in a busy business district, Iberica also offers an express lunch for £10 (a small plate and stew) and a set lunch menu with 3 small dishes for £15.
Ply
The team behind the award winning Kosmonaut bar in NQ has added to Stevenson's Square ever-growing foodie scene, with their latest offering- Ply.
Ply offers Neapolitan style food in a Scandinavian style setting. White washed walls and cork floors give the place a minimalistic and European feel, a beautiful contrast to the exterior Victorian red brickwork.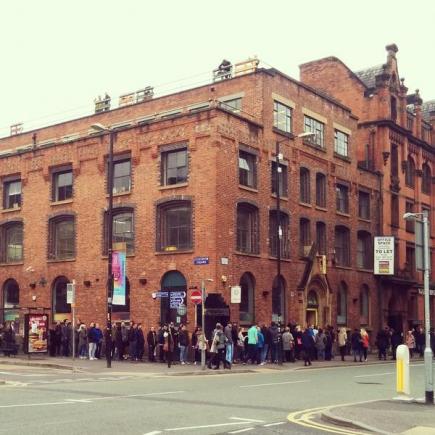 A PIZZA THE ACTION: Ply in the Northern Quarter gave away free treats recently
As the name insinuates everything inside the restaurant is made of plywood, with most of the furnishings and décor being bespoke and handmade.
The venue boasts a wood fired clay oven and offers eleven sourdough pizzas (£8-£12), with several specials being added to their menu at the weekend.
The more unusual toppings include artichokes and pig cheek (£12) and a sausage and broccoli bianca (£10.50). Ply also does antipasti (£2.50-£8), which aims to compliment the main menu.
Filthy Cow Burger Bar
Dubbed as a "back street burger pusher" located on Tib Lane near another fast-food success Dogs n' Dough which opened last year, The Filthy Cow Burger Bar offers a "short and punchy" menu with a range of burger options and fries, with monthly specials to keep things interesting.  
It also boasts a very bohemian interior with stripped back floorboards; walls filled with graffiti art and exposed brickwork.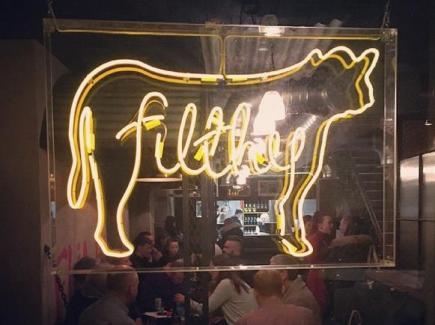 DOWN AND DIRTY: Filthy Cow Burger Bar 
Local sourcing is certainly a big part of the ethos. With locally sourced beef for their burgers, a local producer supplying their ice cream (Gingers) and local craft beers.
With a burger and side only costing a maximum of £10, the Filthy Cow certainly offers something for everyone, even on the tightest of budgets.
All images courtesy of the individual restaurants, with thanks.