Young Mancunians who've upped sticks and left their family home aren't prepared for the reality of life without the parental 'safety net'.
With just a third of young people in the city calling their parents every day after moving out of the family home, youth homelessness charity Action for Children is calling for greater awareness of the realities of the rocky road to independence.
A survey of 2000 16-24 year olds was commissioned by the charity, which found that almost three in five (58%) found managing bills and supporting theirself financially a challenge, while worries about being lonely were a reality for just over a third (34%).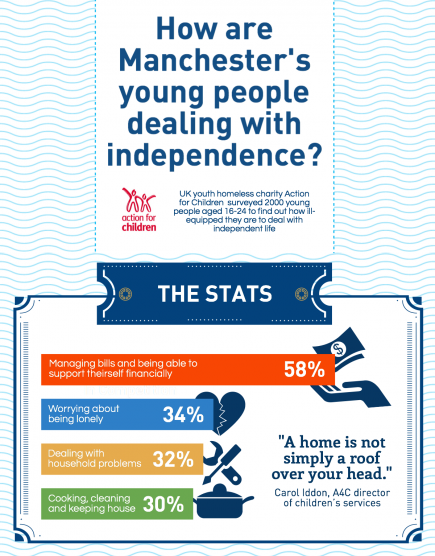 The young people surveyed also found challenges in dealing with household problems and repairs (32%) and cooking, cleaning and keeping house (30%).
Carol Idden, Action for Children's director of children's services in Manchester said: "For many young people, moving out of the family home can be an exciting and intrepid first step to independence, with the added advantages of parents who can provide emotional, practical and financial support.
"But for the young people we support, living independently at a young age is often not a choice, nor does it come with a parental safety net.
"A home is not simply a roof over your head. It should also be the place where you feel happy, safe and loved."
Action for Children's annual Byte Night event – the UK's biggest sponsored sleep-out – will see more than 1,500 people take to the streets of the UK in October to sleep rough for one night to raise money for the charity's youth homelessness services.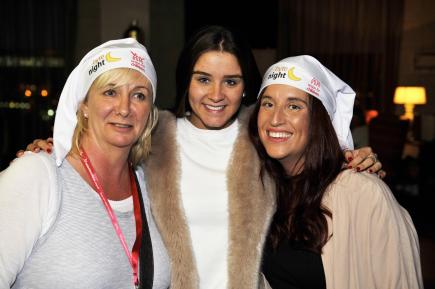 SPONSORED SLEEP OUT: Organisers expect more than 1,500 people to sleep rough in this year's event, raising an expected £750k for Action for Children (© Action for Children, with thanks)
Last month, MM caught up with Damian Petitt, international banking head at RBS in the city centre and co-chair of the Byte Night board for the North West.
Damian said that while he'd love to say his involvement was 'through some altruistic means', he became aware of the event through a colleague in London.
But after moving up to Manchester, he was inspired enough to join a group of like-minded people enthusiastic about improving the situation for young people sleeping rough in Manchester. 
"I met a couple of people from the charity and it was infectious, their ambition for it, how they were talking about it," said Damian.
"The beauty about this is that a lot of what we're trying to do here is intervention – dealing with the cause of homelessness."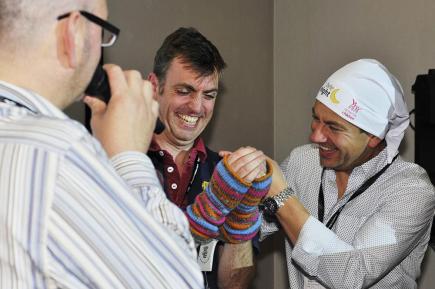 'DEALING WITH THE CAUSE': Damian, pictured, tries on a pair of mittens before he heads out into the cold Autumn night to sleep rough for charity (© Action for Children, with thanks)
"It's trying to tackle it before homelessness happens. It's helping the kids, putting the trust and belief back in them again so that they can reengage," said Damian.
"It's so easy for like to attract like, and for them to continue on a road. But Action for Children has made a change in that.
"I don't care whether that's one person. That's one person, one human being whose life has been changed."
Anyone interested in taking part in this year's Byte Night North West on October 2 should click here or contact the charity's team here.
Main image courtesy of Martinak15, with thanks