Crimea is far from the most well-known destination in the world yet Russia's recent invasion though has brought this small area just south of Ukraine to the attention of the world.
As Vladimir Putin attempts to gain control amid mass outcries from across the globe, the conflict has made front-page news bringing Crimea to the forefront of people's attention.
But despite this and all the information available about the current situation, how many people actually know where it is?
MM took to the streets of Manchester to find out just how many people knew where the war ravaged country sits.
From the number of people asked, over 82% of people failed to identify the correct region of Ukraine, lying on the Northern Coastline of the Black Sea (circled in the image).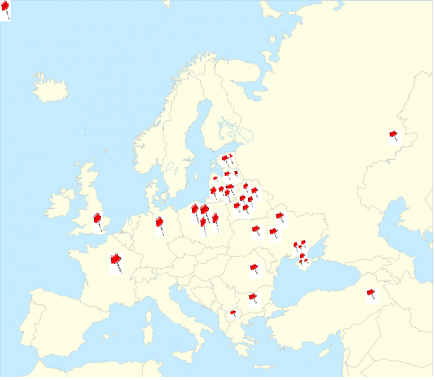 PIN-POINT: Only a handful of people know where Crimea is, as this map shows where the Mancunians we asked thought the Crimea was (map courtesy of Madman2001, with thanks)
Several people pin-pointed holiday destinations such as France and Germany while the most inaccurate guess was in the East Sussex region of south England – where Brighton is.
One person who correctly identified the Crimea region had moved to Britain after growing up in the former Soviet state of Azerbaijan.
They said: "I hope the whole situation is sorted quickly and peacefully.
"The region has seen far too many troubles in the past and everyone deserves to live their lives in peace."
Another Mancunian who was able to pin-point Crimea on the map but who preferred to stay anonymous said: "This underlines the ignorance of major sectors of our society today. No wonder people worry about 'Dumb Britain'.
"What are they teaching children in school these days?"
Social media sites have exploded since the conflict began with Gemma Worrall mistaking American President Barrack Obama for the UK Prime Minister.
She posted on Twitter: "If barraco barner is our president why is he getting involved with Russia, scary".
The comment received a large number of abuses for its inaccuracy resulting in the post being deleted.


DELETED: Inacurrate comment was mocked before being removed (via Twitter)
Teddie Stringer posted: "That Gemma Worrall lass is definitely loving all the attention. I would not want to be known for being a straight up moron."
Samantha Magnus came to her defence though and replied: "Respect to Gemma Worrall, whether or not she got Barack Obama's name right at least she's trying to participate in politics-more than most."
I've been speaking to @BarackObama about the situation in Ukraine. We are united in condemnation of Russia's actions. pic.twitter.com/7Rk2k8iOIK
— David Cameron (@David_Cameron) March 5, 2014
">photo of Prime Minister David Cameron on the phone to the Obama has also gone viral with a number of celebrities doing a spoof of the photo, such as
.@robdelaney @David_Cameron @BarackObama I'm now patched in as well. Sorry for the delay. pic.twitter.com/elLQcKcV3w
— Patrick Stewart (@SirPatStew) March 5, 2014
">Patrick Stewart and comedian
.@David_Cameron @BarackObama Hi guys, I'm on the line now too. Get me up to speed. pic.twitter.com/xhmJG5KpxT
— rob delaney (@robdelaney) March 5, 2014
">Rob Delaney.
Although easy to make light of such pictures, it does little to hide the fact that the on-going conflict could well have implications throughout the world if not resolved soon.
Main image courtesy of BBC via YouTube, with thanks.