"We're all connected in one way or another", so says one of the hundreds of jazz musicians in A Great Day in Paris. It's a simple message, but one that courses through every fibre of the film's being.
Its director, Tunisia-born Michka Saäl, passed away in 2017, around six weeks after the world premiere in Paris. Over the past two years her husband Mark Foss has worked tirelessly to make sure her legacy is preserved.
The screening at this year's Manchester Film Festival was not only the UK premiere, but also the first time any of Michka's 13 films have been screened in the UK, 30 years after her artistic career began.
Following a group of expatriate American jazz musicians, the documentary charts their meeting in Paris to recreate the famous Harlem, 1958 photograph by Art Kane for its 50th anniversary in 2008.
Interviews with those in attendance are spliced with footage of live performances, creating an endearing mosaic of artistic survival as history and the present seamlessly combine.
Saxophonist Ricky Ford is one of the most prominent figures in the documentary. He's an old friend of Michka's and her keen interest in jazz led to them working together.
Mark told MM: "She had known Ricky for over 30 years, he was in Montreal and he was performing to a silent film in the cinema.
"He was improvising and she was like, 'wow'. That's how they first met.
"She'd actually for a long time wanted to do a film about him, just him, but it never got off the ground. Then he had this idea for the 50th anniversary photograph and she decided to help him and it evolved into the film."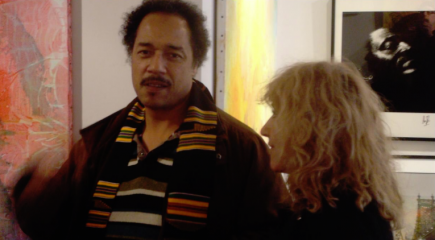 DIRECTOR: Michka Saäl with Ricky Ford before her death
With two films left in post-production and an unpublished collection of short stories, there's still more artistic output to come from Michka, and despite Mark's smaller involvements in the films previously, he's acting as producer now.
He told us about the upcoming releases. The first one is called New Memories. 
"It's been shown in Montreal and it will be shown in France in May and I'm trying for other places. It's a story of art and survival," he said.
"Like many of Michka's films, you can see her films through the lens of what she would call art and survival.
"A Great Day in Paris is like that too, it's all these people who are playing for their lives, it's so much a part of them.
"This particular film is about a woman in her 60s, who had a traumatic childhood and was addicted to heroin and alcohol for years, and discovered street photography and it's transformed her life. That's the story of New Memories.
"The second film that I'm finishing probably in the next month or so is called Mavericks," he told MM, for which he raised $14,000 Canadian dollars in one month through a crowdfunding campaign.
"That's almost a love letter to Montreal and Quebec. She'd been filming everywhere except Quebec and she really wanted to come back and do a film."
It was certainly art and survival for Michka.
Mark explained: "She had a difficult childhood as well, and art is what saved her. She studied visual art, she studied photography, she had two degrees in film and she loved poetry.
"I like to look at her films through art and survival, a lot of people like to look at them through the lives of exile. A Great Day in Paris is also about that. People leave for different reasons, sometimes by choice, sometimes not by choice."
It's taken nearly ten years for the film to be finished, with the photo taking place in 2008, which Mark thinks has worked to the film's advantage.
"When independent filmmakers talk about a film ten years in the making it just usually means they don't have the money. This film was made on almost nothing, it took a while for her to get the money to finish it.
"But in the end it ended up being a good thing because when the jazz musicians came to the premiere in Paris, it had been almost ten years, and some of the musicians had passed away so it became a real document.
"In fact, there's a moment in the film where Jean-Jacques Avenel, who was a French musician, arrives and the film goes into slow motion as he's shown – and that was Michka's way of acknowledging that he'd passed away in the middle of editing.
"And then afterwards the musicians said 'he's gone' and 'he's gone' and now, of course, Michka too. All films are snapshots but this one is a real moment.
"It's also this idea of the transmission of knowledge which I find interesting. Because it's almost as if it's a responsibility for some of these jazz musicians to pass on their knowledge, either through teaching or more informally.
"When this film premiered in Paris in May 2017, one of the musicians who's featured in the film came to the launch, John Betch, who's free jazz drummer, and he brought this young guy with him.
"We were having lunch and we started talking and this guy had literally arrived in Paris the day before, and he'd been given John's name, they didn't even know each other.
"This is how it happens, so he brought him to see this film."
Mark didn't have an involvement in the film industry prior to meeting Michka, and the story of how they met has now come full circle.
"Thirteen years ago I was a communications consultant. I was writing an article on francophone artists from the Middle East and North Africa working in Quebec.
"It was very, very specific and I was given a few names and she was one of them.
"When I asked for the interview I had just published my first book, which was a collection of linked stories, and I had that in my email at the bottom for self-promotion. We started talking about it because she'd just finished her book, and then we ended up becoming a couple."
"Her book was never published and so here I am. It's self-published, it's published by Editions du Loin which is a French name I invented, so basically it's self-published."
The book, titled The Hairdressers' Moon, isn't scheduled for release in English as of yet, but came out in French on April 7.
Mark is continuing to preserve her legacy, and is clearly doing a stellar job. With films being released in previously unchartered countries and her first published book coming soon, Michka's artistic legacy is sure to live on.