Like most children of the 90s, I spent my days day-dreaming about kicking ass with my highly-developed skillset learnt from my very own martial arts master like Mr. Miyagi or Master Splinter.
Unfortunately, my karate training didn't turn me into a crime-fighting ninja turtle –  as I quickly learnt that not all dreams come true overnight.
I never did fully give up on my dream though, so when the chance came along to train with Team GB taekwondo star Jade Jones, I snatched it with both hands.
After picking up gold aged just 19 at London 2012, Jade has become a household name and has helped raise taekwondo's profile across the UK.
"Before the Olympics people didn't even know what taekwondo was," Jade said.
"I'd say to people 'I do taekwondo', and they'd say 'what's that?'. Now people know what it is and know me for it.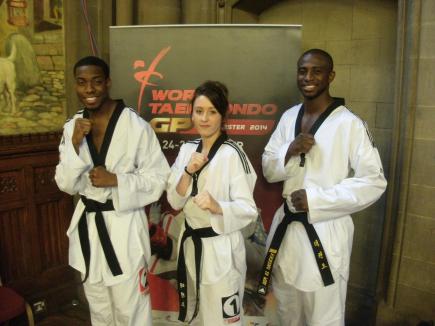 TRIPLE THREAT: Jade, Lutalo and Cho have high hopes of taking the sport by storm
"After the Olympics people were coming up to me on holiday saying 'can I show you my kick?'. That's amazing to see.
"Taekwondo's come a long way and there are a lot more people in the clubs and there are generally just a lot more people who do taekwondo now."
Jade is busy training for the Taekwondo Grand Prix next month, which is being staged here in Manchester.
The 21-year-old will be looking to get back to winning ways after losing in the final to Spain's Eva Calvo Gomez at the Grand Prix's inaugural event last December in Manchester.
She lost again to the Spaniard in Kazakhstan in August before crashing out of the China Grand Prix without a medal in July.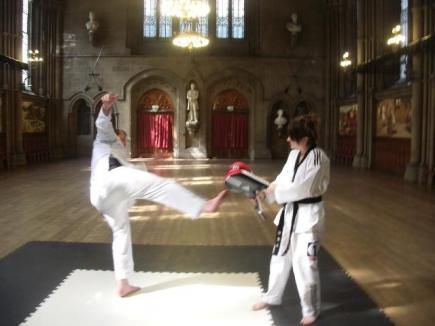 CHAMPION IN THE MAKING: Jade is certainly not impressed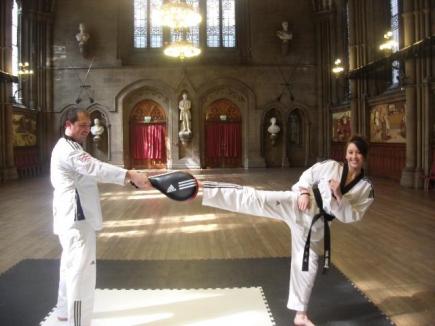 PERFECT POISE: The Olympian put Kenny through his paces
With the home crowd behind her, Jade will be hoping to finally win that elusive Grand Prix gold.
"I'm excited that it's in Manchester, all my family and friends will be watching so I'll have that extra little buzz and motivation. I'm really looking forward to it," she said.
"It's going to be hard. It's one of the best competitions in the world.
"The top 32 are there, but I'm always confident I can take the gold medal on my day and I've got a good feeling about Manchester. I'm looking forward to fighting there."
Of course, the competition will be as tough as ever and the Manchester-based fighter can expect to run into her Spanish nemesis once again.
Gomez has quickly become a thorn in Jade's side and has raised the bar, winning gold in the last three Grand Prix tournaments, much to the amazement of Team GB.
"She just came from nowhere to be honest," Jade told MM. "She wasn't in London, but then just popped up after there.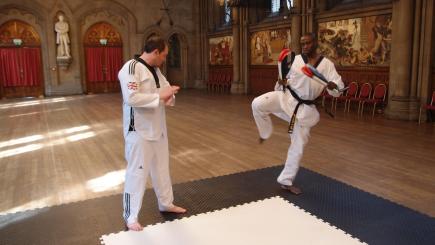 READY FOR BATTLE: Kenny grew confident after learning the ropes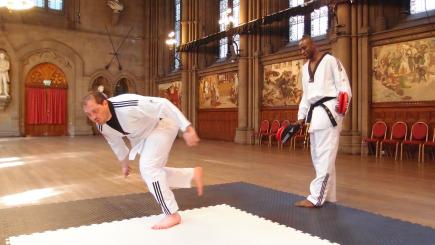 HAVING A LAUGH: Cho had a good laugh as Kenny nearly falls over 
"But she's won three Grand Prix's in a row now so she's definitely the one to beat at the minute.
"I've just got to keep improving. I'm confident that with two years to go until Rio, I'm in a good place."
With so much riding on the Grand Prix, I offered Jade the chance to spar with another rising star in the taekwondo world – me.
After getting a little over-zealous, perhaps trying to impress the Olympian, I quickly found myself flying headfirst after an overenthusiastic roundhouse kick – if that's even what it was.
Jade was joined by stablemate, Lutalo Muhammad, who won bronze in London 2012 and is looking to defend his Grand Prix gold medal in Manchester.
"I'm really excited for it," Lutalo told MM. "I really get a buzz off the home crowd, since the Olympics, the last Grand Prix and the last national championships.
"I love fighting here in the UK."
Lutalo, from London, admitted Manchester holds quite a bit of sentimental value.
As well as being the city where he and the rest of Team GB train, at the multi-million pound Sportcity complex, much of his mum's family reside in the area as she was originally born here.
Lutalo will be hoping he can retain his title in front of his family, who will be cheering him on at next month's tournament.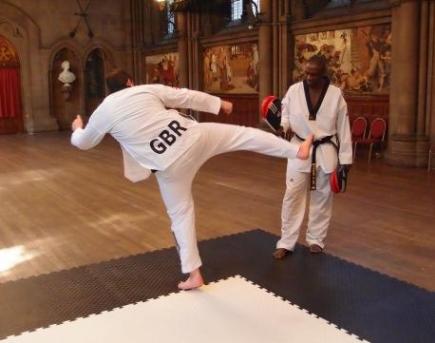 FUTURE STAR: Cho's tuition seems to be bearing fruit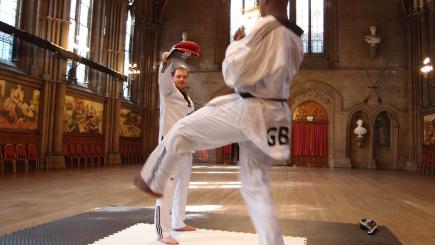 SPAR POWER: Kenny felt the full force of the taekwondo star
"I train in Manchester so it's almost like just coming into my gym. I've got quite a good record in Manchester and I don't really like people coming into my gym and taking my title.
"So I'm really feeling good, things are moving in the right direction and I think it's going to be a really good tournament for me and Team GB athletes as a whole."
Another rising star in the Team GB ranks is Mahama Cho, who has collected medals in all three Grand Prix tournaments since the series started last December.
He won gold in Manchester last December then picked up silver in Kazakhstan before bagging bronze in China.
The Five-time National champion, who is in prime position to make the taekwondo team for Rio 2016, was happy to pick up the pads and see if I had what it took to become a future star.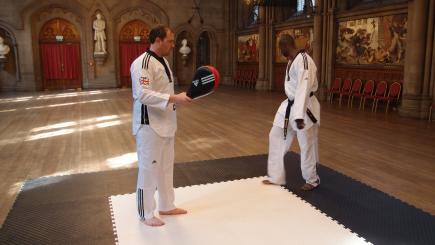 CHOP CHOP: Kenny was seemingly unimpressed with his master's teachings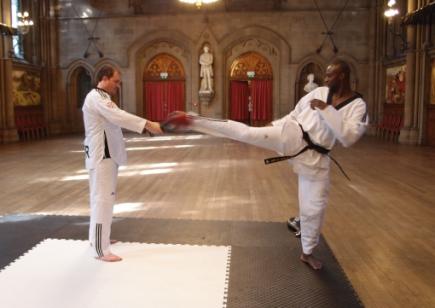 HOW IT'S DONE: Cho hopes to defend his Grand Prix title in Manchester
Judging by his facial expressions, I don't think he expects me to be biting at his heels any time soon.
While I might not be knocking on the doors of Team GB just yet, Cho says there are many more waiting in the wings to follow on from Jade's gold medal success of London 2012.
"Jade being our first female to get an Olympic gold actually set the benchmark for taekwondo in England and it's only getting bigger and bigger since then," he told MM.
"We've got a number of rising stars coming up. There's Jade Jones but there are plenty of others who are getting medals all over the place, all of these key players are there but not spoken about.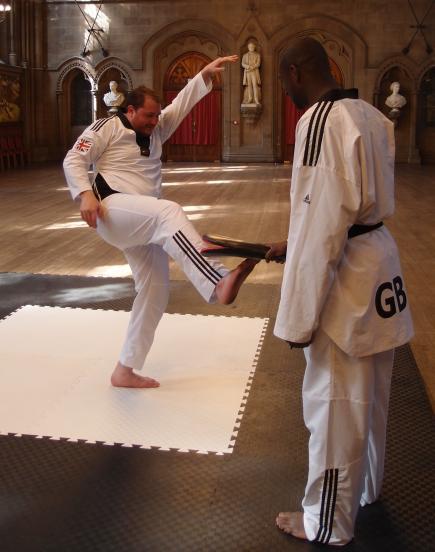 SHATTERED DREAMS: Kenny looks more like the Beverley Hills Ninja than a feared assassin
"They're really stepping up the mark now and Great Britain is really becoming a factor on the world level. I think we're becoming a really fearful team now, which is good."
Jade also agreed that the level of talent has increased since the Olympics and she admits she is not taking her place within the squad for granted, despite being the shining star in a galaxy of talent.
"There are a few girls at -57 who have come in to try to take my place," Jade said.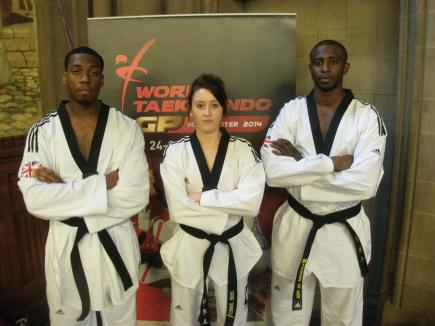 LET'S 'AV IT: The trio are working hard to earn a place in Rio 2016
"For me I've never had that before. I've only ever competed against the other weights, it's not nice but it makes you at the top of your game and makes me even better as a fighter."
As far as my own future is concerned, my experience with Team GB has made me realise that my dreams of becoming a crime-fighting ninja are well and truly over.
Instead I will take up the fight on paper rather than the mat… after all, the pen is mightier than the sword.
The WTF World Taekwondo Grand Prix will take place from Friday October 24 to Sunday October 26.