Manchester's homeless spent the summer creating sculptures and animations with the help of community artists to explore notions of home and place within a city.
Artists Becky Waite and Emily Hayes set up Matchbox City a project aiming to raise awareness about homelessness and combat the stigma towards homeless people through creativity.
The site specific art project creates miniature cities and people using match sticks, thread, and cardboard, and then encourages participants to make their own animated video stories.
They have been travelling across the North West visiting Manchester Cathedral, The Peoples History Museum and Central Manchester Library, as well as locations in Rochdale, Liverpool and Warrington.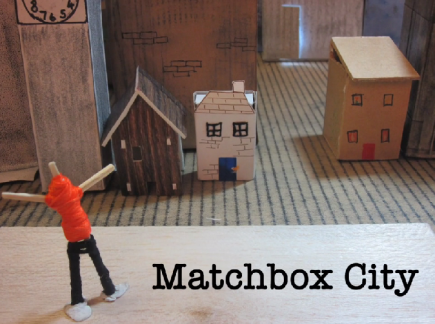 Ms Waite said: "We hope that the surprise of miniature matchstick people popping up here and there will make people stop and think.
"The very real problem of homelessness in our towns and cities is an uncomfortable truth that is often ignored.
"By engaging people in what seems like a friendly and approachable way, we hope to get everyone talking about some of the more difficult aspects of city life."
One of the Manchester workshops was held at The Booth Centre, a day centre for homeless people.
The participants at this workshop were able to meet those at a similar project in Liverpool.
Ms Waite said: "They were able to meet participants from the different centres over tea and cake and even caught a bit of the Giant Spectacular event that was on that day. It was a lovely coming together of Liverpool and Manchester!"
The project was developed by the organisation Connecting Threads and partially funded by Arts Council England.
An exhibition will be held at Manchester Digital Laboratory or MadLab in the Northern Quarter from September 16-21.  
Despite events coming to an end this month, the project has been funded until February, but Ms Waite is yet to find out what the future holds.
She said: "We're not too sure what the next step is after Matchbox City but would like the project to grow and grow!"
To find out more about the project visit http://connectingthreadsuk.blogspot.co.uk
Main image courtesy of Connecting Threads, via Vimeo, with thanks