In light of David Bowie's death, a popular nightclub in Rusholme is putting on a themed charity fundraising night in tribute to the late music icon.
'Let's Dance – A Tribute to David Bowie' will be held on Saturday January 16 at Antwerp Mansion in conjunction with the Christie – a Manchester-based charity which specialises in the care and treatment of those suffering from cancer.
Since the club set up a Facebook event on Monday, the page has attracted a staggering 25,000 hits, with 800 people registering interest on the website and 200 advanced tickets sold within a few days.
All proceeds raised from ticket sales will go towards the charity, one that Andy Mansion, the owner of the nightclub, has close personal ties with.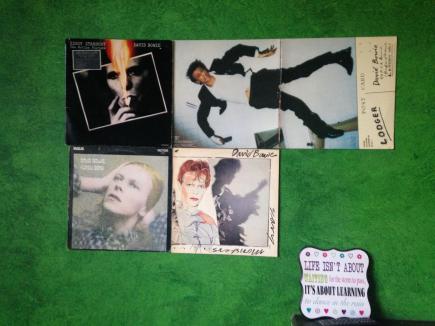 'WONDERFUL LEGACY': The event aims to acknowledge Bowie's death but also celebrate him as a 'brilliant' artist
Mr Mansion told MM: "My girlfriend's brother was being treated by Christie's long before her and I ever met and he was treated extremely well.
"He is still under treatment at the hospital which has given me very clear insight into how good Christie's is as a charity and as a hospital.
"The way they respect and look after people with cancer means it's definitely a charity worth supporting."
People looking to buy tickets for the event will have option to pay either £2, £5 or £10 online as well as donating whatever they can on the door.
According Councillor Daniel Gillard, a close friend of the nightclub, plans were put straight into action as soon as news broke of Bowie's death.
The councillor for Withington Wood said: "We're the kind of venue who likes to look at independent, creative people like David Bowie and we thought we'd tie this up with our local hospital down the road in Withington, The Christie.
"We're bringing together two wonderful organisations and one brilliant artist to see what we can do to help raise money for a charity that has been researching and treating cancer for over 100 years.
"We thought it would be a really nice chance to acknowledge the sad fact that Bowie died of cancer but also celebrate his wonderful legacy in good style as we always do at AM with a big party and lots of fun."
Howard Newhall, a community fundraising officer for Christie's, has said that the event and the partnership that has come of it is a fairly unique one, as Bowie himself passed away from cancer.
He told MM: "We're all very pleased that Antwerp Mansion have decided to do this David Bowie-themed night.
"All of the money that is kindly donated to the charity will be used to improve facilities at the hospital, whether that be research, equipment, or complimentary therapy.
"David Bowie was a great person and I'm sure that those that come to the night will give generously to it."
While fundraising will funnel into those aforementioned areas, Christie's is also focusing on the introduction of proton beam therapy to the hospital, a specialist type of therapy not too dissimilar to radiotherapy.
However the treatment, according to Mr Newhall, is a lot less invasive and damaging, with the treatment effectively destroying the tumour while ensuring that there is no damage to any surrounding tissues or organs.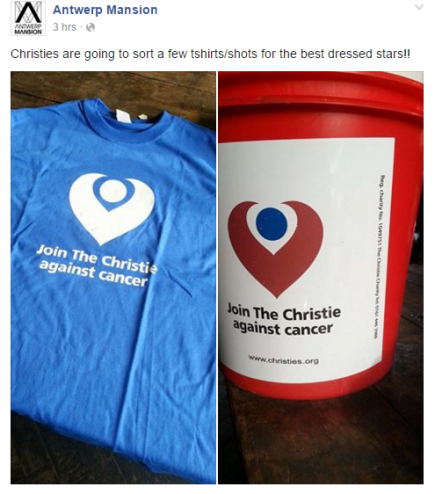 GREAT PERSON GREAT CAUSE: All money raised by Antwerp Mansions' Bowie-themed night will go to The Christie cancer charity
The grief felt at Bowie's passing has been universal, with vigils held at places the star frequented regularly across the globe, including New York, Berlin and London – in particular Brixton, where the star was born.
The musical chameleon, known to laugh in the face of genre boundaries, died just days after the release of his twenty-sixth and final album, Blackstar, which was released on his 69th birthday.
Many believe that Bowie knew that Blackstar would be his parting gift, with music videos for lead single Lazarus showing a frail Bowie singing a poignant opening line – "Look up here, I'm in heaven."
Some fans also pointed out the last account Bowie had followed on Twitter TheTweetOfGod – a popular parody account.
'God' announced to his 2.24 million followers yesterday: "Honestly, hanging out with David Bowie is even cooler than I thought it would be!"
We see you, Starman: the last twitter account David Bowie followed was @thetweetofgod https://t.co/RAo3s4tfRR pic.twitter.com/B5k2czlS6c

— PAPER Magazine (@papermagazine) January 11, 2016
According to Mr Gillard, the answer to why Antwerp Mansion would hold such a night was an obvious one.
He said: "Here in Manchester there are a lot of people who are massive Bowie fans and people are actually quite upset.
"They want to hear some of their favourite musician's songs, all the wonderful music he made and the acts associated with him."
Alongside Bowie's extensive back-catalogue, the DJs at the Mansion will be playing bands and musicians that played alongside him and were influenced by him, with the likes of The Velvet Underground, Lou Reed, John Cale, Arcade Fire and Nirvana expected to feature among many others.
Bowie's music has transcended generations, with many young people expected to meet the likes of Ziggy Stardust, Aladdin Sane and the Thin White Duke for the first time in the wake of the media maelstrom that has accompanied his death.
Sarah Lord, the Mansion's 20-year-old assistant general manager, told MM: "Bowie is a funny one because even though my generation weren't particularly brought up under the influence of his music he still seems to resonate extraordinarily well with everyone I know.
"I'm not quite sure how I got to like him, he's just one of those figures in music that is capable of appearing in whatever genre you're listening to. He's something of his own and always will be."
For Sebastian Walsh, the club's marketing manager, Bowie's music has always been a family affair.
Mr Walsh said: "My father listened to him his whole life and despite myself being on the fringe of the generational change, I was brought up on it all and I love it."
While the club typically attracts customers of a younger age group, Councillor Gillard expects an array of ages to be present on the night.
He said: "We're getting a lot of feedback from people of all different backgrounds and generations who will be coming down.
"It's going to be a big bash that celebrates everything good about Bowie, as well as doing some good for a wonderful local hospital. How could we resist that?"
For more information on the event, visit the event page on the club's site. 
For more information on the Christie, click here or to donate to the trust through their JustGiving page, click here.
Image courtesy of Trident Studios, via YouTube, with thanks.