At a time when women's rights seem to be increasingly under attack one Manchester restaurant is taking a stand for the rights of women and mothers by openly encouraging breastfeeding.
Lunya, a fiercely independent and family run Catalonian tapas restaurant on Deansgate, is owned by husband and wife Peter and Elaine Kinsella.
Lunya actively encourages breastfeeding mothers to come to their restaurant by creating a comfortable and welcoming space, proudly displaying the restaurant's policy on a board outside and even offer a free drink to all breastfeeding women.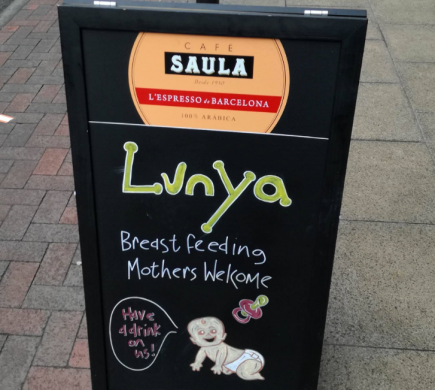 COMPLETELY NORMAL: Mother of three and Lunya owner Elaine Kinsella hopes her restaurant's policy will 'normalise' breastfeeding
MM met with Elaine, a mother of three, inside Lunya whose walls are adorned with art works and Moritz beer advertising posters featuring breastfeeding women – openly emphasising the company's liberating policy. 
"From the beginning we have always had a policy of welcoming breastfeeding women," said Elaine.
"I understand how difficult it can be finding somewhere comfortable and safe where you can breastfeed."
For Elaine and her husband encouraging breastfeeding is a really important issue.
"It's something I feel really passionate about," she said, speaking of how the policy of welcoming breastfeeding mothers with a free drink reflected the restaurant's value of generosity.   
Elaine said the restaurant had received an amazing response to its policy and publicity on Twitter, thanks her "appreciative" customers.
"It would be lovely if more restaurants went over and above just saying that they welcome breastfeeding women," she said, adding she couldn't imagine other restaurants in Manchester telling breastfeeding women to stop,
"It tells the public that this is an ok thing to do, it's completely normal."
Describing her experiences as a breastfeeding mother, Elaine said she frequently found herself sitting on restaurant and public toilets to breastfeed.
"It wasn't very nice. We want all women to feel comfortable.
"From a personal point of view I wouldn't want any women to feel uncomfortable like I did in that situation."
She also spoke of how she experienced mixed reactions from the public as a breastfeeding mother, with some people encouraging her.
"(It was) the most wonderful thing, the most beautiful sight they could see."
Yet others would tell her it was disgusting.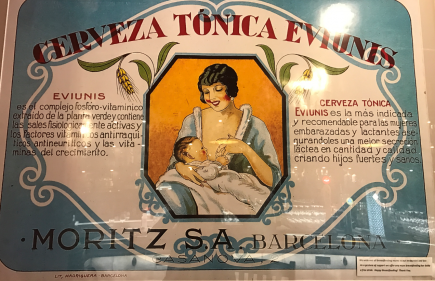 WONDERFUL OR DISGUSTING? Lunya's rich art works seek to educate diners about breastfeeding, which still angers some members of the public
"I personally don't understand where the anger comes from. It baffles me that people would get so upset about it.
"I don't think that any woman should feel guilty about breastfeeding their baby."
The policy and actions of Lunya have also been praised by Rosalind Bragg, Director of Maternity Action, one of the UK's leading charities for women and mothers.
"We are delighted that this business has taken the initiative to actively support breastfeeding mothers. It would be great to see more businesses following their lead," she said.
Ms Bragg said Maternity Action regularly hear from women who, similarly to Elaine, have received "unkind treatment" when they have been breastfeeding in public spaces.
"Some have been asked to stop, or asked to move, or have faced criticism from those around them.
"Unfortunately all too any people are not supportive of women breastfeeding in public spaces.
"This is the most natural thing in the world, and it is important that we build greater support for women who breastfeed their babies," she said.
There still remains a social stigma and lack of understanding around public breastfeeding – something which Ms Bragg points out to be an enduring issue.
"Protection from discrimination whilst breastfeeding in public spaces was brought in with the Equality Act some years ago," she said.
"There have been some improvements in public attitudes as a result of this. But the legislation is not widely understood, and there hasn't been enough work to raise public awareness about the obligations on businesses, or indeed the health benefits of breastfeeding."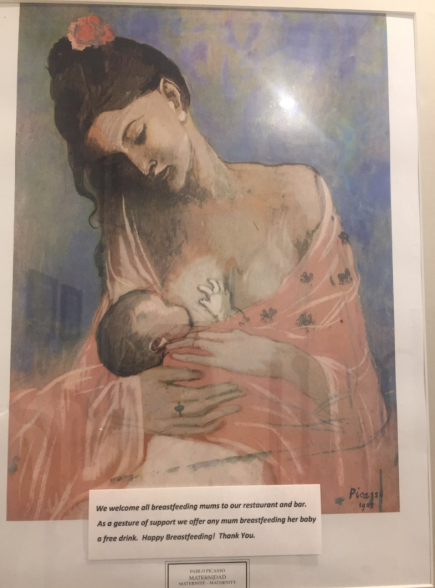 NOT WIDELY UNDERSTOOD: Rosalind Bragg of Maternity Action says despite the Equality Act, health benefits and other positives of breastfeeding are not in the public domain
Speaking about Lunya's policy, free drink and public signage welcoming breastfeeding women, Ms Bragg said practical support for breastfeeding mothers is incredibly important.
"Women who are breastfeeding do need to go shopping, have a coffee, have lunch out with friends in the same way as everyone else.
"A sign that says 'breastfeeding women are welcome' is incredibly helpful for women seeking to find a place which will be supportive of them while they feed their infant.
"It is incredibly generous of this restaurant to take such a proactive approach to supporting breastfeeding mothers."