Mystery Manchester artist Mancsy – a Northern take on the internationally celebrated satirical street painter Banksy – has announced his biggest ever exhibition at Trafford's Victoria Warehouse.
Mancsy, whose work revolves around the city's worker bee symbol, has spent the past three years making limited edition screen-prints and dotting them around Manchester for people to find.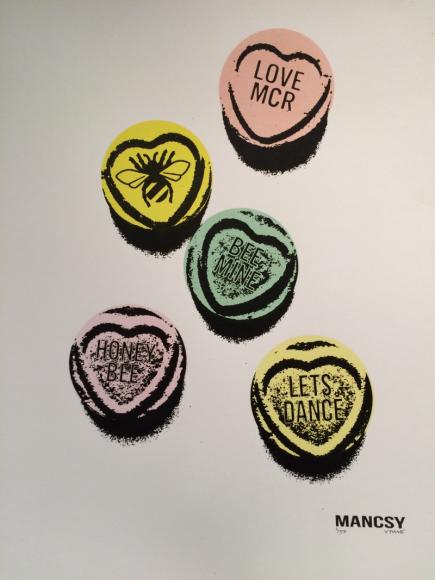 LOVE MCR: Mancsy's one true passion has been described as 'the city and people of Manchester'
Using social media to hand out hints to the public, the local pseudonymous artist gets a buzz out of the anonymous approach to sharing art that Banksy popularised back in the late 90s.
The bee, which has been the symbol of Manchester since the 19th century, represents the city's hardworking Industrial Revolution heritage and the region being a 'hive' of activity and trade.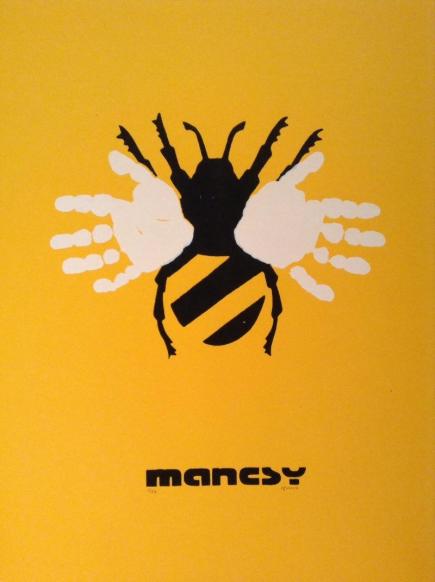 HIVE OF ACTIVITY: His work revolves around the symbol of the city, the worker bee
The mystery artist joined forces with the Printworks just before Christmas, when the city centre entertainment venue installed a fully functioning set of beehives to the roof of the building.
Jars of the honey produced by the Printworks' hive of worker bees feature a one-off label by Mancsy, with profits going to local homeless charity The Booth Centre.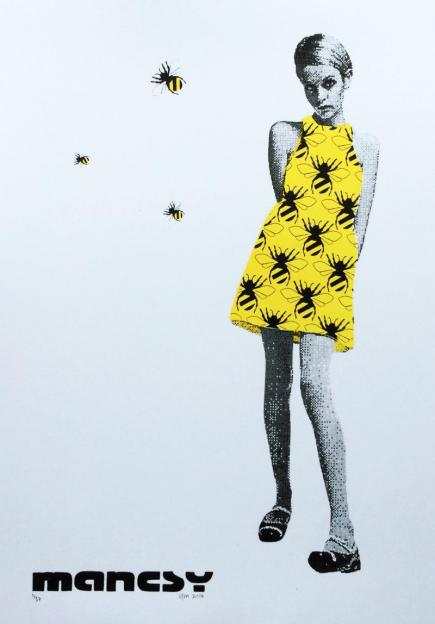 QUEEN BEE: This print of fashion icon Twiggy celebrates the city's history of cotton production
Mancsy, whose one true passion is described as 'the city and people of Manchester', updated his website with an online shop back in September to help fund future work.
The prints, which range from £15 to £40 feature work for a range of events, charities and organisations including the Whisky Sessions, Manchester Dogs' Home and the New Islington Free School.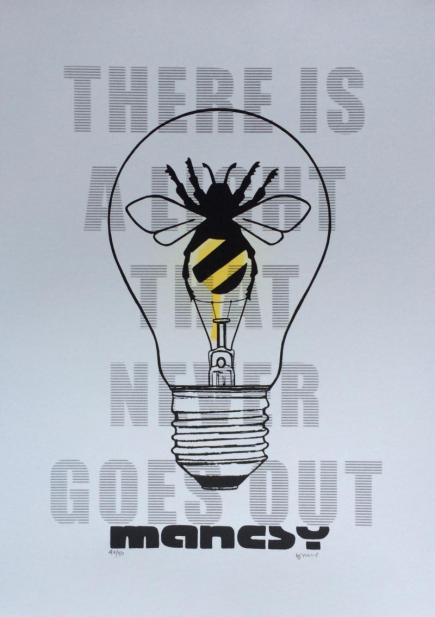 MADE IN MANCHESTER: The Smiths provided the soundtrack to Mancy's teenage years
During what is described as his 'big unveil' at a special free event open to the public at Victoria Warehouse from 6-9pm on Thursday April 23, the first hundred visitors will be the lucky recipients of a free-bee 'finders keepers' A5 print.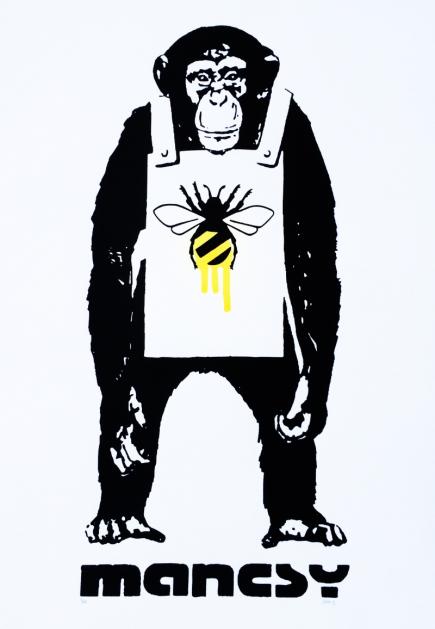 MONKSEY: This event will be the Banksy-inspired artist's biggest exhibition to date
Following the opening night, his Victoria Warehouse exhibition will run until Sunday May 10, featuring 12 new A2 designs, plus A3 work from the catalogue and seven collaborative mosaics produced with Manchester Mosaics' Amanda McCrann.
For more information, visit his website here