Looking to be in the city but not IN the city? New Islington's newest apartments could be just the fit.
A total of 144 new 'luxury homes' are being built in New Islington, just off Ancoats, with easy Metrolink access and stunning views across the surrounding countryside.
A stone's throw from St Anne's RC Primary School and several surrounding parks and green spaces, the Hat Box is looking to attract families as well as Manchester's young business professionals.
Those wanting to move out of the city to start a family now needn't move so far, with the new homes to be available in the first quarter of next year and due to be released for sale this summer once the show apartment is finished.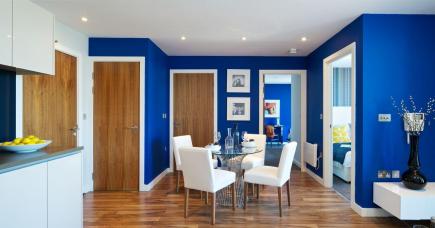 LOCATION, LOCATION, LOCATION: The bright, airy interiors of the new Hat Box apartments are perfect for young professionals
And developers Scarborough Group International (SGI) have been bowl(er)ed over with more than 900 initial enquiries about the project.
Once the apartments are released for sale they will be allocated on a first come first served basis.
SGI think New Islington, Manchester's next up-and-coming area is the ideal location for new buyers at the moment.
Sales and Marketing Director Nicola Wallis said: "What makes New Islington great is the connectivity to the city centre, you have all the benefits of the green open space and canals, with everything the city centre has to offer on your doorstep. New Islington is already a great place to live and it is getting better and better by the day!"
She also praised the government's Help to Buy scheme which will enable first-time buyers try on Hat Box for size.
The scheme helps people onto the property ladder much sooner because they only need a 5% deposit, so, instead of buying in their thirties, the national average for first time buyers, they can find their first home in their twenties. 
Named after the old milliners mill that stood on the canal side, Hat Box, a sister complex to the neighbouring Milliners Wharf apartments, boasts 144 luxury homes from one to three bedrooms across two buildings.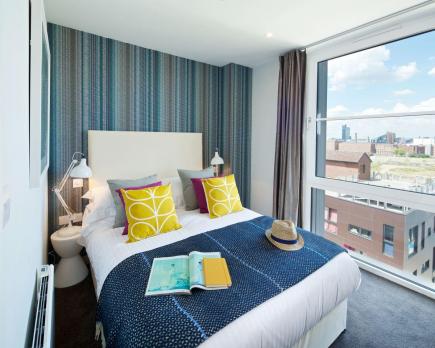 CLOSE TO THE CITY: The cosy bedrooms overlook the canal and face towards the city centre, just a short walk away
Two bedroom corner duplex apartments have balconies on each floor and feature stunning windows showering rooms with light and proving much-needed space for those families who like the flexibility offered by having two floors.
In front of the complex will be 'a communal residents' Sky Garden' with landscaped areas and community orientated activities such as 'an oversized chess board, table tennis with seating and BBQ areas'.
The whole building and 'Sky Garden' will be raised off the ground, providing residents with covered parking for bicycles and cars.
You'd have to be mad as a hatter not to want one of these gorgeous new homes.