You'd struggle to find a prouder father in the country than Jason Dey, and for good reason.
At 16, his son Marcus has competed at national level in swimming, internationally in both triathlon and cross country, and has been selected for the England elite development programmes for both swimming and triathlon.
In June 2016, aged just 15, Marcus finished 14th in the U18s European Youth Triathlon Championships, over a minute quicker than anyone else his age.
Then in January this year, in the manner of Michael Phelps or Mark Spitz, he won 15 medals over two days at the Lancashire County Swimming Championships.
Despite all his success it seems like the teenager from Rochdale is just too busy to let it get to his head.
"Marcus is very understated as you've probably noticed," his father tells MM.
"He's very, very modest."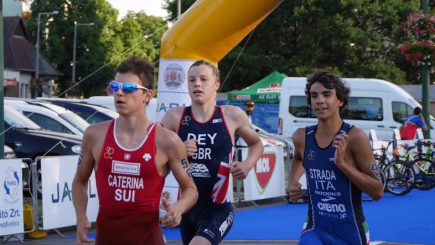 STANDING OUT FROM THE CROWD: Marcus finished 14th in the U18s European Youth Triathlon Championships when just 15 years old
It's difficult not to agree with him as his son is anything but arrogant.
Perhaps it's his busy schedule that keeps his feet so firmly rooted to the ground.
His strict regime has him training for more than 20 hours a week, including three 4.15am starts, and competing most weekends.
And that is all on top of currently studying for his GCSE's at Crompton House CofE School (between Oldham and Rochdale) and dealing with all the other pressures of being a teenager.
Marcus says despite this busy schedule he manages to balance school and training.
"I just try to focus while I'm at school, but I do have time and I feel like I can cope with it all fairly well."
This is likely because he's been involved in high level sport since he was 10, and has grown up with a lifestyle that reflects that.
"This is all he's ever known," says Jason. "He's got to work his school work into his training regime. He's always been brought up with this."
A talented athlete from a young age, Marcus played rugby and football but gave up both to pursue the sports he was most talented in, swimming and long-distance running. He competed in his first triathlon at the age of 12 and ended up sticking with it.
Part of what has kept Marcus so interested in triathlons is his interest the tactical side of racing.
"There's so many different things that can happen. If one plan doesn't work then you change it, there's different things you can do."
The 16-year-old is still unsure which is his best sport, and while being an elite athlete in multiple sports has its obvious advantages it can also be problematic – particularly financially.
Training camps, high level equipment and competitions are all expensive, and while in many case they are part funded, there are still expenses which Marcus and his family have to cover.
"He went to a camp in Fuerteventura this month," explains Jason.
"Then he got back to Manchester a week later at 1.30am and then he flew out to Malaga four hours later to go to another training camp. So that all needs to be paid for.
"The coaches spend a lot of time with Marcus, training him, so they want to see the results and he is expected to attend a lot of competitions and training camps, and with that comes a financial burden.
"Don't get me wrong, we're like any parents: we want the best for our kids and if that means us having to make financial sacrifices then we will do so."
One of the ways they deal with these financial sacrifices is through sponsorship.
Marcus has recently received a new deal from local company Kingsland Drinks, which according to Jason has been vital in giving the family some financial freedom.
"It has been a massive, massive help and I can't thank Kingsland enough.
"What it has done is ease the pressure, it's allowed us to say 'look Marcus you can do that, there is money there for you to do that.' We're over the moon with it."
For Jason, who was himself an elite-level swimmer in his youth, the financial strains are just part of Marcus' journey.
"We have had to make a lot of sacrifices, socially and financially. Although it's hard, when we see his successes it makes it all worth it.
"Seeing what he has achieved we actually keep saying to him 'we're so proud of you for what you have done so far'. It's just an exciting journey that we're on because we don't know where it's going to take us."

NO PAIN NO GAIN: Marcus putting his bike – and his body – through their paces
It's a journey which Marcus hopes will involve competing at the very highest level.
He dreams of competing in the Triathlon World Series and representing Team GB at the Olympics. He found himself absorbed by Rio 2016 over the summer and watched as much of the games as he could, including the Brownlee brothers' triathlon success which only spurred on his desire to compete at that level.
"To get to anywhere near what they've achieved would be great," says Marcus.
"They've brought all the funding up for Triathlons which has allowed me to go to more training camps and competitions."
For the moment though Marcus isn't getting too far ahead of himself – he's aiming to qualify for the Youth Commonwealth Games and Youth Olympics over the next few years, and his main target for this year is to qualify for the Youth Triathlon Championships again.
The event takes place in Lithuania in June and it's one which, according to his father, he has his eyes set on winning.
"Marcus' words when he finished last year were 'I am going to win that in a couple of years' time."
On his current form he looks set to do that. Yet perhaps most important is the support network he has in place.
His family are all very encouraging: as well as Jason and Trudy – for whom facilitating Marcus' career is at times like a full time job – there's his grandfather Eddy who follows the teenager to watch him compete across the country.
Meanwhile his sister Ashleigh keeps up with his results while at work and is hoping to follow Marcus on some of his international trips in the summer.
There's also his grandmother Janet in Spain, who has all her friends round to watch Marcus when the swimming competitions are streamed.
If his latest results are anything to go by they'll be spending a lot more time in front of the TV.