Mother's Day, a day where mums should wake up to breakfast in bed and finish the evening with cake and a very large glass of chilled wine, is here again.
This Sunday, mothers across the country will down tools and spend the day surrounded by glitter-strewn hand-made cards whilst enduring a painstakingly prepared, though undeniably over-cooked, evening meal.
Of course, every mum is brilliant, hard-working and makes sacrifices but MM has, in honour of the day, rounded up just five of those mums who are particularly marvellous.
Tanni-Grey Thompson
After winning her sixth London marathon just three months after giving birth to her daughter Cerys, Paralympic athlete Tanni-Grey Thompson's talents could never be questioned.
Wheelchair bound from the age 7, Tanni, who was born with spina bifida, is regarded as one of the world's most successful paralympians.
Her athletic career spanned nineteen years, she competed in her first competitions when Margeret Thatcher was still at No.10, and took her to places as far-flung as Seoul, Atlanta and Sydney.
With 16 Paralympic medals, including 11 golds, and numerous titles and world records under her belt, 45-year-old Tanni retired from professional athletics in 2007.
She was awarded a DBE (Dame Commander of the Order of the British Empire) in 2005, and now 'Baroness Grey-Thompson' even sits in the House of Lords as a cross-bench life peer.
Kate Middleton
Right, so this is an obvious one. But the Duchess of Cambridge is undeniably Britain's, if not the world's, most famous new mother.
Many things in the young Duke and Duchess' lives have caused a frenzy of speculation and mass adoration but none more so than the birth of Prince George Alexander Louis on July 22 last year.
A sea of reporters and cameramen descended on the steps of St. Mary's hospital, beaming all the latest information and breaking news from where all the action, was taking place.
Even with the BBC's Simon McCoy stating "plenty more to come from here. Of course, none of it news" the rest of the world waited with bated breath for news of the arrival of the third in line to the throne.
J.K. Rowling OBE
Most people despair when their train is delayed, but not Joanne Rowling – whose idea for one famous boy wizard came about during a delayed journey between Manchester and London's Kings Cross.
Harry Potter, the series of books which pushed Rowling to the forefront of children's literature and saw her awarded an OBE, is one of the bestselling books series in the world.
Living in Edinburgh with her husband and three children, Rowling struggled for years as a single mother, and encountered numerous rejections, before Harry Potter and the Philsopher's Stone propelled her to stardom when it was published in June 1997.
After the series ended, Rowling turned her hand to other genres with a crime novel Cormoran Strike, written under the alias Robert Galbraith, and tragicomedy The Casual Vacancy.
Now a multi-millionaire, Rowling supports a number of charities and is the founder of Lumos, a chairty transforming the lives of disadvantaged children.
Above all, Rowling's books have introduced a whole generation of children to reading, a remarkable achievement for anyone.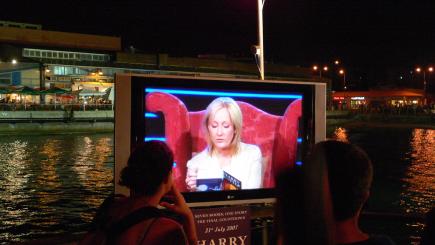 TURNING THE PAGE: The Harry Potter series propelled JK Rowling to fame (© Ran Yaniv Hartstein with thanks)
Camila Batmanghelidjh CBE
Childless, but a surrogate mother to thousands of teenagers, Camila Batmanghelidjgh has spent the last twenty years helping to better the lives of the forgotten young people of London.
She is founder and director of Kids Company, a charity which has struggled to survive in the past before being granted government funding in 2008.
Formerly a psychotherapist, Camila moved to Britain with her family in 1979, escaping the turmoil of the Iranian revolution.
Since 1996, Camila and her team have raised £50million – the British businesswoman even resorting to remortgaging her own home twice just to ensure the work of the volunteers could continue.
She believes in the importance of consistent loving care, dismissing any claims that troubled youngsters are 'beyond help' and does her utmost to support a staggering 36, 000 over-14 year-olds that come to her charity for help.
Annie Lennox OBE
Not just confined to singing about Sweet Dreams, Scottish-born Annie Lennox is also a notable political and social campaigner.
Mother to two daughters, including model Tali Lennox, the 59-year-old was awarded an OBE in 2011 for her tireless charitable work and campaigning on humanitarian issues.
Lennox's own organisation, The SING Campaign, is dedicated to raising awareness and funds for women and children affected by HIV and AIDS and provides funding for numerous organisations across South Africa, Malawi and Scotland.
When not publicly-supporting Amnesty International or Greenpeace or acting in her role as UNAIDS Goodwill Ambassador, Annie has been named one of Rolling Stone's Top 100 Singers of all Time and sold over 80 million records worldwide across her career.
Not bad for a humble Aberdeen lass.
Main image courtesy of BBC via YouTube, with thanks