It was the best of times, it was the worst of times, it was the age of improved fitness and wellbeing, it was the age of sitting on the sofa drinking gin, it was the epoch of home fitness equipment, it was the epoch of banana bread.
Lockdown has meant many things to many people, and this is particularly true when it comes to health, fitness and wellbeing.
Since 23rd March, Britain has become a pasta-hoarding, banana bread baking, home equipment loving nation of contradictions. In some respects, the fitness industry has been hit hard and seen losses, the most obvious victims being the large gyms that stand empty.
Yet, others in the industry have seen a turnup in trade; according to  researchandmarkets.com the demand for home fitness equipment has increased by 170% globally.  
Anyone who has tried to purchase some dumbbells over the past two months will know that they are rarer than full-fat Coke in a fitness influencer's Insta grid.
Enter the world of social media and you cannot swing a kettlebell without hitting upon live exercise classes or pre-recorded videos of a million and one things to do with a resistance band.
John Lewis reports that running shoes, training gear, gym equipment and wireless headphones are all in high demand. Since lockdown was enforced, there has been a 72% uplift in sales for sports shoes and a 315% increase in sales of yoga and Pilates equipment; sales of gym equipment exploded by 496%. Although sales of activewear have increased, no one can confirm how active the people purchasing it actually are, as paradoxically, it also doubles up as very comfortable loungewear.
I ran a couple of quick surveys on Instagram and Twitter, to see if I could find out if people were adopting remote fitness training or investing in home equipment. I was surprised by the results.  
On both platforms, most people said they had not started remote fitness training (63% on Twitter; 55% on Instagram) and most had not purchased any home fitness equipment (68% on Twitter; 67% on Instagram).
Some people reached out to say that they would have bought equipment, but because many places had sold out, they had become frustrated and given up.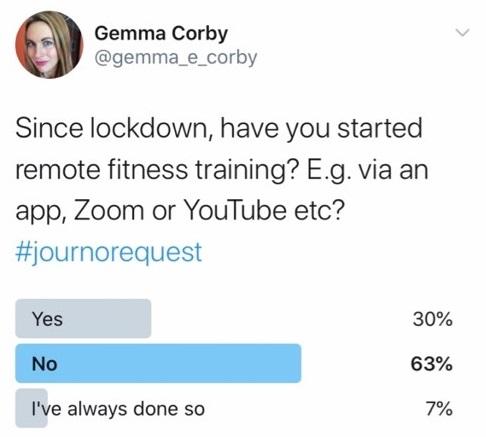 Large gym chains, such as Pure Gym, face significant financial losses as a result of lockdown: Chris Whitty, the Chief Medical Officer has advised that social distancing will be needed until at least the end of year to prevent a second wave of Covid-19. This means that gyms will need to put strict measures in place, if they are going to open their doors any time soon.
In what has been dubbed the "Joe Wicks Effect", there are fears that when lockdown restrictions are relaxed and gyms begin to reopen, people will opt to continue with remote fitness sessions instead; partly due to health and safety concerns around returning to gyms, but also due to financial constraints.
David Minton, director of market intelligence firm, Leisure Database Company, predicts that one in five customers will permanently forgo their gym membership. This could include a lucrative group known in the industry  as "sleepers". We all know at least one "sleeper"; they are the ones who routinely pay for their gym membership, but rarely step inside the building.
Large gym chains are not the only businesses facing challenges: how about those who run, smaller boutique gyms or fitness centres? Their income has also dropped to zero and they too have rent and overheads to pay.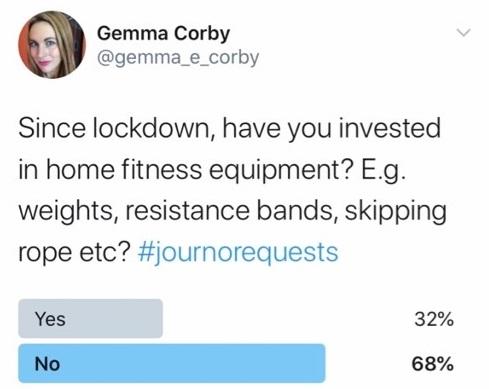 Millie Dobie, who runs Pilates Studio Suffolk has offered her members virtual classes and one to one tutorials: "Luckily I received a small business grant to cover the business costs during closure, [but] keeping in touch with clients is the most important thing.
"Remote lessons are effective in keeping in touch with everyone… but for me it is not great, as a lot of my clients come to me for the reformer classes."
Millie's studio is set in the heart of the Suffolk countryside; it would be fair to say that the average age of her client base is perhaps higher than studios located in younger, urban areas.  Differences in geography and lifestyle could be determining factors in the way people have responded to remote fitness classes during lockdown.
Natalie Butler, founder of Barre Balance, a studio located in the centre of Liverpool, had planned ahead for the potential closure of her facility, due to Covid-19. She explained: "It was important to me to pivot the business quickly, not only as a business owner, but also as someone who services and helps people to feel better about themselves.
"The beauty of online fitness classes is the ability for them it to be flexible and work around [people's] lifestyles. One of the things people struggle with is accountability… we offer live classes in order to help with that element. So, people can come into the virtual studio, say hi and be present."
It is true that online or pre-recorded classes do offer greater flexibility, however they do not fit everyone's lifestyle. Komal Lathem, a teacher from North London, and mother of two young boys, struggled to initially find classes that would work for her,
She said: "I tried Zumba and yoga routines on YouTube, but the constant disruption from my children and the noise from all the movement, disturbing my neighbours, meant that I lost motivation fast. Live routines being broadcast by my instructors clashed my youngest's bedtime, and because I was trying not to disturb the neighbours, my workouts weren't satisfying. So, without meaning to, I eventually stopped trying."
When I posted my surveys on Twitter and Instagram, people got in touch to say that their exercise regimes had gone from being full on gym sessions to being more gentle. Lockdown could well be the first opportunity that many people have had to get off the treadmill, both literally and metaphorically, and have the time to reflect on their exercise regime. As a result, some people have turned to more restorative forms of exercise; you just have to look around our parks to see more people than ever walking and enjoying nature.
This is something Komal could relate to. At the start of lockdown, she was unwell with suspected Covid-19. Once she had recovered, she wanted to start exercising again but her perspective had changed: "Before lockdown, I attended my local gym regularly. I took part in yoga, body combat, Zumba and spin classes. Sometimes I did a little weight training.
"After my illness I felt drained, I was motivated [to exercise] but I lacked strength. It was during this time I discovered Katie Brindle [a Chinese medicine practitioner]. I followed her on social media and was introduced to the ancient Chinese practice of Qigong.
"Initially, I was sceptical of the slow, low impact movements, [however], it has significantly impacted my health physically and mentally, but this time without the stress and impact regular exercise took on my body. In fact, my body feels more alive after Qigong as I have no back pain or sciatica, compared to how I felt after going to the gym, when I was often in pain."
The founder of the Hay'ou Method, Katie has seen an upturn in interest, since the start of lockdown: "Many people decided to use this pause from normal life as a time to learn new things and expand their knowledge. It's a good way to transform any anxiety into a positive time to learn and have growth."
Katie discovered Chinese medicine, following the car accident which put paid to her dreams of becoming an opera singer. She was so inspired, that she eventually trained as a practitioner.
She feels that qigong is a popular form of remote exercise because it does not necessitate any specialist equipment and, as it does not require the watchful eye of an instructor, it is safe for people to practise independently: "Qigong is 'life force practice' and it can be transformative, because when we feel tired and exhausted that's lack of energy, or life force. When you strengthen it up, you really do notice the difference."
So, what will the post-Covid-19 fitness and wellbeing landscape look like? Will we see big gym chains struggling to remain financially viable? Will small studios flourish once more? And will remote, home-based fitness training programs continue to expand?
The fitness industry's trade body, Ukactive, has developed guidelines to support gyms and leisure centres with reopening safely. Advice includes spacing exercise equipment at least two metres apart; reducing capacity (based on providing three square metres per person) and marking out spaces on studio floors, so that fitness classes can resume. The guidelines also call for rigorous cleaning procedures.
Millie will offer her clients a choice of face to face classes and remote ones: "I will be offering both options, so when memberships reactivate on 4th July (with a maximum of four people in the studio at any one time, and enforcing the social distancing rules), the remote work will be there for those who do not feel ready to come in. I have the facility to prerecord classes, so I will be doing those weekly and they will be free to all members."
Natalie is philosophical, firmly believing that all things happen for a reason: "I think it is an amazing time for people to grow and set up a new arm to their business. At Barre Balance we will definitely continue the online platform of our business, we have thoroughly enjoyed being able to connect with people online, and being able to establish new relationships, which we might not have be able to do with just the physical studio, due to location."
Yet, Natalie recognises the restrictions of such a service: "As an instructor not having face to face contact with clients means I cannot do the hands-on adjustments and engage with them on a deeper level. Human contact is something that is so beautiful, I can't wait to get back when the studio reopens."
Lockdown has certainly made many of us pay more attention to our exercise habits. It could be that we take a hybrid approach, attending the gym and class some of the time, but also embracing the flexibility and greater range offered by virtual classes. We may even reconsider which forms of exercise we undertake.
This will certainly be Komal's approach: "When lockdown ends, I want to return to the gym, but this time with a renewed way of practising. I have learned that exercise shouldn't feel like punishment and I no longer believe in 'no pain, no gain'."
To say lockdown has been a tricky period to navigate would be an understatement, but good can come out of adversity.
This is something that Natalie believes: "As a leader in health and wellness, it's been important that I have made sure I have looked after my own health and wellbeing, to be able to look after and service others. It is really important to see the light in a dark situation and be able to thrive. We need to take all we have learnt [during lockdown] to help service our clients even better in the future."