A desperate bid to find a new home for a gorgeous young bunny after being in care for nearly TWO years has been launched by RSPCA. Manchester and Salford.
Alpro came into the charity's care back in September 2012 after being rescued from a house along with 15 other rabbits.
On her way to her new digs she gave birth to four adorable bunnies, who have since been re-homed.  
Unfortunately, Alpro, who is just three years old, has struggled to win the hearts of any possible owners.
Deborah Beats, 26, animal co-ordinator at R.S.P.C.A Manchester and Salford, said: "It's our longest stay rabbit ever, in fact it's our longest stay animal ever full stop.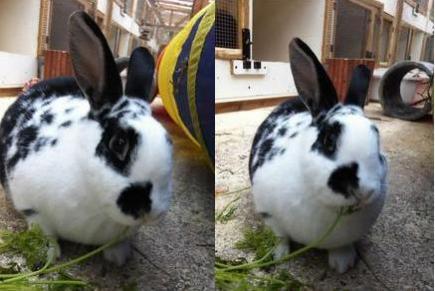 I WANT SOMEBUNNY TO LOVE: Alpro's looking for her forever home
"We don't have long-stay animals here, to us six months is a good while, so she definitely feels like part of the furniture.
"She certainly gets special treatment but unfortunately the offer of a home just hasn't been there.
"She's getting quite chubby because although she's got a really good sized hut and gets a good run around in the garden, what she'd really like is 24-hour exercise and room to play in.
"Rabbits live to about six to eight years, and she's coming up to three so half her life has already gone.
"But there's no time limit on Alpro, we'll keep her forever if need be but it's about time she gets the love and attention she deserves."
Not that her stay at the centre has been a miserable one, in fact Alpro is very much settled into her home.
"If I didn't have as many animals as I did I'd certainly have Alpro, she's everyone's best friend," she said.
"She's the first one we got to in the morning for a cuddle and a brush.
"And certainly the staff at our rabbit home give her special treatment, they let her run around their private garden whereas none of the other rabbits are allowed to do that.
"She certainly feels like our pet but we would love to get her a home where she is the centre of attention."
For the first year of her life, Alpro grew up in poor conditions with around 15 other rabbits.
The conditions meant inbreeding was inevitable, and the experience has affected Alpro to the point where she now struggles to mix with other rabbits, making finding her a home much tougher.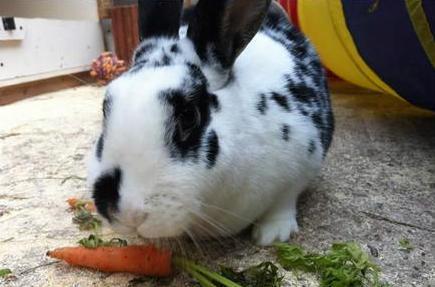 CAN YOU GIVE ME A LOVING HOME? Alpro is looking for a new family
"She doesn't really like other rabbits, which I think is her downfall really," Ms Beats added.
"Rabbits are sociable animals and we encourage people to have them in pairs so the fact that we are looking for a home for her on her own makes it a lot more difficult.
"She's looking for a living room to lounge in, a sofa to lie on and a knee to sit on but we are looking for a confident rabbit owner who's not going to be afraid if she has a stroppy day or if she's getting a bit territorial.
"I love her to bits but someone who's a little bit shy will probably be a little bit intimidated by her.
"She's affectionate, easy to be around – she just doesn't want to be with other rabbits.
"If anyone's looking for a companion with lots of personality, who will be guaranteed to never give you a dull moment then is Alpro is definitely the one for them."
Pictures and video courtesy of RSPCA, with thanks