The skeleton of a rare three-storey-high dinosaur that walked the Earth more than 70million years ago is making its UK debut today.
The dinosaur, dubbed Gorgosaurus and standing at over 7.3metres tall, is being exhibited at the Royal Society Summer Science Exhibition where scientists will use state-of-the-art imaging techniques to examine the cracks, fractures and breaks in its bones.
After the exhibit, which runs from July 1-6 in London, the rare fossil will take up permanent residence at Manchester Museum.
Dr Phil Manning, from the University of Manchester, and his colleagues will be studying the fossil to find out how it managed to live for so long after suffering from a brain tumour, broken fibula and a growth inside one of its legs, among other injuries.
"What's really interesting is that this massive beast seems to have shrugged off injuries and diseases that would have proved fatal to humans if not treated," he said.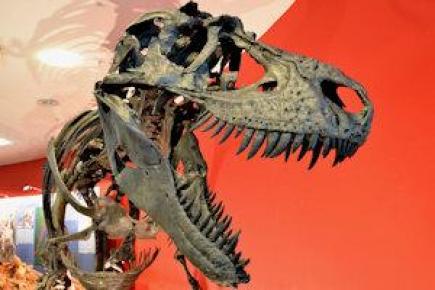 WALKING TALL: The Gorgosaurus will be studied by scientists from Manchester University
"She just kept going. Our team is trying to understand the chemistry that initiated the healing of bones in this Gorgosaurus using a suite of imaging techniques.
"If we can work out the processes that regulated the healing and repair of injuries in a 70million-year-old dinosaur, perhaps we can apply that to 21st century knowledge to help diagnose, treat and heal humans."
Diagnosis of fossils used to rely on the inspection of gnarled bones and healed fractures, often entailing slicing through it.
But using synchrotron-based imaging, which uses light brighter than ten billion Suns, means the team can study the preserved dinosaur bones in far greater detail.
The fossil of the dinosaur, which was discovered in Montana, USA, is a distant relative of the Tyrannosaurus rex and is believed to be one of the most complete skeletons ever found; only 20 Gorgosaurus specimens have ever been discovered, all in North America.
Visitors who attend the exhibit will be able to play 'dinosaur CSI' and take a #dinoselfie to share on social media.
The X-Appeal exhibit is made up of five interactive stations where visitors will be able to see CT scans of different size skulls, compare a real dinosaur bone with a reconstructed one and weigh their volume against a dinosaur's, among other things.
Image courtesy of BBC via YouTube with thanks