Former Nigerian international footballer Chuks Akuneto is giving a new lease of life to unwanted Greater Manchester junior football kits – by shipping them to Africa.
The 41-year-old has been collecting redundant kits, boots, goalkeeping gloves and shin pads for several years and sending them to less fortunate youth teams in Nigeria and Kenya.
Over 200 young footballers have benefitted from his initiative, the latest club being Success Youth Club's under-11 squad from the Nigerian capital Lagos, who are now wearing Chorlton-based St John's Junior Football Club's green and white hooped strip.
Chuks, who came to England after retiring his playing career, manages the St John's under-7s squad, having previously held coaching positions at FC United of Manchester from 2008 to 2014.
As well as St John's, Chuks – who represented Nigeria four times and played professionally in Cameroon, India, Malaysia, Russia and Vietnam – has collected kits from Curzon Ashton and Droylsden FC.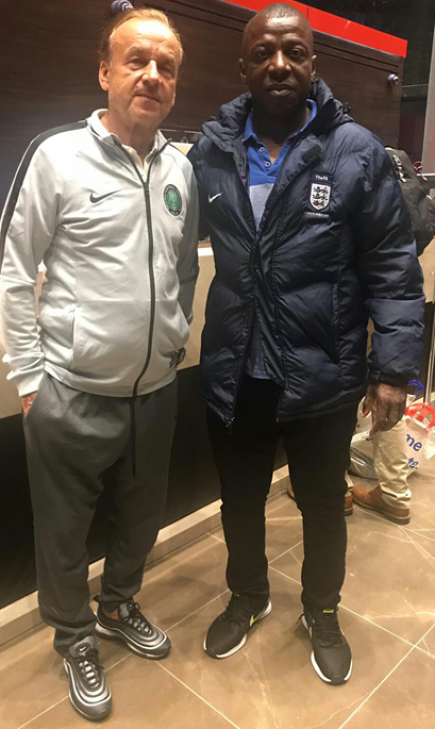 INITIATIVE: Chuks (right) with Gernot Rohr, current manager of the Nigerian national team
He said: "I grew up in Lagos and benefited from people who handed down their kits to me and enabled me to have a career in football.
"I found that in England many old kits were thrown out or left to gather dust in a cupboard, so I thought it would be a good idea to collect them and send them to my contacts who distribute them to less fortunate children, whose parents cannot afford to buy boots, a strip or other equipment.
"We've had lots of messages of appreciation from clubs and families in Nigeria and Kenya.
"It's my way of giving back as a way of saying thank you for what I've gained from football, as it gives kids in Africa the opportunity to go and enjoy playing the sport."
Kevin Garvey, treasurer of St John's, said: "Every few years, teams get a new sponsor and we collect the old kits once they are outgrown. They are usually still in good condition and we don't want them to go to waste, so it's great to be able to pass them on to children who would otherwise go without.
"In turn our boys can understand that others are less fortunate and that they can help children in another part of the world."